It all started with the general, who after spending a lifetime in the Himalayas with the Indian army, retired to a remote plateau on the borders of Sikkim and West Bengal. There, at quarter past five every morning, he watches the sun rise on Khangchendzonga. The best place to see this is from a big humped rock at the top of his garden and you need to go up when it still seems to be quite dark outside.
I never realised, until I first saw it, that dawn comes to the great mountain before it ever breaks on us midgets below. Khangchendzonga (8,585m) is the third-highest peak in the world and from the general's house, you see it dead-ahead, glowing almost in the distance, beyond a subservient range of dark, wooded foothills.
The tip of the right-hand peak seizes the new day first, when the snow gradually catches fire and colour seeps all the way down the mountain's east flanks. Then Pandim glows into light. Then Rathong. And the general and I sit up there silently till eventually the sun catches us too and it's time for breakfast.
Reconnaissance was the general's thing, and he spent most of his army career moving around in the fearsomely difficult territory that lies along Sikkim's northern boundary with China/Tibet. We stayed with him on the first journey we ever made in Sikkim and in November we were there for the fourth time, at the beginning of another superb trip. We had roughed out the shape of a journey taking us up to 10,000ft in the north of the country and sent it to him so that he could vet it first, because with each monsoon, bridges are swept away and roads disappear as well. A route you take one year won't necessarily be there the next.
It's difficult, too, organising a journey without a decent map. We're still looking for one. The only one available in the country itself is the Road Guide published by TTK Healthcare. That marks just one road, the one that connects Kalimpong in West Bengal, with Gangtok, the capital of Sikkim. There are plenty more, because we've travelled on them – tracks, rather than roads – but they are not on the map.
The general's view is that if tourism develops in Sikkim, tourists' money should be spread around. So instead of big hotels, he promotes the idea of homestays, encouraging anyone who has a spare room to let it out to travellers like my husband and me. We benefit because, with the necessary permits, it means we can stay in remote areas where no hotels or guest houses exist, like the vast Dzongu forest, west of Mangan.
Until quite recently, nobody – whether Indian, Sikkimese or foreigners like us – had access to this area, which is an ancient stronghold of the Lepcha, one of the original peoples of Sikkim. But then the Lepcha set up the Dzongu Ecotourism Committee which, "endeavours to help the mountain communities of Sikkim to benefit from low impact rural tourism". The Lepcha are farmers, animists, and their shrines, decorated with small balls of wild cotton like fluffy white clouds, are set up at waterfalls and ancient trees, rocks and rivers.
To me, Dzongu was an almost unbelievable Shangri-La: vast trees dripping with ferns and wild orchids, butterflies in clouds so thick you almost breathed them, the Rongyoung Kyoung river hurtling through ravines far below, the waters turquoise-blue from snowmelt and glaciers way up in the mountains. At the end of a track that tested even the Mahindra jeep, was the Tingvong homestay, a classic timber-framed Lepcha house, the panels filled with woven bamboo and finished with mud, in the same way as our wattle and daub.
Usually, we go to Sikkim to walk, but I fell off a rice terrace at the beginning of our journey, and, though I didn't know it at the time, broke my leg. We didn't do anything about it in Sikkim, but when we got home I thought I'd check it out. The orthopaedic guy pointed accusingly to the X-ray he'd just organised. There was the fracture, halfway up my left leg, healing beautifully with no help from him. "Good old leg," I said.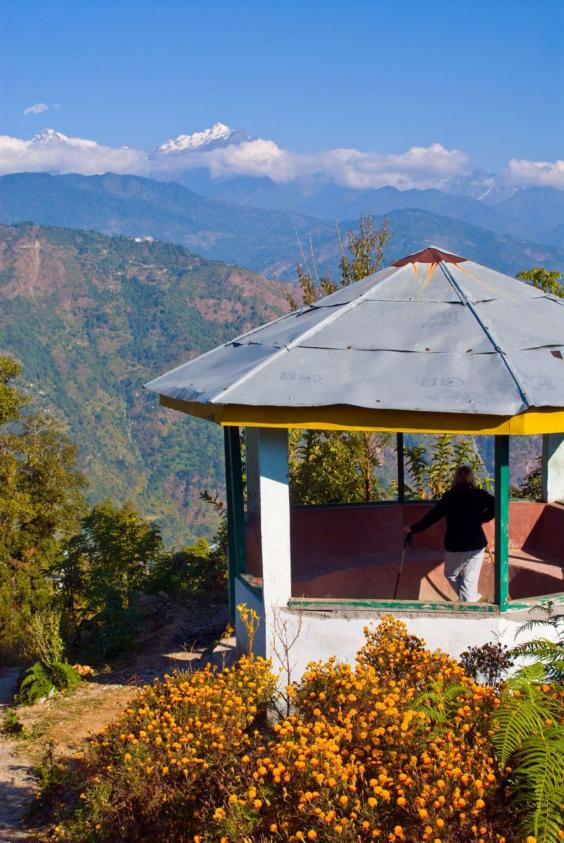 But in our three-week journey we stayed at five homestays, so I saw plenty of Sikkim, even if I couldn't walk. Tingvong was the simplest: no hot water and a rudimentary lavatory. But the kitchen was magic, with a sinuous cooking range moulded from clay, fed by a wood fire. The cooking pots fitted into holes cut in the clay top and the food that came from that range was some of the best we've ever eaten in Sikkim. All home-produced, of course. Everything we ate came from the ground around. Each evening as darkness fell and the temperature suddenly dropped, we drifted into the kitchen and drank beer round the table and watched as supper was magicked into being. When I don't sleep (which is the norm), it's Tingvong I think about, with orange orchards and tree ferns, verges of pale blue ageratum, pumpkins, chickens. And a school with about 70 children and 17 teachers.
When we are with the general, we stay in a little wooden building in his garden, just one room, with hot water brought up in a bucket. He has a terrific cook and the place is run with military brilliance, in a garden full of flowers. There are flowers everywhere in Sikkim, growing wild on the verges, like the ageratum, or massed in pots and black plastic bags along the front of shops and houses: roses, orchids, geraniums, petunias, dahlias, chrysanthemums, marigolds.
At Rinchenpong, where we had not been before, we stayed in a little round hut, newly built in a sea of marigolds in the garden of a farm, with rhododendrons and guava trees rising out of the marigolds. This was a surprising place, because at nearby Dentam, there's a small cheese factory, set up and funded by a Swiss engineer, where you can buy delicious 'Alpine Gouda' moulded in hard round balls. We had it for breakfast with pancakes.
The grandest place we stayed in was the last, beautiful Turuk Kothi, built by Vikash Pradhan's family 170 years ago. In this land of storm and tempest, it's a rare survival, a gorgeous place of balconies, verandahs, and fretworked eaves, ochre-painted wood with a rusty-red tin roof. Here, you need never leave the garden, with its borders of strelitzias and handsome clivias, its neat beds of vegetables. We're already planning the fifth journey.
For information on homestays go to sikkimhomestay.com or himalayan-homestays.com. For information on beautiful Turuk Kothi, go to turukkothi.com or email vcashpradhan@gmail.com. To book a homestay tour, try Gurudongma Tours & Treks at gurudongma.com, email gurudongma@gmail.com
WEEKEND WORK
WHAT TO DO
* Make a resolution. In your garden, learn again to use your eyes, trust your instincts.
* Being outside is what matters in gardening, where, given time, you can begin to absorb the complex set of circumstances that makes plants grow. Or not. The 'not' is much more likely to be our fault than theirs. You can hardly blame a blue Atlantic cedar for dropping its needles if it has been stuffed into an aluminium tub far too small to sustain it.
WHAT TO BUY
* I gave a friend my spare Two Wests & Elliott's catalogue of Quality Equipment for Greenhouse and Garden and she's become as obsessed with it as I am. Which is strange because neither of us are acquisitive and both of us loath shopping. Who would have thought you could fill 114 pages with this kind of stuff? Organised into 18 neat categories, you'll find Shelving and Staging, Propagation, Measure and Control, Labels, Trays & Pots, Raised Beds, Plant Supports and Ties and so on. It's so restful, looking at all these things you don't need. Or perhaps you do. If so, call for a catalogue on 01246 451077
Reuse content