I live just outside the perimeter of London's largest building site. Close to 2,000 new homes on 20 new streets are being built in the King's Cross redevelopment, and of the properties currently on sale, prices start at £810,000 for a 41.7m2 studio (I can't tell you the cost of a three-bed for fear you'll choke on your breakfast). Space is at a premium here as it is across the capital. I packed up my ambitions for more of it long ago, and have instead committed to squeezing more life out of every last cubic centimetre I can call my own.
It's a common tale of urban-dwelling woe. Scarcely a week passes without pictures of a shoebox to rent for £1,000-plus pcm appearing on social media, or a Mayfair garage on sale for several hundred grand. We're told we're in the midst of a housing shortage epidemic, but at the top end of the market, developers are building nearly enough homes to meet demand. Those who suffer are low and middle earners. Recent nationwide research from estate agents Savills found that only a third of the homes needed by this group are in the pipeline.
What's the answer? One solution that's increasingly being mooted is micro-living. Developers in high-density, high-cost cities are building good-looking, smartly designed, teeny tiny apartments to counter the conundrum of diminishing space. This sector of the market is so in demand that London developer Pocket recently held a competition in which 19 reputable architects submitted designs for a new two-bedroom development, and 50 per cent of the decade-old company has just been bought by Stephen Ross, a US property billionaire who also owns the Miami Dolphins American football team.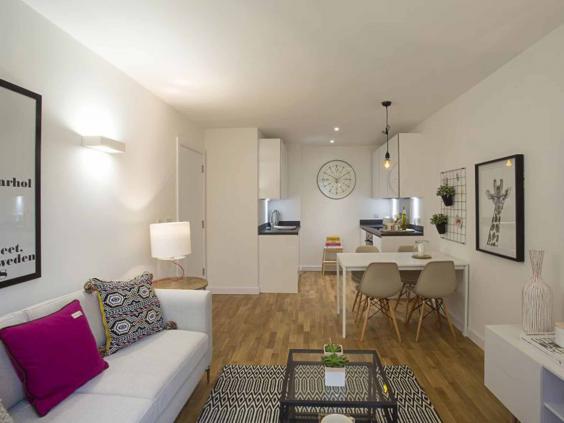 Meanwhile, nArchitects in New York has released the images of the city's first "micro apartment" tower, a nine-storey building in Manhattan's Kips Bay. Residents will move in this month – more than 60,000 applied for 92 apartments – and most of the 23 to 24m2 units will be rented out at around £600 a month, a bargain in New York where, according to Bloomberg, a Manhattan one-bed commands an average price of £2,200 a month. 
The designs are impressive: prefabricated constructions made from steel frames and concrete slabs. The developers emphasise that "volume, light, air and views out to the neighbourhoods have been prioritised". 
The lower and middle-income tenants will enjoy the sort of generous shared amenities more often found in luxury flats: a gym, roof terrace, bike storage. nArchitects is calling it a "systematic new paradigm for housing in New York City and other cities with similar demographic and affordability challenges". To achieve this, however, the minimum space regulation of 37m2 for a residential unit has been waived – raising the question: is clever design a substitute for actual space?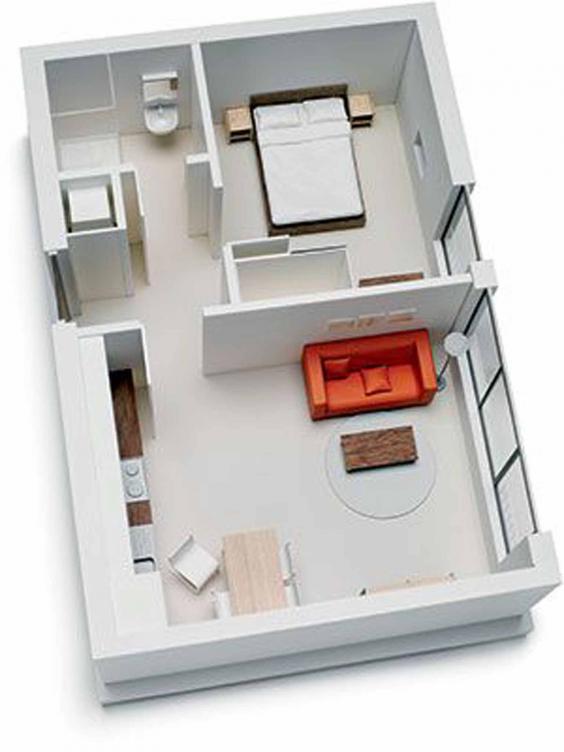 "I don't feel that space and good design are tradeable assets or mutually exclusive," says Julia Park, an expert in space standards and head of housing research at architects Levitt Bernstein. "Every home should be well designed and, ideally, big enough for the number of people who wish to live in it. Micro homes are typically 18-25m2 and in our view only suitable as temporary accommodation – perhaps for up to three years to allow people to save for a deposit and move on."
It is easy to scoff at the stupidity of those paying many times over the odds for city-centre dwellings, but micro-life isn't just an urban problem. In the UK we build the smallest new homes in Europe, and there are escalating health fears about living in such tiny spaces. 
In December 2015, the Royal Institute of British Architects (Riba) released a report on new homes that warned, shockingly, that half of all new homes are too small for families "to live comfortably and cohesively, to eat and socialise together, to accommodate a growing family or ageing relatives, or even to store possessions including everyday necessities such as a vacuum cleaner."
Small but perfectly formed: Welcome to the world of tiny homes
The report showed that three-bedroom new-build homes are even smaller outside London than in the capital. On average these homes are 4m2 smaller than they should be, and people in Yorkshire and Humberside suffer most, with three-beds of just 84m2, 17 per cent smaller than in London. The North-East and West Midlands fare little better, at 85.4m2 and 85.7m2 . Why? Because, while it is currently the responsibility of individual councils to set minimum space requirements for new homes, office space can be converted to residential use without planning permission or a requirement to meet these standards, a loophole known as "permitted development".
"We are beginning to see some examples in London of what happens when space standards are not applied," says Park. "We have recently seen a proposal to convert a two-storey office building into eight flats. Three of these flats are 13.5m2 (the size of a typical double bedroom) and the largest is 17m2. There is no limit to how low some developers will go if unrestrained, yet the government has just made this type of permitted development permanent. For these reasons and more, I would prefer space standards to become mandatory through the building regulations. Many developers agree – but only off the record."
Pocket, London's new champion of compact and affordable living, is sticking to the Greater London Authority's minimum space standard for one-bed, one-person flats – 37sqm – and serving people who, even with a decent wage, have no chance of getting a foothold in the extortionate London property market.
"We wanted to help these young professionals, we call them 'city makers', get on the property ladder to prevent the people who make the city tick from leaving altogether," explains Pocket's sales and marketing director Lucian Smithers. "We believe that London is an amazing city and that its continued success relies on those earning average salaries who want to build their careers in the capital."
Pocket customers are first-time buyers with a joint income of less than £71,000 (therefore under the income cap for affordable housing) who live or work in the borough they're buying in, and benefit from purchase prices at 20 per cent below the market rate. Pocket homes in Southall, Ealing were sold recently for £165,000. The latest development, in Brixton, has one-bedroom apartments from £248,500 and boasts communal gardens and cycle storage.
Why don't more developers do this? "Put simply, because it's hard," explains Smithers. "It is easier and quicker (and therefore more profitable and less risky) for a developer to deliver a small number of open-market units than deal with the local authority to deliver any affordable housing."
Pocket has not yet built its two-bed, two-person flats ("2b2p"), but estimate they will be around 55m2. There is no given space standard for such dwellings, but 61m2 is the recommended minimum size for "2b3p" homes. All Pocket flats feature floor-to-ceiling windows, underfloor heating and storage space. And they're not micro-homes as such, more an intermediate option for average earners to become homeowners.
Pocket's policies rein in the galloping pace of our housing market. Buyers must live in their home for at least one year, and when they decide to sell are obliged by law to sell to someone who meets the same criteria as they had to (Pocket will check up on all of this, in addition to its regular checks that all properties are owner-occupied). 
This means that owners cannot take full advantage of a rising market: although Pocket does not set the resale price, it maintains that the discount of around 20 per cent compared to the open market will be retained because of the constraints of the eligibility criteria.
So will we see the sort of micro apartments pioneered by nArchitects here in the UK, or watch as more and more office space is converted into stifling, claustrophobic and unhealthy miniature dwellings? "For most people, micro-homes are either a pied-a-terre (which of course is very different and perfectly fine) or a last resort – the consequence of a systemic failure to provide housing at a price that people can afford to buy or rent," warns Park. 
"I think they are only likely to spread to cities where prices have been driven up by a shortage of land and/or housing. What many people fail to appreciate is that small homes actually drive up land prices and make the overall problem that bit worse. Another very good reason to restrict the numbers we build."
Reuse content