Joanna Briscoe, author
Home. The word alone is emotive, delicious, comforting – and so very far removed from house, flat or spacious upper maisonette. It suggests all that is safe and soothing, while subconsciously evoking the haven that was one's childhood home rather than current accommodation.
Indeed, according to a survey of 2,000 buyers by Lloyds Bank insurance, a quarter of property buyers still consider their parents' house as "home", and first-time buyers say that new homes would never live up to the one they grew up in. In fact, our main childhood home is meant to play a vital part in the development of our identities, and we seek to recreate happy experiences when we choose our own properties.
I am crushingly typical then, having found that the tug of my childhood homes has been so strong, I've constantly sought the rural-featured in the city. For me, "home" means two places out of the seven I lived in as a child. Born in London, my first memories are of the little village of Letchmore Heath in Hertfordshire, just outside the city, where my parents moved when I was a baby until I was four. It was one of those ideal villages whose features are so pretty, whose green is so sparkling and cottages so pleasing, it was used as a location by the film studios in nearby Elstree. In fact, the 1960 classic chiller Village of the Damned was shot there, very recognisably.
I've always had almost creepily precise recollections of that home and its surroundings. I could trace the layout of the two adjoining cottages I lived in with almost disturbing detail to this day, with skylights, tiles and corners burned into my mind, and somehow that formed a kind of childhood-coloured wallpaper that was a backdrop to everything later. It was a Neverland, a fairy place, retained and surely distorted. The memories were so vivid that I avoided returning in a reluctance to realign them with reality; but about two years ago, after an event nearby, I was unable to resist the detour and went back for the very first time. There it was. It was startlingly, disquietingly familiar, as though a dream landscape had become real.
When I was commissioned to write a novel with a faintly supernatural aspect to it shortly afterwards, the house and the village immediately sprang to mind, the accuracy of childhood recollections chilling at some primal level, and I pictured that bright, bright village green, and on it was a strange ghost of a living girl. I was, at some level, so thoroughly possessed by that place that I had to capture it, and find shadows in the sun; unease in the prettiness. So now it is preserved in book form to haunt me forever… I feel I can't escape, and nor do I want to.
My parents soon left to move ever west, until we eventually settled in Dartmoor. That thatched granite house, mentioned in the Domesday Book, then grew to exert such a powerful hold on me that – while Letchmore Heath had seemed like an untouchable film of my childhood – I had to go back every few years to gaze and absorb. I've done a radio programme on it, and used it as a setting in two novels, and yet I haven't been back inside because I had a pact with myself that I never would: the downlighters would spoil the memory of hessian lampshades.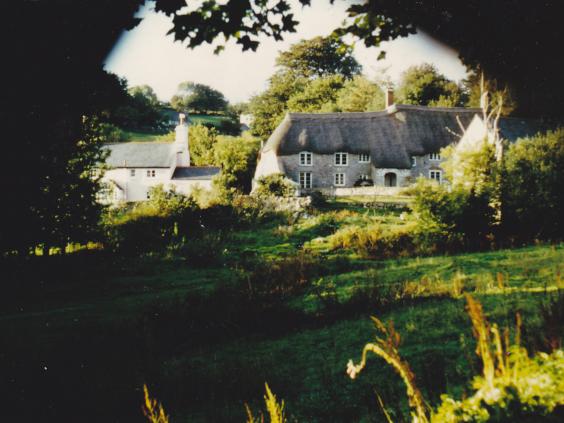 I dreamt of it so often at night, I thought I might either go mad – or go even more mad and have to go back there to live, to get mental peace. But once I used it as a setting, the dreams became annual rather than nightly. I now so often look at my London house with its mess and wobbling floorboards and wonder just how it is soaking into the psyches of my own children.
Only now – after so much time; after so many flats as a poor substitute – do I live in a house that is something of a creaky haven. I have the crooked staircase, the log fires and the uneven plaster – to a backdrop of traffic roar and street lights. What's missing is the smell of freshly cut timber preserved with linseed oil against cold air, and so I'm finally fulfilling a childish desire and having a miniature hut built in our tiny garden, where I can write and inhale that calming scent that I've been tracking down all my life…. But where's the village green?
'Touched' by Joanna Briscoe is published by Hammer Books
Wayne Hemingway founder of  Hemingway Design 
My first house was in Morecambe, which was a pebble-dash semi on a standard street. It was my nan and pop's house, but Mum and I lived there because Dad buggered off when I was three.
It was a typical Morecambe house where they took in B&B lodgers during the season. I always remember people being there at breakfast and it being exciting. I liked having strangers in the house.
We had a garden, and even though it was only small, that was the most exciting thing – being outside all the time. We had a corner plot so it was slightly bigger than the rest of the street and it was always full of my mates. We had a swing and a seesaw too. I remember my grandad's shed and all the toys he used to make for me in it.
When I go back to Morecambe I always run past it; it's still there in all its pebble-dash glory. But I don't get misty-eyed about it. I know of its value to me and I know of its value to what I've learnt about the housing that we design, for instance the value of outdoor space. To give a family a chance to get outside and chat and sit in the sun, to garden and make things in a shed, is so important. We always try to create good outdoor space when we design housing.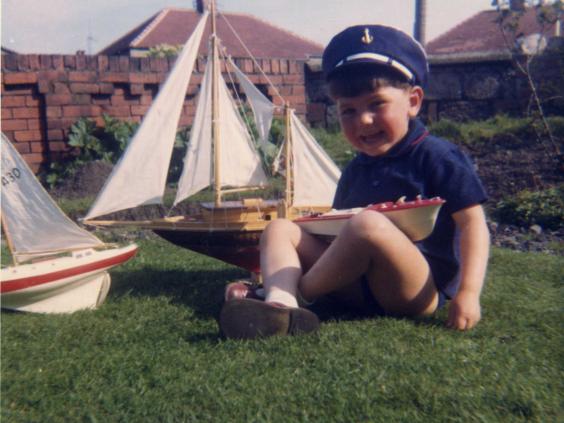 My wife Geraldine and I have taken the best of the houses we lived in and built our own. Our own dream home.
Lemn Sissay, author and broadcaster
When my mother came to this country from Ethiopia, she asked a social worker to foster me for a short period of time while she studied. The social worker gave me to my foster parents and told them to treat it as an adoption. "He's yours forever and his name is Norman," he told them.
Theirs was a semi-detached house in Ashton-in-Makerfield, near Wigan. To the left there was a beautiful cobbled street, which was fascinating for a kid. At the front was a garden the size of a postage stamp, with a Laburnum tree that was both beautiful and poisonous.
The garage out the back was like another world. My foster dad's world. It was dark and dingy and full of stuff that me and the other kids [Sissay's foster parents had three of their own children, and other foster children would regularly stay for a few weeks] knew that we shouldn't touch. Except that we did.
Apart from Mum and Dad's bedroom, upstairs was our place. A window looked out on to the Laburnum tree which sent these incredible shadows stretching across the wall when cars drove past. In front of our house was a place that we called the flower park. We loved to play there.
Leaving there when I was 12 was incredibly sudden. I was told that I was being put into care and no one was going to speak to me or call me again, and they didn't. I lost everybody. My whole family. I couldn't understand what I had done to have elicited that. I just thought that it was my fault.
I ran away from the children's home a few times and sat in the flower park just to watch the house. I couldn't believe that I was no longer relevant to what I had always known. The house became symbolic of betrayal and darkness, but it was also a magical world that I'd been locked out of.
I feel emotional now when I see it, which I do every couple of years. Sometimes I see an old neighbour who remembers me disappearing. I'd like to buy the house and use it as a retreat to write in or something. I suppose I'd like to own what happened there.
All family is a collection of memories. And the house is a place of story. That's probably why my house is a strange place to visit. No one can confirm that I was there or that I wasn't there. Or that I mattered. 
Watch 'A Child of the State' at: ted.com/talks/lemn_sissay_a_child_of_the_state
Campbell Robb, chief executive, Shelter
I grew up in pretty much the same home for most of my childhood. The things you remember are all those fascinating details that make up your youth. We had heating downstairs, but no heating upstairs. I remember palpably how cold it was in Glasgow in the winter, and never wanting to get out of bed for school.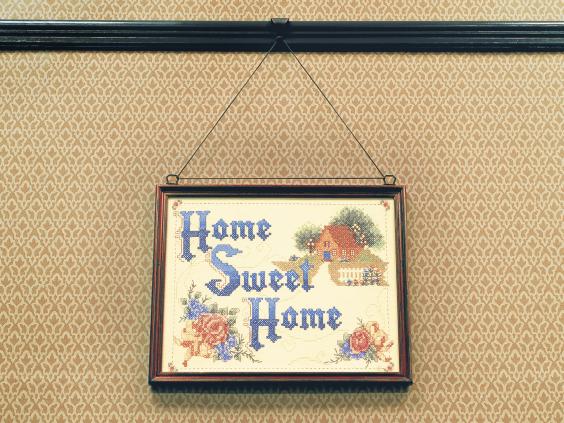 We had a real coal fireplace which only went on for very special occasions, and that was just fabulous, a real treat. And people would come over for special events and Mum would tidy up the house and it would look great.
When you're a child I think there is generally a sense of security about the house, although that's not true for many of our clients. There should be a safety about coming home.
You try to recreate that kind of specialness as you grow older and have your own children. I wanted the house to be somewhere they felt very secure and happy, and was filled with laughter. I wasn't trying to recreate my childhood home but I was trying to create a home for my children. There's a distinction.
My mum and dad moved out about 10 years ago and it was a big traumatic event because – not only was it my childhood home – but it had been my mother's parents' home, so it was in the family for a very long time. It was quite a sad thing. When I'm in Glasgow I do drive past it deliberately and look at it and think, "I miss that". There is a sense of loss when it goes.
Stephen Bayley, design critic, cultural  commentator and author
My parents weren't much interested in the domestic arts and I don't think much of my childhood house. The environments that really influenced me were sitting in the back seat of my father's car, and the city I grew up in, which was Liverpool, whose glorious romantic melancholy and majestic presence influences me still.
The house felt empty. I had no brothers and sisters, and the only entertaining my parents did was in hotels and restaurants. As a result, I always felt more comfortable in those places rather than my parents' house.
We didn't move around all that much but I was born in one place, went to school in another place and university in another, then came to live somewhere else. I was brought up in a place that neither of my parents came from. I have absolutely no sentimental, nostalgic regard for the places where I was brought up, although the physical presence of Liverpool city was immensely influential.
Perhaps because of some sort of unfocused sense of loss, I've always made it my business to make sure that the place that I'm living in is better than the place I was living in before. And that's what got me interested in design.
Being interested in design means having a sense of conviction that you can make your environment better than something else, better than that of your past and better than that of your contemporaries. The notion of home that I have is the one that my wife and I have created, not the one that I grew up in.
Sarah Beeny, property developer and  founder of Tepilo.com
The thing about your childhood home is that you kind of morph it into something that it probably isn't. I remember mine, which was between Reading and Basingstoke and we had until I was 22, having a smart sitting room that we weren't allowed in. It was the size of a ballroom. I'd tiptoe in and shut the door and dance from one end to the other.
Occasionally, I remember turning around to see my parents peering through the door. It used to feel like I'd been caught, but now that I have children it makes me smile, because that is exactly what I would do if I saw one of my own dancing around a room. And, of course, it wasn't the size of a ballroom; it was a really normal-sized room. Your childhood home is massive in your head, I suppose because you're so much smaller.
I also remember the apple trees we had in the garden, which had a hammock between them. I would lie in it in the holidays. To me, my whole childhood was spent in that hammock. 
I took my children there a year ago and we drove past it. Weirdly, I thought I'd be really traumatised but actually, it's just a building. I don't think I'll go back again. All my memories are in my head; they're not in the house.
Reuse content