Mortgage affordability has improved across the UK except in London and the South East, according to new Halifax figures.
The average mortgage payment now takes up 28 per cent of a new borrower's income, three per cent less than five years ago and 20 per cent down from the high point of 2007.
In London a new mortgage will cost nearly £2,000 per year more today compared to five years ago, although across the UK as a whole payments have fallen by an average of £100. The biggest drops in payments have been in Northern Ireland (down £2,880), Scotland (£912) and the north of England (£780).
"The reality is mortgage affordability outside of London and the South East is close to its best level for twelve years," said Craig McKinlay, Mortgage Director, Halifax. "Public sector workers in particular have benefited from higher wages over the last five years, with double digit earnings growth in some areas of the UK contributing to substantially improved figures for mortgage affordability."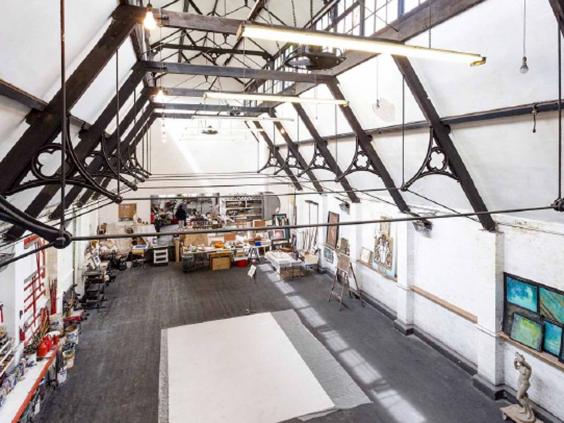 Live in a former church
The former church at 41 Iffley Road, Brackenbury Village, London, has been used as an artist studio since the 1970s but is now on the market again with residential conversion potential. It was built in 1882, the first property on the street and was St John's - thanks to its ecclesiastical windows, it has excellent natural light, as well as a mezzanine and basement. On for £2.5 million with Frost Meadowcroft.
Home improvement
Around four in ten over-55 homeowners are considering home improvement projects according to the Equity Release Council and say they are more likely to remain in their home as a result of surging property prices.
However, of those who want to improve their homes, nearly a third cannot afford to spend anything on new works. The most popular room to invest in is the kitchen, followed by bathrooms and bedrooms. More than half want to simply redecorate.
Unfinished DIY
A poll of 2,000 people by Ocean Finance indicates that a third are living with an unfinished DIY project, and two fifths had lived with the situation for more than a year.
The most common unfinished job is decorating (one in five live with a part decorated room), followed by bare floors waiting for carpet, tiles, varnish or laminate, then unfinished shelves, and unplastered walls/exposed plaster.
People in the 25 to 34 age group were the most likely to be living with unfinished DIY, with those in London the most offendors at failing to finish work.
House prices up £21,000
House prices have leapt £21,000 or 8.5 per cent in the last year (6.3 per cent if London is excluded), according to LSL Property Services.  This represents the highest annual increase since August 2010, with prices rising £2,326 in May to an average of £266,013.
"Only London and the South East have seen house price growth in 'real' terms since January 2005," pointed out David Newnes, director of Reeds Rains and Your Move estate agents, owned by LSL. "In the past twelve months prices have risen in 91 per cent of unitary authorities across England and Wales. In fact, in April new record prices were reached in Cardiff, Bristol, Northamptonshire and Cambridgeshire, as growth spreads out from the capital and reaches across the rest of the country.
He added that there were indications of a cooling in the market, especially in the most expensive London areas including Kensington and Chelsea and the City of Westminster which experienced the largest monthly drop in house prices, down 2.7 per cent and 2.9 per cent respectively since March 2014.
Moving out of London
New seller asking prices are at a 'virtual standstill' according to Rightmove which says that prices in London 'may have hit an affordability cap'.
Miles Shipside, Rightmove director said the figures suggested that the London market is starting to 'run out of steam'. 
"We've reached a point where the gap between London and the rest of the country is becoming irresistible to London homeowners who have for several years put off moving out," said Lucian Cook, Savills UK head of residential research.
"The result is more stock on the London market, lower levels of competition from buyers and slightly more realism from sellers when agreeing asking prices.  The constraints on additional borrowing, particularly in the wake of the Mortgage Market Review, will be a further prompt to older first-time buyers or those looking to buy a larger home to look beyond London."
Mortgage effects blip?
The UK housing market has overcome the introduction of new mortgage affordability rules, says chartered surveyors Connells Survey & Valuation. Its latest property valuation levels are up three per cent in May after a 15 per cent month-on-month fall in April.
The total number of valuations for first time buyers is up nine per cent compared to April, and eight per cent higher than May 2013.
"The most severe effects of the MMR have been proved as temporary, while the benefits will last much longer," said John Bagshaw, Corporate Services Director of Connells Survey & Valuation. "Disruption over the transition period between old and new regimes was expected, and temporary problems seen by some lenders have now been almost entirely resolved.  We expect solid, steady growth in the market over the rest of 2014."