Embarrassing street names have a bad effect on the value of UK homes, with 60 per cent of homehunters admitting they would be unlikely to buy a property in a street with an unfortunate name.
Research from property website NeedaProperty.com using Land Registry data suggests that the most unfortunate names in the country are worth an average of £84,000 less than similar properties within a quarter of a mile.
Over the years, several street names have been bowdlerized, such as Grape Lane which appears in various towns and cities including York, Whitby and Durham. Others such as Jackass Lane are still with us.
Scott Green, CEO of NeedaProperty.com, said: "While living in a street with a funny or rude name might be a fun conversation starter or source of dinner party banter, it might not be so good when it comes to selling your house. However, with an embarrassing street name causing such a big difference in a property's value, it seems there are bargains to be had for those who don't mind a bit of innuendo."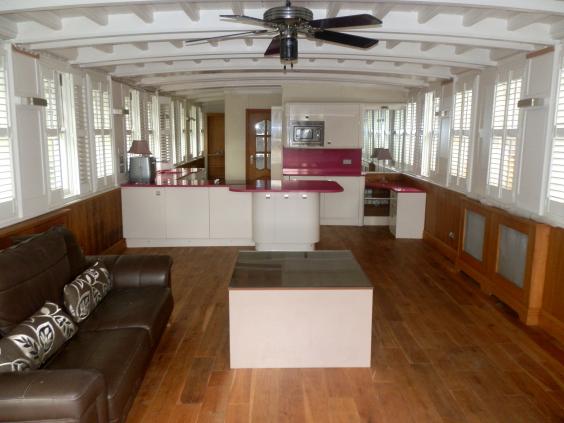 Your chance to live on an Oxford Barge
There are only half a dozen Oxford Barges still in existence so they do not come up for sale very often. This one, currently moored in Surrey, dates back to 1880 and was used by the university's rowers for training and watching rowing races.
A refurbishment since the early days means features include two double bedrooms, a huge open plan lounge, and a lovely ballustraded and astroturfed roof terrace, as well as 240v shore power, mains water connection, sewage and waste water output connection. It's on with Waters Edge Homes for £150,000.
Estate agents' hourly charges
High street estate agents charge up to £774 an hour to sell a property, according to research by online estate agent eMoov.co.uk. On the basis that it takes an estate agent between five and 15 hours to sell a property, with average fees of 1.6 per cent and an average commission of £3,872.
"Typical high street estate agents are charging vendors extortionate fees for a service that is relatively straightforward." said Russell Quirk, founder of eMoov.co.uk."It's an important job of course but hardly worth hundreds of pounds an hour when it can be done successfully for a fraction of that."
One up at nine
The latest Economist/Ipsos MORI Issues Index which reveals what people in the UK are most concerned about shows that 'housing' rose one place in February, up from tenth spot to ninth, just above pensions/benefits and one place below inflation/prices.