More than a quarter of UK homeowners still describe the property they grew up in as 'home,' according to  the latest Britain at Home report from Lloyds Bank Insurance.
The research into how the childhood homes of 2,000 adults have changed compared to their present property shows that 28 per cent now have a home office but did not in the home in which they grew up. Nearly half had a pantry in their childhood home, but not in their current one, while 20 per cent no longer have a shed or greenhouse.
Laura Lurcock, 29, lives in Brighton with her husband Gary and 15-month-old son Joshua and works in the youth service for the local council. Although Laura and Gary bought their three-bedroom semi-detached house three years ago, she admits that she still feels attached to her parents' home nearby.
"I love my house, and it's definitely become more of a family home since Josh was born, but ultimately I still think of my parents' house as 'home'. It's where I grew up and where all of my memories – and my dog  – still live.
"It's much bigger than our house and has a big garden for Josh to play in which is nice. I'd love to eventually have a home like the one I grew up in."
Professor Barrie Gunter, author of Psychology of the Home said that our first or main childhood home plays a key role in the development of our personal identities.
"These initial childhood experiences can become deeply imprinted into our psyche, and if they were happy ones, we often seek to recreate them as adults when we move into our own property," he said.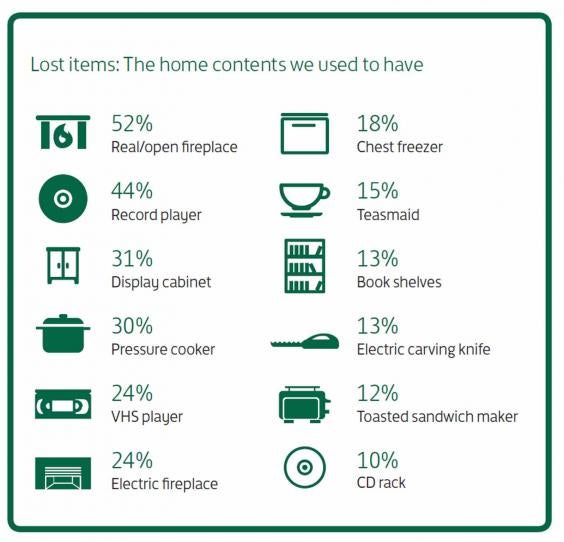 The report shows that a fifth of homeowners say that their family spends less time together at home now than when they were growing up and nearly a third that their present home is used more for entertaining people then their old one.
It also suggests that the living room is now the most valuable room in the home with contents worth a total of £5,000 on average. The most popular household items are flat screen televisions, owned by 86 per cent of homeowners, followed by kitchen appliances including coffee machines (42 per cent) and bread makers (30 per cent).
Around 60 per cent of the adults polled also added that they have more contents now compared to their childhood home.
Reuse content