David Rudisha is a mere mortal after all. The Star Trek fan decimates 800m fields, his rivals clinging on as he turns race after race into a procession. Nijel Amos, the man who had tried to challenge Rudisha at the Olympics and was dragged around on the coat tails of his world-record pace to run a time of 1min 41.73sec, which is tattooed on the forearm of the 20-year-old from Botswana, had a different script.
There will be no new tattoo to mark events in Glasgow for the colourful character also known as DJ Zoroski, the man with the golden teeth who now has the matching gold medal, which many thought would be impossible to attain while Rudisha was still involved in the sport.
Amos insisted the world record-holder "will always be the hero of the 800 metres". After all, this was not Rudisha at his London 2012 peak, far from it. Knee surgery had written off last season while Amos also missed the World Championships last summer with his own quadricep injury, which he picked up playing football. He described watching events in Moscow as akin to mental torture.
Whereas Amos had recovered in time for winter training, Rudisha's knee problem lingered. The signs were that the Usain Bolt of middle-distance running could be toppled in a major championship. Yet in Eugene in May and earlier this month in Monaco, the front-runner of every 800m race he enters was caught and passed by Amos.
Once more, Rudisha slotted into the front – it is the only way he knows how to run. For a time entering the home straight his tactics looked like they might just work. Even at 95 per cent, the field knew they could not catch him, although Amos begged to differ.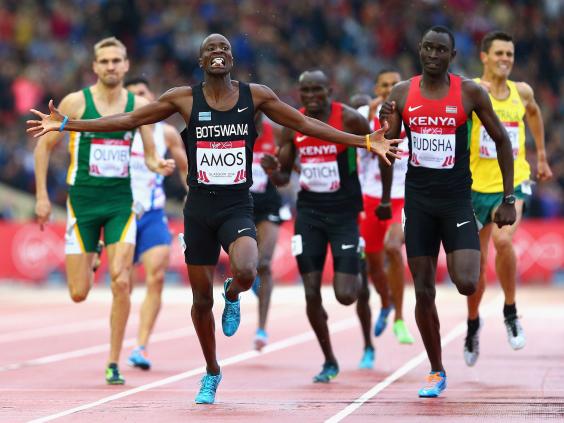 Ferguson Rotich, who changed his first name to that of the former Manchester United manager because of his winning ways, slipped behind his Kenyan countryman's shoulder as Amos found himself hemmed in.
South Africa's Andre Olivier noticed his training partner's plight and pulled out of the way to help propel him up the field and Amos duly sprinted past Rudisha to cross the line first, his tongue hanging out and arms outstretched. He won in a time of 1:45.18, with Rudisha finishing in 1:45:48.
"I was lucky because my training partner, Andre, someone who really cares about me, let me out," said Amos.
The intense race in the Hampden rain was a mere indicator of the rivalry that lies ahead. There is not the needle of, say, Sebastian Coe and Steve Ovett, merely mutual respect and admiration on Amos's part for the greatest middle-distance runner of all time. Amos wants to scale the same heights and both look destined to push each other onto further greatness.
"Rudisha is a good man and has such good sportsmanship," said Amos. "Every time I run with him he makes me grow up. He always inspires me to go hard. I don't think I am the man in the 800 metres. I think that I will have to break the world record five times."
His Kenyan rival was equally gushing in his praise of a special talent but was left pondering what might have been. Commonwealth gold was the only medal missing from the set. However, he said he was pleased with his performance given the injuries he has had.
"It wasn't so bad," said the world record-holder for the distance. "I am happy to have done that and achieved that despite the fact that I would have wished to do better and maybe win the gold medal. I am not losing hope because I know it is because of the problems that I have."
At the London Olympics, Amos was no match for Rudisha's supreme pace to such an extent that he collapsed and had to be taken off the track on a stretcher. This time he left of his own accord, a Botswana flag draped over his shoulders. The king was not dead, just temporarily felled. Rudisha will be back.
Another favourite was toppled here – Warren Weir in the 200m. There could hardly have been a more red-hot favourite than the Jamaican. Yet he was upstaged in a Jamaican one-two-three by Rasheed Dwyer, who took gold. Weir pulled up just before the line with what appeared to be an injury, with the bronze going to Jason Livermore.