Jodie Stimpson described missing out on the London Olympics as "the kick up the backside I needed" after winning the first gold medal of the Commonwealth Games in Glasgow.
In a dream start to Team England's campaign, 25-year-old Stimpson sprinted to victory at Strathclyde Country Park while team-mate Vicky Holland took a surprise bronze behind Canada's Kirsten Sweetland.
Stimpson went into the race as the top-ranked athlete and justified that position with a commanding performance, pulling away from Sweetland over the closing 500 metres of the race.
It was all a far cry from 2012, when Stimpson was distraught at being left out of the Great Britain team for London, and was one of a number of critics of British Triathlon's domestique policy.
Holland and Lucy Hall, who finished 11th in Glasgow, were picked to support then world champion Helen Jenkins.
Stimpson said: "I didn't meet the criteria for London, so it wasn't my spot.
Commonwealth Games 2014 - In pictures
Commonwealth Games 2014 - In pictures
1/61 Day 11

(L-R) Peter Barker and Alison Waters of England (silver) David Palmer and Rachael Grinham of Australia (gold) after the mixed doubles squash final

GETTY IMAGES

2/61 Day 11

Geraint Thomas, of Wales, celebrates winning road race gold

GETTY IMAGES

3/61 Day 11

Husband-and-wife team, Gabby and Chris Adcocks celebrate their gold triumph in the badminton

GETTY IMAGES

4/61 Day 11

Jamaica defeated England 52-48 in the bronze medal netball match

GETTY IMAGES

5/61 Day 10

Usain Bolt and his Jamaica team-mates celebrate their 4x100m victory

Getty

6/61 Day 10

Nicola Adams kisses her Commonwealth Games gold medal

Getty Images

7/61 Day 10

Street fighters (from left to right) England's Alex Dowsett, Manxman Peter Kennaugh and veteran Scot David Millar will do battle around Glasgow's roads

Getty Images

8/61 Day 10

Australia players raise their arms in delight as another goal puts the match beyond England and a place in the final is secured

PA

9/61 Day 10

Max Whitlock reached new heights at the Commonwealth Games and now turns his attentions to Nanning in October

AFP/Getty

10/61 Day 10

Nicola Adams celebrates winning gold after beating Michaela Walsh of Northern Ireland

Getty Images

11/61 Day 10

Amantle Montsho (R) of Botswana failed a drugs test after the women's 400m final

Getty Images

12/61 Day 10

Helen Housby of England is dejected after New Zealand defeated England in the netball semi final

Getty Images

13/61 Day Nine

Christine Ohuruogu leads the field for England's women in the 4x400m heats

Getty Images

14/61 Day Nine

Jamaica's Usain Bolt takes the baton in the 4x100m men's heats

PA

15/61 Day Nine

Usain Bolt of Jamaica smiles and shakes hands with a competitor after Jamaica won their first heat in the men's 4x100m relay

Reuters

16/61 Day Nine

Scotland's Lynsey Sharp celebrates after winning a silver medal in the 800m at Hampden Park

Getty Images

17/61 Day Nine

England goalkeeper Maddie Hinch is mobbed after her shoot-out heroics in England's semi-final win

Getty Images

18/61 Day Nine

Belfast's Michael Conlan fights on despite suffering a nasty cut to his face against Wales' Sean McGoldrick in their bantamweight semi-final in Glasgow

PA

19/61 Day Nine

Claudia Fragapane on her way to an impressive gymnastics gold in the floor yesterday

PA

20/61 Day Eight

England's Emma Pooley won silver in the women's time trial

Getty Images

21/61 Day Seven

Claudia Fragapane of England poses on the podium with Ruby Harrold and Hannah Whelan of England after winning the Women's All-Around Final

Getty Images

22/61 Day Seven

England's Nicola Adams (left) dominates Erandi de Silva, of Sri Lanka, to guarantee herself a bronze medal at the very least

Reuters

23/61 Day Seven

Dai Greene failed to make the 400m hurdles final after a troubled build-up

Getty Images

24/61 Day Seven

England's Alex Danson (right) opened the scoring in England's victory over Scotland in the hockey

Getty Images

25/61 Day Seven

England's Greg Rutherford leaps into the air as he captures the gold medal in the long jump competition inside Hampden Park

PA

26/61 Day Seven

England's Jess Taylor clinched the bronze medal in the women's javelin

Getty Images

27/61 Day Seven

Max Whitlock competes on the pommel horse on his way to gold

PA

28/61 Day Six

Three of England's 4x100m relay medley quartet, Chris-Walker Hebborn, Adam Barrett and Adam Peaty, celebrate their success

Getty Images

29/61 Day Six

Wales' Georgia Davies wins gold in the 50m backstroke

Getty Images

30/61 Day Six

The women's England squad – Hannah Whelan, Ruby Harold, Rebecca Downie, Kelly Simm and Claudia Fragapane – celebrate with their gold medals

PA

31/61 Day Six

Louis Smith won gold in the parallel bars

Getty Images

32/61 Day Five

Nicola Adams lands a left jab on Nigeria's Oluwatoyin Oladeji

AP

33/61 Day Five

Kemar Bailey-Cole shades Adam Gemili in the 100m final as the Englishman secures a famous silver medal

Getty

34/61 Day Five

Blessing Okagbare takes the women's 100m, holding off Jamaica's Veronica Campbell-Brown

PA

35/61 Day Five

Sophie Hitchon shows her bronze for the hammer

Getty

36/61 Day Five

Paul Foster (left) and Alex Marshall with their gold medals after the men's lawn bowls pairs final at Kelvingrove

Getty

37/61 Day Five

Nick Matthew, below centre, goes all out to beat James Willstrop for gold

Getty

38/61 Day Five

Sophie Taylor, right, embraces Australia's Lorna Tonks on the podium after the Englishwoman won a surprise gold in the 100m breaststroke

PA

39/61 Day Five

Jazz Carlin looks simply delighted after her win in the 800m freestyle final

Reuters

40/61 Day Four

Cecil Afrika, of South Africa, goes over for a try during the Rugby Sevens tournament as they defeated New Zealand in the final

Getty

41/61 Day Four

13-year-old Erraid Davies has been told she should target the Paralympics in Rio after winning the bronze medal at the Commonwealth Games

GETTY IMAGES

42/61 Day Four

In one of the more lighthearted moments of the Games, a young marathon fan faceplanted in front of millions of viewers when he tried to keep up with Kenyan runners at the Commonwealth Games marathon.

BBC

43/61 Day Foiur

Laura Trott could not say her Olympic gold medals in London meant any more than this one cleaved from Glasgow. Just 48 hours earlier she was under the care of an emergency doctor, floored by a kidney infection.

Getty

44/61 Day Four

Michael Shelley of Australia celebrates as he crosses the line to win the Men's Marathon

GETTY IMAGES

45/61 Day Three

Usain Bolt confirms he will run in both the heats and the finals of the men's relay at the Commonwealth Games

Getty Images

46/61 Day Three

Tim Mikkleson of New Zealand falls on the loose ball in the Rugby Sevens match between New Zealand and Scotland

Getty Images

47/61 Day Three

Francesca Jones of Wales reacts after an enquiry was rejected resulting in her winning gold in the Gymnastics Rythmic Ribbon Final

Getty Images

48/61 Day Three

Alistair Brownlee approaches the finishing line to win the mixed triathlon for England

Getty Images

49/61 Day Three

Joanna Harten bursts into tears after England go down 49-48 in the netball

Getty Images

50/61 Day Three

Silver medallist Francesca Jones (L) of Wales embraces bronze medallist Laura Halford (R)

Getty Images

51/61 Day Two

Daniel Wallace celebrates winning gold in the men's 400m individual medley

Getty Images

52/61 Day Two

England's bronze medalist Daniel Rivers during the final of the 10m Air Rifle Men

PA

53/61 Day Two

Scotland players celebrates a goal during the Womens Hockey match between Scotland and Malaysia at Glasgow National Hockey Centre

Getty Images

54/61 Day Two

Silver medalists Jason Niblett and Kieran Modra of Australia on the podium during the medal ceremony for the Mens 1000m Time Trial B2 Tandem finalat Sir Chris Hoy Velodrome

Getty Images

55/61 Day Two

Amber Hill of England competes in the skeet qualification at Barry Buddon Shooting Centre

GETTY IMAGES

56/61 Day Two

Joanna Rowsell of England celebrates winning gold after the Women's 3000 metres Individual Pursuit final at Sir Chris Hoy Velodrome

GETTY IMAGES

57/61 Day One

Steven Burke, Ed Clancy, Andy Tennant and Bradley Wiggins of England compete in Mens 4000 metres Team Pursuit qualification

Getty Images

58/61 Day One

Jodie Stimpson crosses the finishing line to win gold in the women's triathlon

PA

59/61 Day One

Jodie Stimpson of England during the triathlon

Getty Images

60/61 Day One

England's Jason Kenny finished 11th in the men's sprint qualifying

Getty Images

61/61 Day One

Hannah Miley of England competes in the Women's 400m Individual Medley heat during the 2014 Commonwealth Games

Getty Images
"Obviously, I was devastated to miss a home Olympics. But that gave me the kick up the backside that I needed.
"I changed coach and it did wonders. Me and Darren Smith have worked so hard ever since.
"It's absolutely fantastic. This medal is not just mine, it's for all my family and friends and Darren. Thank you so much. This medal is yours."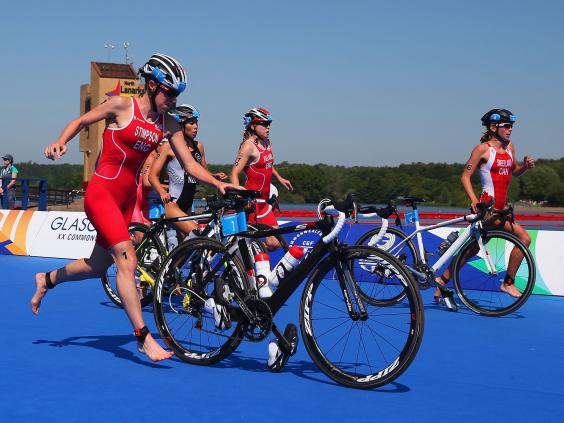 Stimpson credits linking up with renowned Australian coach Smith as the turning point in her career and her results have certainly taken off.
The plan of the England trio had been to make it a hard race over a tough course to try to avoid all the favourites still being there on the run.
Despite the absence of Welsh world champion Non Stanford and Jenkins through injury, it was still a strong field.
Coming out of the 1.5 kilometre swim in Strathclyde Loch, England held the first three positions but their rivals were all there too.
Hall briefly tried a breakaway on the 40km bike but was pulled back and a group of 10 began the 10km run together.
That quickly became six, with Stimpson, Sweetland and Australia's Emma Jackson pushing the pace while Holland, Andrea Hewitt of New Zealand and Northern Ireland's Aileen Reid stayed with them.
Reid was the first to crack at the end of the penultimate lap and a kick by Stimpson got rid of the dangerous Jackson and Hewitt - the bronze medallist in 2006.
Holland held on until around a kilometre to go, but by then she had already secured a medal.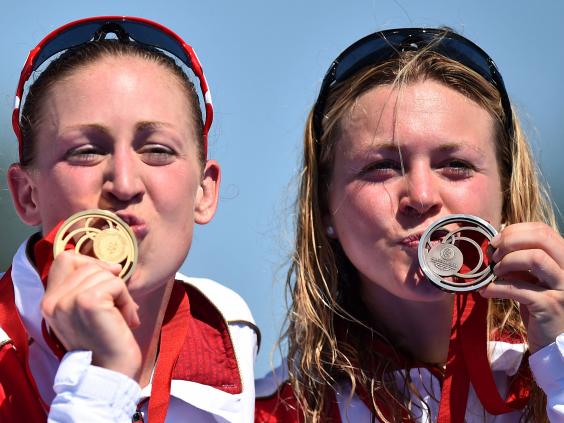 Stimpson, from Oldbury in the West Midlands, proved to be the strongest in the end and did not ease up until she had crossed the line
"I wouldn't say it was comfortable," she said with a chuckle. "I wanted to run out solid but everybody else was, too.
"I was not expecting that many to stay with us but when it's a big championships everybody leaves it all out there.
"It broke up on the last lap and I thought, 'Right, this is it, give it all you have got'. On the final downhill, it was a case of all or nothing. And it paid off."
Holland, from Gloucester, has never been on the podium in a world series race and declared it the best result of her career.
"I'm a bit overwhelmed but that was the top result I could have got," she said.
"I felt in control throughout the run and when my legs started to fail me with about a kilometre to go I must have turned around 15 times to check no-one was coming up behind me. It just felt the longest stretch of road in the world.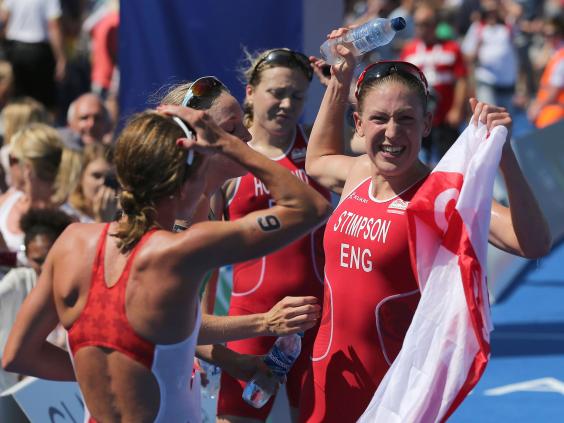 "It feels very poetic to win the first medals of the Games. You dream about this, and to get a medal with Jodie makes it even more fantastic."
Hall, 22, is not a strong runner and was treated in the medical tent at the finish after appearing to overheat on the run.
The medals were England's first in triathlon at the Commonwealths and set the team up for a potential clean sweep of the golds ahead of the men's race on Thursday afternoon and the mixed relay on Saturday.