Standing in the middle of the track draped in the cross of St George, the euphoria of another epic victory washing over her, Laura Trott could not say her Olympic gold medals in London meant any more than this one cleaved from Glasgow.
Just 48 hours earlier she was under the care of an emergency doctor, floored by a kidney infection that had catastrophic consequences for the individual pursuit and scratch race. Any sane individual would have called a cab, if not an ambulance. Not Trott. Where there's a pulse there's a fight.
All those uberathletes who found a reason not to compete at the Commonwealth Games might watch a rerun of this 25-kilometre points race, an endurance beast that exhausts your heart and lungs, breaks your legs then asks you to go again, to comprehend not only the meaning of commitment but of these very Games.
This was a reaffirmation of the quality of British cycling at the end of a disappointing meet. Trott edged Elinor Barker, of Wales, by the width of an eyelash. In fact it was so close she thought Barker had won it, and told her so. "I rolled alongside Elinor and said 'Well done, Commonwealth champion,' and then it came up I had won. I can't believe it, especially after the week I have had."
After removing her helmet to accept the cheers of the crowd, Trott made first for her parents, who had shared the torment of the previous few days before revealing the full extent of the drama. "The evening before the individual pursuit [Thursday night] I didn't feel very well. I went to the doc and said I felt a bit weird. He said nothing was wrong.
"I woke him up at 5.30am and said something is really wrong with my kidneys. It turns out I had a kidney infection. That set me back. The IP was horrendous, looking back I don't think I should have done it. But I was here so there was no point in not racing in the IP or scratch race.
"It wasn't the best preparation because I had not fed well for 48 hours. I just lived on porridge. I have worried my parents sick. They know how much it means for me."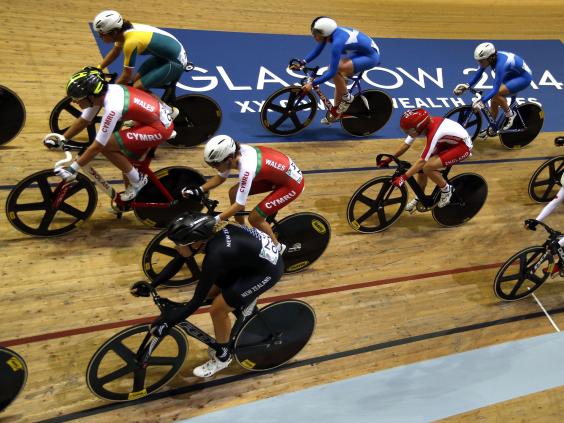 Trott trailed Barker by a point going into the 10th and final bonus-scoring sprint at the climax of the 100-lap marathon. With two laps to go she moved on to Barker's wheel and at the sound of the bell summoned the last of her strength to attack off the final bend.
It mattered not what the status of the event might be in the white heat of battle. She was chasing down the British and by default world elite in Barker and close friend Katie Archibald, of Scotland, who won bronze. In that company labels, be they Olympic, Worlds or otherwise, fall away. Archibald took the tape in that breathless last thrash ahead of Trott and Barker. Since both Trott on Barker finished joint-top on 37 points it was the final sprint that decided it in Trott's favour.   
"This is right up there with the Olympics. I am so over the moon, so hard to describe," Trott said. "I had put in all the hard work and knew I was going well because of all the training I had put in so I didn't want to give in and then this morning I woke up and I was actually hungry and had a good feed and thought, 'This is going to be a good day', and it paid off.
"When I saw Elinor was a point ahead, I thought, 'Right, I am dying. There is no way I am losing this race.' I just gave it that little bit more to the finishing line."
Video: Laura Trott on being awarded an OBE in 2013
England's Helen Scott and Sophie Thornhill took gold in the women's 1,000m time trial in the B2 tandem, setting a games record of 1min 8.127sec. They beat Scotland's Aileen McGlynn and Louise Haston into silver for the second time after winning the B2 tandem sprint.
"This one is the best golds without a doubt," Scott said. "The kilo is the paralympic event. To put down a time like that and win gold is the highlight of the week for us."
Thornhill concurred: "This is the one that means the most, the one we trained for day in and day out. To come away with gold with that time, I can't believe it. There is a bottle of champers waiting for us back in our room."
Jess Varnish won bronze for England in the women's sprint. Stephanie Morton beat fellow Australian Anna Mears for gold.
Reuse content