From fat boy to fit boy, the words of Commonwealth gold medallist Louis Smith. No tap shoes and feathers on this dance floor. Biceps and chalk are the tools of this trade and Smith was chuffed to be flexing among his own again on a day England delivered double gold in the team gymnastics.
If we discount the leap into celebrity's insatiable embrace as a face on Strictly Come Dancing, this constituted his first major competition since claiming silver in the pommel  horse at the London Olympics. And though he contributed in only two of the six disciplines over the past two days, he remains the sport's most visible presence, evidenced by a haircut that might induce quiff-envy in Elvis .
"I have fallen back in love with the sport. How hard it has been to fight my way back and get to where I am shows how much I am enjoying it," said Smith, who retired in 2013 before returning to the gym at the start of the year.
"I am very pleased I came back. It has been a brilliant competition. I kind of forgot the buzz. I have been out of the sport for a while and I loved the banter between the Scottish guys and us and going round with the boys."
The set-up he left behind is not the robust gymnastic community to which he returned. In this he is a victim of his own success, which widened interest and participation. As Smith acknowledged, making it into the England squad is not the same as breaking into a Great Britain team that can call on a deepening talent pool across the home nations.
The Scots were a strong second in the men's event here, giving the selectors plenty to ponder as the next Olympic cycle begins.
"I am going to have to prove myself even more to get in the British squad," he said. "We have done well as England but it is a lot tougher a job getting into the GB squad, but this is perhaps a start where they can kind of treat me seriously.
"I think everyone was waiting to see how I did, to see if I have still got it. Everyone else has been training since London. How easy was it to come back from being a fat boy to a skinny boy? Gymnastics is a hard sport and if you're out of shape it's even harder.
"But we're all Olympians, we've all worked our backsides off, we know what it is to work hard so ultimately it wasn't mentally too difficult. Physically I had to do what I had to do. It was a job, it was hard work and thankfully I've proved myself and had fun doing it."
England's superiority meant their overnight lead, despite the loss of Sam Oldham in the first event of the day, the vault, was never threatened by Scotland, who took silver ahead of Canada. Oldham landed awkwardly in the vault, sustained an injury to his left ankle and was carried off the mat in the arms of the England coaching staff.
With Smith a specialist on pommel and parallel bars, England were down to the bare bones on the final apparatus, the high bar. Nile Wilson, Max Whitlock and Kristian Thomas barely blinked in bringing home the gold after scoring 266.804 to Scotland's points haul of 257.603.
Smith's rehabilitation continues today in the individual competition on the pommel. England team-mate Whitlock, who outscored him in the team contest, and Scotland's Dan Keatings, are likely to be the principal contenders for the big prize.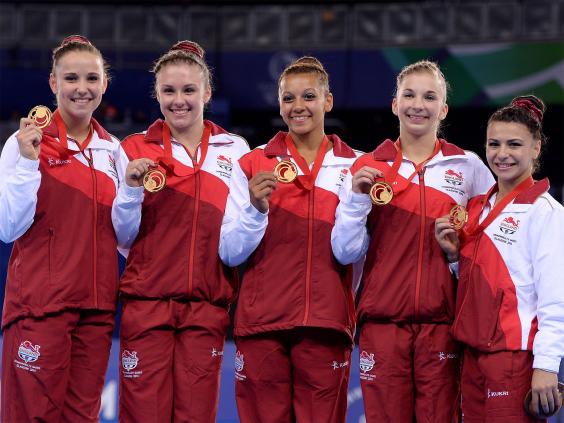 England's women proved the post-Beth Tweddle age is in brilliant hands and feet as they also claimed gold in the team event. The tiny frame of 16-year-old Claudia Fragapane hosts a heart the size of a cannon ball. Fragapane top-scored for England, who led overnight by a narrow margin to Australia, on beam and floor. Her beam display was all the more courageous following Rebecca Downie, who came off the apparatus, albeit executing a move of fearsome difficulty. England finished on a total of 167.555 to Australia's 161.646.
"You win and lose as a team. I knew I had the support of the girls behind me," said Fragapane, who could land on a bottle top. "It was just a  matter of keeping my focus and executing."