A Sierra Leone athlete believed to be missing from the Commonwealth Games has been found, according to officials.
Mohamed Tholley, a cyclist, did not turn up for a time trial on Thursday, the Telegraph reported, but his whereabouts is now known.
He made headlines in Sierra Leone in January when he won the National Cycling Picnic Race, only to be disqualified after officials accused him of making a large part of the journey by car.
Jackie Brock-Doyle, a spokesman for the games in Glasgow, said the chef de mission knows where Mr Tholley is and he is not classed as missing.
His teammate, 32-year-old cyclist Moses Sesay was tested for the deadly disease in a hospital in Glasgow last week but was given the all-clear in time to compete in Friday's men's individual time trial.
A second athlete from Sierra Leone who has not been identified also tested negative for Ebola, officials said.
Ebola, which begins with flu-like symptoms and can lead to horrific external and internal bleeding, is deadly in the majority of cases and has no known cure.
It has killed at least 729 people in four west African countries, including Sierra Leone, this year and officials are desperately trying to stop it spreading further.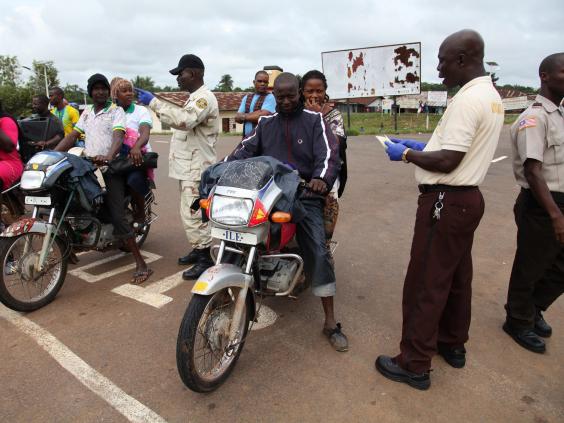 An official from the Commonwealth Games team said many athletes do not want to return home, where a state of emergency has been declared, because they fear contracting the virus.
Unisa Deen Kargbo, the team's chef de mission, told The Times: "Many people are thinking whether or not to go home now. Everybody is worried and many of them don't want to go home now because of the Ebola.
"We have held several meetings with them, but they are still worried. This virus is spreading around our country and everyone is at risk of catching it. The problem is, if they want to stay on after the Commonwealth Games end, who will take care of them?
"They will have no accommodation, no work. How do they meet their needs? How will they get themselves employed?"
He said that the athletes will be forced to return to Sierra Leone if these issues are not addressed.
The Commonwealth Games, being held in Scotland for the third time, will draw to a close on Sunday after seeing athletes from 71 nations competing in 18 sports.
Additional reporting by agencies
Reuse content