A is for Armstand dive
Among the litany of dives that will be on show by the likes of Tom Daley, this one is solely performed in platform rather than springboard competition, the athlete starting the dive as a handstand.
B is for Bibs
The tops worn by the players on both sides in netball marking their position on the field. WA, for example, stands for Wing Attack, who feeds the ball to a team's shooters, while GS stands for Goal Shoot, who stands in the opposition's goal circle for any scoring opportunities.
C is for Clay
Shooters fire at clays in the single (one clay) and double trap (two clays) competitions. Until 1921, it was legal in the UK to use live pigeons as targets but now clay pigeons, circular discs weighing 105 grams, are used for events.
D is for Derny
It always raises an eyebrow to the uninitiated but the derny bike will be used in the keirin track cycling event, a motorbike which evenly paces riders before peeling off and allowing a sprint to the finish.
E is for Empire Games
Before the Commonwealth Games earned its name, it used to be known as the Empire Games. These were first suggested as a concept by John Astley Cooper in 1891, with a first Festival of the Games in 1911. The first Empire Games took place in 1930.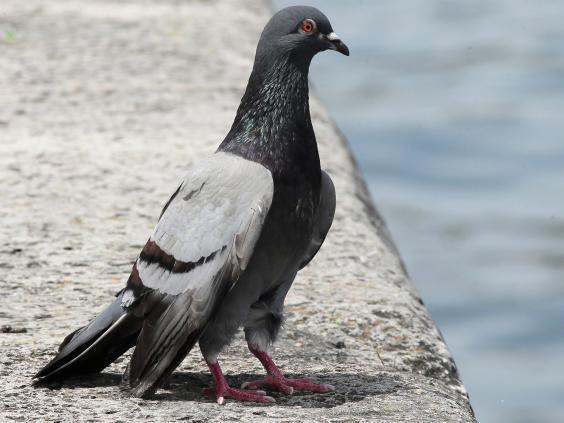 F is for False start
Under IAAF rules, if an athlete false-starts in competition they are immediately disqualified rather than given a second chance as had previously been the custom.
G is for Grip
Watch closely and you'll notice two different styles of table tennis grip: the penhold and shakehand. Both are fairly self-explanatory but the penhold is generally the most popular, although there are derivations of the penhold from curling the middle, ring and fourth finger on the back of the blade with those three fingers touching, while others prefer them splayed.
H is for Holds
It is freestyle wrestling that will be on show in Glasgow. In Greco-Roman wrestling, holds can only be made above the waist while in freestyle there are no such limitations. Freestyle wrestling lends its origins to the catch-as-you-can style played in Lancashire in the 19th century.
Ten stars to light up Commonwealth Games
Ten stars to light up Commonwealth Games
1/10 Alicia Coutts

Australia, Swimming: Australian swimming has been repairing its reputation since a disastrous London 2012 and Coutts has become one of the pillars on which it is being rebuilt. The 26-year-old was one of the few to shine in London, winning relay gold and an individual silver and bronze. She first came to international notice at the Games four years ago when she claimed five golds. Looks well set to add at least a couple more here

Getty Images

2/10 Keshorn Walcott

Trinidad & Tobago, Athletics: Another youngster who caused a stir in London. Walcott was 19 years and 131 days old when he won javelin gold in 2012, having only just won the world junior title. It remains the only senior medal he has won – has been troubled by injury and a lack of form since but is now fit and in form after a six-week training camp in Cuba.

Getty Images

3/10 Kirani James

Grenada, Athletics: James became the first non-American to break the 44-second barrier when he swept to a stunning 400m triumph at the 2012 Olympics. Michael Johnson's venerable world mark of 43.18sec looked within the then teenage James' reach. But he flopped at last year's World Championships and needs a good display here.

Getty Images

4/10 Pita Ahki

New Zealand, Rugby sevens: The 21-year-old was born in Tonga but has followed a well-trodden path into the black jersey. Ahki, a centre in XVs, made his Super Rugby debut for the Blues this season – where he is coached by John Kirwan – but it is on the sevens field he excels. An exciting broken field runner, he is part of the all-conquering All Black septet that won the World Cup in Moscow last summer.

Getty Images

5/10 Kemar Bailey-Cole

Jamaica, Athletics: With no Usain Bolt and no Yohan Blake in the 100m it gives us a glimpse at the next generation of Jamaican sprinters. Bailey-Cole is only 22 and already has an Olympic and World Championship gold to his name – both are in the relay and this is the perfect chance to claim a first individual medal. Has a best of 9.93sec.

Getty Images

6/10 Nicol David

Malaysia, Squash: The 30-year-old, who has been world No 1 for eight years, is one of the greatest players the sport has seen. With squash once again denied an Olympic place, this is likely to be David's last major championships and she defends the title she won four years ago.

Getty Images

7/10 David Rudisha

Kenya, Athletics: Never mind Farah, Ennis and Co, there are those, with Seb Coe at the front of that queue, who would have Rudisha's run to 800m gold in world record time as the greatest moment of London 2012. The 25-year-old missed last year's World Championships owing to injury but will grace the track at Hampden Park.

Getty Images

8/10 Sally Pearson

Australia, Athletics: Australia's go-to golden girl – Pearson won the Commonwealth 100m hurdles four years ago and then won Olympic gold in London. She also has a world title to her name. Was supposed to double up here and go in the 100m as well but she is set to focus only on the hurdles after a season dogged by injury worries. Will face a strong challenge from England's Tiffany Porter (also pictured)

Getty Images

9/10 Chad le Clos

South Africa, Swimming: The 22-year-old is among that rare breed of swimmers who have finished a race ahead of the great Michael Phelps. Le Clos beat Phelps by 0.05sec to claim a shock gold in the 200m butterfly in London. He added a silver in the 100m and then won gold in both at the following year's World Championships. Already has two Commonwealth golds to his name.

Getty Images

10/10 Valerie Adams

New Zealand, Athletics: It would be a massive shock if Adams did not win gold. She has dominated the shot put for the best part of a decade and is still only 29. Carried the New Zealand flag into last night's opening ceremony and would have needed a back pack for all her major medals – two Olympic golds, four world titles, two Commonwealth golds, three indoor golds. And she has won her last 51 events.

Getty Images
I is for Ippon
It translates from the Japanese literally as one point and is awarded in the contest, which effectively brings it to an end. A half-point is known as a waza-ari while an almost waza-ari is called a yuko.
J is for Jerk
Know your weightlifting terminology and the difference between the snatch and clean & jerk. In the snatch athletes lift the barbell in one smooth movement while with the clean the lifter raises the bar to his/her chest before jerking the bar over his/her head with locked arms.
K is for Knockout
It's a double meaning in amateur boxing. Actual knockouts, where an opponent is floored and the contest brought to a premature end, are incredibly rare but there is also the knockout format of the boxing, fighters immediately bowing out of the competition should they lose a bout.
L is for Lunging
The fast-paced nature of netball often makes it hard to understand what exactly is going on. There is all manner of terminology but a key term to know is lunging in which a competitor uses one leg to make a long stride while keeping the other one static.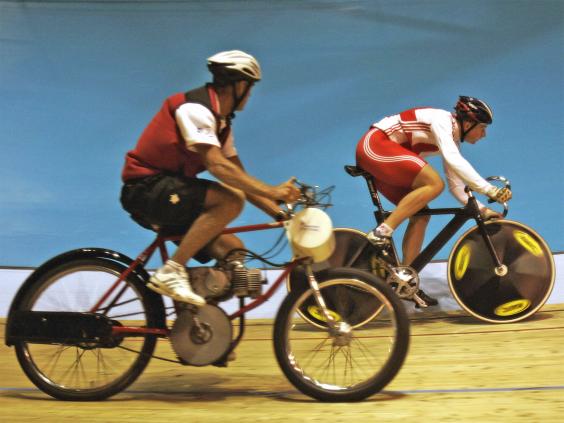 M is for Mascot
Clyde is a thistle named after the river that flows through the heart of Glasgow, designed by schoolgirl Beth Gilmour as part of a competition and chosen as it represents "Scottish symbolism and Glaswegian charm and liveability".
N is for Net shot
It may seem an obvious piece of terminology but it is the name given to a shot in badminton which just makes it over the net and drops to the floor, notoriously difficult for a rival player to get back.
O is for Omnium
It is the key event missing from the track cycling programme in Glasgow and the one in which Laura Trott is the current Olympic champion. Despite that, Trott will still be riding at these Games in the individual pursuit, the scratch race and the points race.
P is for Philadelphia
These Games count as squash's moment to shine as the sport still presses for inclusion as an Olympic sport. Among the myriad of shots is Philadelphia, one played diagonally upwards into the front corner, hitting the front wall first, then the side wall, before lobbing over the court with significant spin.
Q is for Queen's baton relay
You may or may not have heard it mentioned but it is a baton carried on a 190,000-kilometre (119,000-mile) journey round the entire Commonwealth, starting in South Asia last October to the start of the Games.
R is for Racket
This is the official term for what table tennis players will use, according to the International Table Tennis Federation, although it is more commonly known as a bat in the UK while Americans prefer to call it a paddle. International rules state that one side must always be red, the other black. Unless damaged, it cannot be exchanged for another at any time in a match.
S is for Stooshie
Among the Scottish terminology you might pick up in the next two weeks, it is not one you want to hear in Scotland. It basically signifies a row or disturbance, of which there may be many among the 17 sporting disciplines at these Games.
T is for Transition
It is an oft-used expression in the triathlon, where the Brownlee brothers will aim to make a stir for England, along with Jodie Stimpson. The transition is the changeover phase of the event from swim to cycle and latterly cycle to swim. Mess it up and you get the equivalent of a stop-go penalty in Formula One.
U is for Underwater
There are strict rules on how long swimmers can be under the water in competition. In the backstroke, butterfly and freestyle, 15 metres is the maximum that can be spent below the surface while in breaststroke a solitary stroke followed by a butterfly and breaststroke kick is permitted.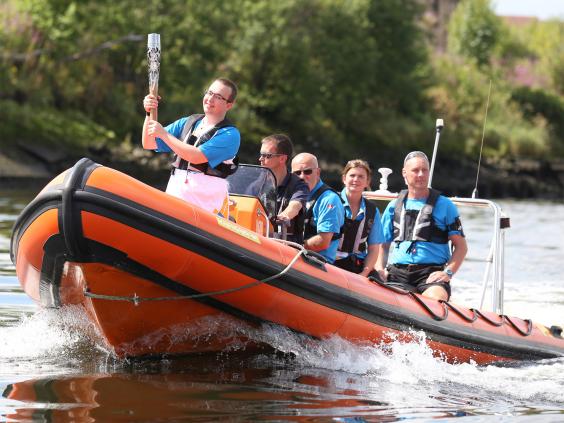 V is for Vault
The event whereby gymnasts hurtle down a small runway before launching themselves into the air and, in theory, into a safe landing position. Early forms of the event were invented by Friedrich Ludwig Jahn, a former soldier in the Prussian Army.
W is for Wood shot
Rackets in squash may well have been made of metal substances for as long as most people can remember but if a player hits a shot off the frame of his or her racket, it is still known as a wood shot.
X is for X-ray
It was an X-ray that gave Mark Cavendish hope of competing at the Commonwealth Games, when it showed he had not fractured his collarbone in a crash on the first day of the Tour de France. But the joint was dislocated to the extent he needed surgery and, as a result, it robs the road race of one of its star names.
Y is for Yurchenko loop
A gymnastics move named after Natalia Yurchenko. It involves standing sideways on the beam and diving backwards, grabbing the beam, performing a back hip circle and then ending up in a support position, the gymnast resting on her hands.
Z is for Zambia
The African nation, with a population of 12 million people, first competed at the Games in 1954 and won their first gold medal courtesy of Lotti Mwale in the men's light-middleweight division in boxing.
Reuse content