While walking his dogs near his home in Woburn Sands, Greg Rutherford would visualise winning Commonwealth Games gold and pretend he could hear the voice of the commentator reading out his name as champion. Inside Hampden Park the dog-walking dream became a reality.
His gold medal in the long jump may well be the first time a Rutherford has enjoyed success inside the stadium, his England-footballing great grandfather Jock having played in a 1-1 draw against Scotland 106 years ago.
For a time, the 27-year-old found himself in a precarious tie with Zarck Visser on 8.12 metres, the South African in the gold-medal position by virtue of a longer second jump. But the Olympic champion extended the lead with a third-round jump of 8.20m to prove that London 2012 was not the one-off the critics had suggested.
It was hardly a distance to set the world alight. In the capital two years ago at his crowning glory, he had managed 8.31m while his season's best was a British record 8.51m but, across the border, Rutherford had previously said he did not care about the distance as long as the night ended with gold draped around his neck.
How Team England needed it. The previous night, there had been five silvers. After qualifying, Rutherford had to evade stewards to get to the crowd to pose for photographs and sign autographs but, after going one better than his England team-mates and collapsing to his knees in celebration, he was given free rein of the stadium. "People will have things to say about you and write you off," he said. "So when you come out and win medals, it proves a point. A lot of people had written me off and thought I was a one-hit wonder. But I proved I could do it.
"It's never an easy road and after last year I was never sure if I was going to be able to carry on jumping. So to come away with another title, which is what it's all about, I'm over the moon."
Last season had been one bedevilled by a hamstring injury. After this latest gold medal, he admitted: "I considered quitting at one point. After the previous day's qualifying session, there was concern the hamstring might go again.
"I was worried the hamstring wasn't going to hold up. I'm not sure where it came from but it gave me gip for a couple of days."
The hamstring tear last year meant he was not fully fit by the time of the World Championships. He was still selected ahead of Chris Tomlinson, which caused a spat between the pair, and a fresh row broke out at the validity of Rutherford's British record in San Diego in April.
Ironically, Rutherford's winning jump in Glasgow came precariously close to being a no jump but the white flag was raised by officials on closer inspection and the gold was duly his.
This was supposed to be the night that Katarina Johnson-Thompson stepped into Jessica Ennis-Hill's shoes, only for her foot injury to rule her out. It resulted in a one-sided contest as Brianne Theisen-Eaton coasted to the win by a margin of 327 points in the heptathlon while there was an English medal, bronze, for Jess Taylor as she registered a personal best of 5,826.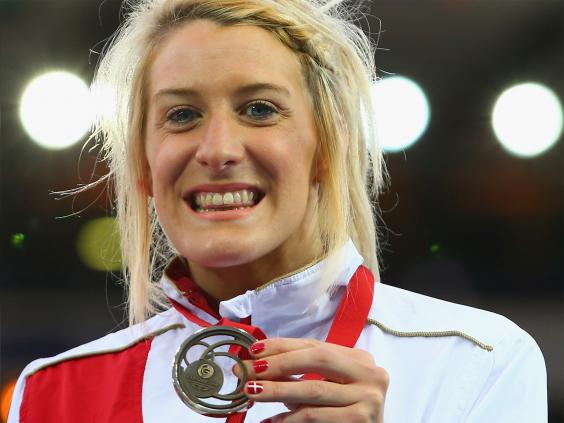 While Glasgow stood to applaud Rutherford in particular, the Grenadian fishing village of Gouyave, known as the town that never sleeps, once more hailed their favourite son, Kirani James.
A documentary is looming on his life. Appropriately called Footprints, the rest of the field could only follow in them as the 21-year-old James, known as the Jaguar, completed the set by adding Commonwealth 400m gold to his Olympic and world titles.
To his credit, South Africa's Wayde van Niekerk, who had run in the 200m heats earlier in the morning, took the challenge to James but the Grenadian's class prevailed.
When James won his world title, he had a boulevard named after him, when he won the Olympic title a locality on the island of spice was renamed Kirani Town. Quite what the accolade in store is for an athlete who says he runs with Grenada on his back remains to be seen.
"The crowd is fantastic here, I love it – it cancels out the weather! I'm happy for the country [of Grenada], for everyone affiliated with us. This win is for everybody back home," James said.
It was another display of dominance by David Rudisha in his 800m semi-final and he will go into the final as the favourite.
From a Scottish point of view, the home crowd did not care that Eilish McColgan was only sixth behind a Kenyan one-two-three headed by Purity Kirui in the women's 3,000m final.
It has been an arduous season for McColgan, the daughter of two-time Commonwealth Games champion Liz, after being hospitalised because of an irregular heartbeat. She said she was proud to merely be competing in Glasgow and those in the stands agreed.
Reuse content