Three weeks ago the world was a different place. England had plunged down a pit of despair into which their captain was being strongly advised to take a running jump before he was pushed.
Alastair Cook declined to budge, the selectors held their nerve. Another failure then and it might have been all too much for anyone to continue. What Cook described as a tap on the shoulder might have become something much more robust.
And now look what has happened. From being 1-0 down to India after an abysmal exhibition at Lord's, England are 2-1 up. Their thumping victory at Southampton by 226 runs was followed on Saturday at Old Trafford by something more emphatic, a victory by an innings and 54 runs in three days.
If India were lamentable, England were irresistible. Cook's team – for it is his again for the foreseeable future – imposed their will on opponents who had no desire to respond. It is almost as if the magnificent performance at Lord's has drained them.
They batted in total for only 89.4 overs, 3.4 fewer in the second innings than the first. Only once before in England, back in 1952 when the world was not so much different as antediluvian, had India been twice bundled out in fewer balls. Back then they faced just 58.1 overs.
The Investec series is still nominally at stake but it is difficult to envisage India coming back in the fifth Test at The Kia Oval, starting on Friday. Their situation is suddenly much worse than was England's in the middle of last month.
Cook is not quite lord of all he surveys but no one for the moment is discussing his job prospects. It would still be useful if he scored some runs at The Oval and England won. Peter Moores, the team's coach, is now speaking from a position of strength but he was unequivocal today that Cook had never been going anywhere.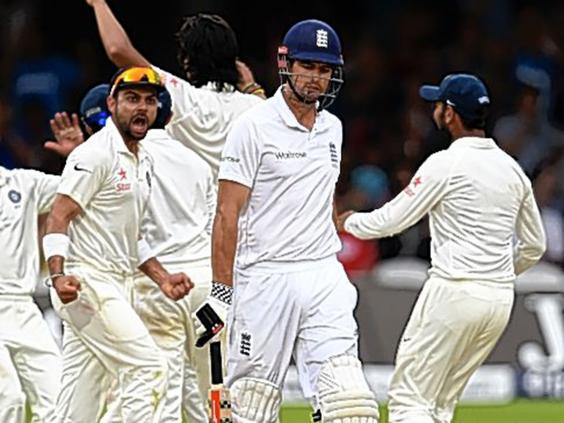 "The significant point was when he came out and said he was in it for the long haul," Moores said. "He wanted to do the job. If other people didn't want him, then fine, he'd move on, but he made public his desire to [continue to] captain England. He's one of those characters that the more criticism he gets, the steelier he gets, the more determined."
There was hardly a former England captain alive (or former non-captains, come to that) who was not calling for Cook to be replaced. At no point were Moores or Paul Downton, the England managing director, inclined to listen.
"As coach and captain you are always talking," said Moores. "Everybody helps each other clarify exactly where you think you are at. I do that with Alastair about where we are going. He would openly admit he's had a really tough ride but that can often lead to something special.
"Hopefully, for Alastair, that is the thing that is starting to come out of it.
"When you are close to somebody, you get an idea of their will to do the job. You can't say to anybody, 'You're definitely going to be the England captain'. It doesn't work like that. Everybody knows it is a very pressurised job. You're dictated by results. But you need to know somebody is up for the challenge. That's as far as you need to take it, you're going to support them. You've got to have a belief in them as a person that as captain they can take people forward."
It is unlikely that Australia, who will be here next year trying to retain the Ashes, are suddenly overcome by fear at the prospect of facing a rejuvenated England. That does not matter.
England have started to believe in themselves and they can believe in their captain. The blend of old and new is working. They can see the way ahead more clearly. Part of the reason that Cook survived despite the siren calls is that the management separated the events of last winter, when England were humiliated in Australia, from this summer which they saw as a fresh start, a new era.
Downton, an investment banker in his previous life after finishing with professional cricket, was not about to be swayed by a few unfortunate results on the sports field. Moores has a habit of sticking with captains, as he showed in his county coaching career at Sussex, with Chris Adams, and at Lancashire, with Glen Chapple (if not England in his first tenure when Kevin Pietersen tried to create mutiny).
"We've had a lot of change, haven't we? You're trying to build relationships as coach and captain and find that balance," Moores said. "If you take Alastair, he is in a great position because he is relatively young to have played so many Test matches and to have such a great record. He has a desire to lead.
"It doesn't mean you would not question yourself – everyone questions themselves all the time, humility is the sign of a good leader – but for me you're trying to build relationships and keep everyone in the group settled. There will be some changes but hopefully the leader is one you don't want to change too often."
Cook will never be a tactical genius but nor is he the nincompoop that some would observe. There is more to it than smarty-pants field placements, too many of which, arguably, Cook has introduced in an attempt to answer his detractors.
True, he constantly needs runs to make his position tenable and the manner of his dismissal at Old Trafford when he fell for a sucker punch by hooking a bouncer down square leg's throat showed that he is not out of the woods yet. However, he is, understandably, visibly more relaxed, no longer having to summon up a gritty determination.
"If you have players who are confident to play, it is probably more important than whether you have three slips or four," said Moores. "If you have a guy running in hard for you in his third spell and he's tired and he's working for you and for the team, that is more important than a field position being five yards out. There will always be in cricket three decisions you can make at one time, but what you want is a team out there playing hard.
"Leadership is about getting people to follow you and creating opportunities for them. Cooky is very much into that. Deep down, he is a real carer as a bloke. He wants the team to grow and create opportunities. That's why it is quite exciting – there is opportunity for all these young players coming in."
England surged to victory on Saturday. Always ahead in the match, they enhanced their position with Joe Root and an impressively measured Jos Buttler taking their seventh-wicket partnership to 134. India again fielded shoddily.
The end of England's innings was marred by an injury to Stuart Broad, hit on the nose by a bouncer and unable to field. But they were hardly inconvenienced. Jimmy Anderson, aided by Chris Woakes, exposed the middle order and Moeen Ali, rapidly becoming a bowler who bats, ran through it. The merest hint of resistance might have saved India since it rained all day in Manchester today and there may be more of the same today. But Cook's England are transformed.