A crackling phone line to a hotel room in Kabul isn't the average way of communicating with the coach of a side preparing for their first World Cup, but then leading the Afghanistan cricket team isn't your everyday international calling.
Andy Moles is best known as a man who opened the batting at Warwickshire for more than a decade during a golden period for the county.
Now, though, he has been charged with providing a silver lining to one of world sport's greatest fairy tales as head coach of England's World Cup group opponents Afghanistan.
He took the job last September and has spent Christmas holed up in a hotel room in one of the most dangerous cities on earth.
Although he tells The Independent that he doesn't see himself as being an obvious terrorist target, he admits that his decision to take perhaps one of global sport's most dangerous jobs has not won him widespread approval back home.
"A lot of my family aren't happy that I'm doing this," he says. "My brother is an anti-terrorism expert and he's very unhappy that I'm here. But you have to strip it right the way back.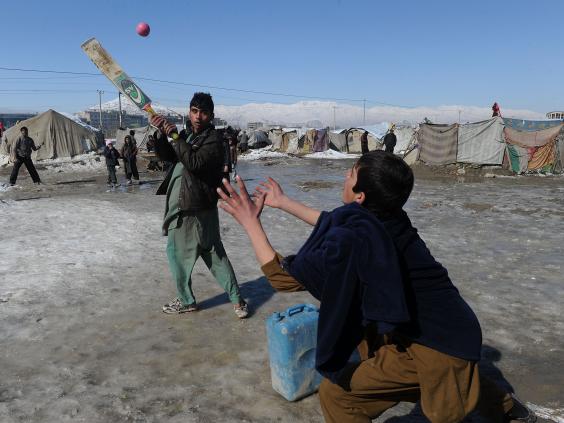 "What is coaching? It's all about imparting knowledge and developing people. That's what I'm doing here and if I get it right then it's hugely rewarding. Before this, I was coaching in the townships in Cape Town and I'm very much of the view that if you improve the quality of life and the life skills of these people then you'll not only help produce better cricketers but better people."
That may be so, but there are constant reminders of the perils of living and working in this part of the world.
"It's interesting here at the moment," he says. "There aren't any visual changes [since the withdrawal of foreign troops] but there are a lot of roadblocks.
"When I'm here I literally don't go out. I stay in the hotel, go from the hotel to the office, go back to the hotel, lock the door and then stay there until the next day.
"I take as much sensible care as I can to make sure I don't expose myself. I would be pretty surprised if the Taliban targeted Andy Moles the cricket coach.
"Of course, the danger is being in the wrong place at the wrong time and being the victim of a suicide bomber who is targeting the security forces. I only go out when I have to and I stagger my times so there's no real pattern to my movements. I just try and be sensible, really.
"I spoke to one of the players who was late to our last camp about a month ago. I asked him the reason why and he turned round and told me that he had to go to the funeral of his cousin, who was shot dead by a drone. Other players have had members of their family kidnapped for ransom. These guys certainly haven't had it easy."
Camp Bastion: Last soldiers leave military base
Camp Bastion: Last soldiers leave military base
1/9 Camp Bastion

The lowering of the Union (front) and US (rear, obscured) flags during a handover ceremony at Camp Bastion-Leatherneck complex at Lashkar Gah in Helmand province

SERGEANT OBI IGBO/AFP/Getty

2/9 Camp Bastion

The last Union flag of Great Britain flying above the skies of Helmand Province, Afghanistan, is lowered by Captain Matthew Clark, left, and Warrant Officer 1 John Lilley

Ben Birchall/PA Wire

3/9 Camp Bastion

Temporary tented accommodation at Camp Bastion, as troops prepare to withdraw from the camp in Helmand Province, Afghanistan

Ben Birchall/PA Wire

4/9 Camp Bastion

File photo dated 25/10/14 of deserted roads and compounds at Camp Bastion, Helmand Province, Afghanistan, as the British base becomes devoid of soldiers

Ben Birchall/PA

5/9 Camp Bastion

A U.S. Marine is pictured before withdrawal from the base, at Camp Bastion in Helmand province

Omar Sobhani/REUTERS

6/9 Camp Bastion

Soldiers attending the ceremony of the British, US and NATO flags being lowered at the Camp Bastion-Leatherneck military camp complex for the last time in Afghanistan

EPA

7/9 Camp Bastion

Deserted roads and compounds at Camp Bastion, Helmand Province, Afghanistan, as the British base becomes devoid of soldiers

Ben Birchall/PA Wire

8/9 Camp Bastion

Corporal Thomas Warner 23, from Port Talbot of 1st The Queen's Dragoon Guards, sits inside temporary tented accommodation at Camp Bastion

Ben Birchall/PA Wire

9/9 Camp Bastion

A British officer walking on deserted ground inside Camp Bastion, Helmand Province, Afghanistan, on the exact spot where the very first tents were erected in 2006 as the base was built

Ben Birchall/PA
From a cricket perspective, at least, taking on the Afghanistan job appears to be a sound piece of decision-making. No team on the international stage has made as much progress as Afghanistan in the past 10 years. In fact few, if any, sides in history have emerged so quickly as a force on the global stage.
Born out of the enthusiasm of refugees in the camps that were set up in Peshawar on Pakistan's north-west frontier, cricket has acted as a rare unifying force in a country ravaged by conflict.
The team's qualification for the World Twenty20 tournament in Bangladesh last year was greeted with nationwide celebrations, while Kabul will come to a standstill next month as Afghanistan prepare for their first appearance in one-day cricket's showpiece event.
"Cricket and football are the two main sports here," Moles says. "I'm told that when we qualified for the World T20 [before Moles took over as coach] there were parties on the streets with people firing AK47s in the air.
"Cricket is acknowledged as a real unifying sport here. It's like India and Pakistan, the fervour we see when the national team are playing. There was a Twenty20 competition here in the summer and on finals day they had to lock people out of the ground, it was full – there were 12,000 people crammed in. The passion for cricket is most definitely there."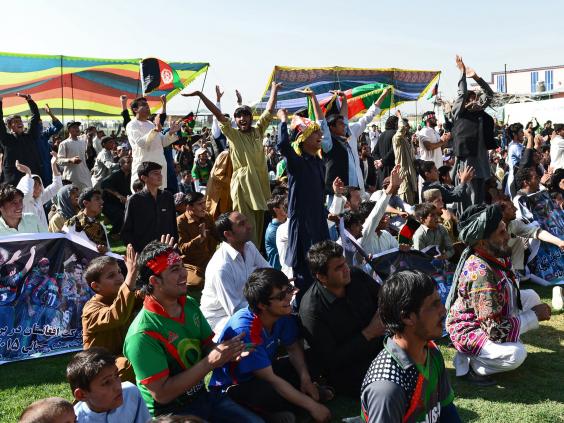 With teams understandably reluctant to travel to Afghanistan to play, the side have made their base in the United Arab Emirates, and Sharjah is now seen as their home from home.
It is there that Moles' side are preparing for a group stage during which they will take on Peter Moores' England in Sydney on 13 March, and it is where they began their World Cup warm-up with a crushing eight-wicket victory over Scotland today, as they chased down a target of 237 at a canter with seven overs to spare.
By the time Afghanistan and England finally square up to each other at the SCG, the fate of both sides is likely to have been decided. Moles, though, sees no reason why his side cannot have a big say in the make-up of the qualifiers from a bloated group that also includes Australia, Bangladesh, New Zealand, Scotland and Sri Lanka.
"They have rankings for a reason and if it goes by ranking then we shouldn't qualify," he says. "But you look at Ireland and what they've achieved in recent years. We're ranked above them so we are dangerous.
"No one should take us for granted because if we hold our catches and hold our nerve then who knows? The first game for us is massive. If we can beat Bangladesh and then Scotland then we just need one of the full members to have a bad day, just as Ireland in the past few tournaments have managed to do.
"My goal is to make sure we compete in as many fixtures as we can. I don't want us to go there with the attitude that we're just going to enjoy the experience."
And what about England? "I don't believe they're a terrible cricket side," Moles says. "Under Peter Moores they have got a new side developing but I would hope we would give them a good game. Again, their players are better than ours, but we just need to take advantage of any errors they make.
"A lot of our games have sold out already, so people have really taken us on as the underdog. There was no cricket here until 12 years ago and now we're at a cricket World Cup – it's a fairy tale. Everyone wants to see that continue."
Reuse content