It was the series that defined the summer of 2005, the moment that ended the Ashes rot for England and a series that ebbed and flowed with every run and fallen wicket.
England had not won the Ashes for 18 years when the Australian tourists arrived but harboured some confidence, having won 12 of their previous 16 Tests. What ensued were five pulsating matches which ended with England triumphant at The Oval.
On the eve of the 2015 Ashes beginning in Cardiff on Wednesday, four of the key figures from that summer reminisce 10 years on: man of the series Andrew Flintoff, Australia's top runscorer Justin Langer and coach John Buchanan, and BBC cricket correspondent Jonathan Agnew.
The build-up
Justin Langer "It's interesting looking back as we were winning everything and maybe there was an air of complacency. I remember John Buchanan let guys even do their own preparation."
John Buchanan "In hindsight, it meant our fast-bowling group were short of match fitness and match awareness. At the beginning of the tour, we had a few difficulties in Cardiff with Andrew Symonds [who turned up drunk to a one-day game] so we got off on a bad footing. I remember Ricky Ponting saying, 'I don't want to be the first captain to lose the Ashes in 18 years', and it became a big thing."
First Test, Lord's (Australia won by 239 runs)
JL "That first session was one of the best sessions of cricket I've played in my life. Everything was in fast-forward. We could sense they were up for the fight with that first ball from Steve Harmison. And I don't think winning helped us, it was a bit like, 'Here we go again'."
JB "I think it masked a few issues. England had some confidence and we seemed a little less invincible. We were a bit fortunate but we felt, if we played our brand of cricket, we'd see the series through."
Andrew Flintoff "We'd beaten most teams we'd come up against but this was different. It was a first Ashes series for most of us. I completely bottled it. I put too much pressure on myself and let that get to me. I think the first Test was a learning curve in how not to do it, how not to approach the game of cricket. It was built up too much but it was just a game and we'd gone too far. In between the first and second Test, I went to Devon with the family for a week, got away from it and got my head right. I thought to myself, 'If it goes well, great, but if not then I might as well have some fun doing it'."
Jonathan Agnew "I remember after the one-day series thinking, 'This is going to be different', but it wasn't as Glenn McGrath got nine wickets. England pushed Australia seemingly as hard as they could and still ended up losing by 200-odd runs. I remember feeling a real sense of disappointment."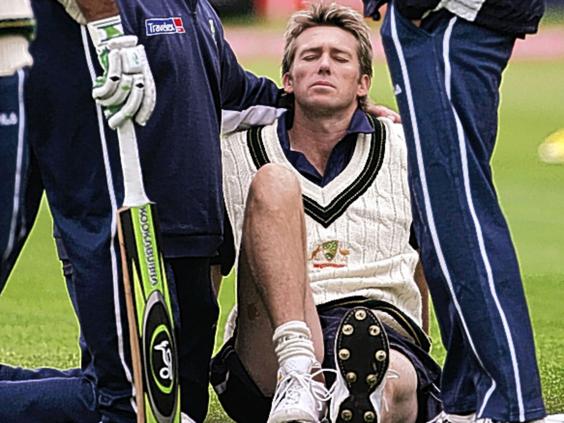 Second Test, (Edgbaston (England won by two runs)
JL "It all changed when Glenn McGrath stepped on that ball in the warm-up and did his ankle. That had a huge impact. The final day is the only time I've ever had a hangover in a game of cricket. We were down and out and Ricky Ponting and I had a few beers that night. It was looking horrible. We couldn't believe what was happening. In the end, it was a fantastic finish with Brett Lee getting so close. If we'd won from there, I think we would have felt we can win from anywhere. The series had turned."
AF "I remember when I came in to bat, I chipped it to mid-off and thought I was out. After those first runs, I didn't look back. A lot of people talk about that photo of me and Brett Lee at the end of the game. Everyone goes on about it, which is quite sad. Has sport got that bad that that doesn't happen? As a lad I was taught to respect the opposition and then you can celebrate. That was the right thing to do. For me the bigger memory was having a few beers with the groundsman, who I used to live with."
JB "If England had lost that Test match there was no way they were coming back from 2-0 down. We hadn't admitted it at that point as a group but it was clear England had a very good and potent attack of swing bowling. In Sri Lanka we'd come together as a group to work out how to play Muttiah Muralitharan but pace bowling was bread and butter to an Australian batsman. The mistake we made was not to make individual strategies about dealing with swing bowling."
JA "It was the speed with which England began. Suddenly they were 400-odd off 80 overs at five an over. It was incredible cricket and Marcus Trescothick batted brilliantly for his 90. I never saw Headingley in 1981 but that's probably comfortably the best match I'd seen. I remember Jim Maxwell thinking he'd be commentating on an Australian victory. It wasn't to be."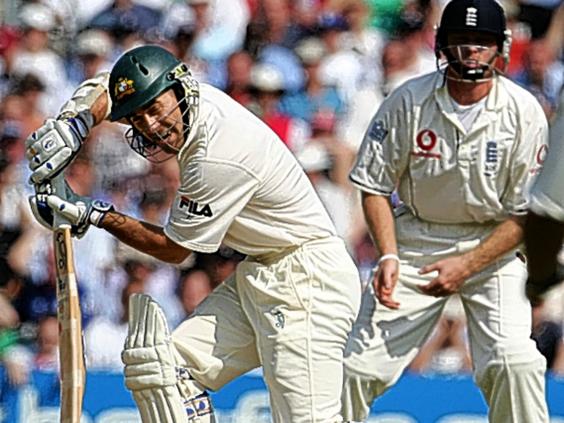 Third Test, Old Trafford (Match drawn)
AF "The Old Trafford Test was my favourite Test even though we didn't win, just to play the Ashes on your home ground, to see it in such excitement was special. To me, that was more important than the win. I remember when they held on, we didn't feel like it was a sense of desperation. We said, 'We'll just win next week'. It didn't feel like a missed opportunity. That was a very different place for the England team."
JL "It's the most feral ground I'd ever been in. We really copped it there. We celebrated it as though we'd won it, which was a natural reaction. Steve Waugh used to say that some draws can be as good as a win in Test cricket."
JB "It was all thanks to Ricky Ponting's second innings that we were in that game at all but the result didn't instil any confidence. At that point, we were thinking we could draw the series, which had never been part of our plan. Avoiding going down 2-1 was just a great escape and it didn't feel like we'd stem the tide. Suddenly there was this huge momentum throughout England. The tide of English belief that would win the series was now in full swing. I didn't feel with two Tests left like we could win the series. Mathematically we could, of course, but if we were all being honest with ourselves that wasn't a reality."
JA "[England captain] Michael Vaughan said that draw was almost like a defeat, he was so disappointed. In the commentary box, it really felt very different. It seemed like England were all over them. The fact Australia did dig in, fair enough but you only had to look at how Australia celebrated that draw to see the momentum had shifted. That was a big game for me, thousands locked out on the final day. Cricket had taken over the country. It just added to the drama that Australia clung on. That Test had everything, but the feeling for the first time was that England could win the Ashes."
Fourth Test, Nottingham (England won by three wickets)
JA "A lot of people remember the match for substitute fielder Gary Pratt's run-out of Ponting. England made them follow on because Simon Jones was injured, the reason Pratt was on the field. Ponting walked off after his dismissal and had a real go at [England coach] Duncan Fletcher on the balcony as there was this interesting subplot with England's bowlers on and off the field and it really got to Australia. It was like you've lost it, they're gone. I remember commentating and saying a draw for England at The Oval will be enough to win the Ashes. After the first Test that simply didn't seem possible."
JL "We always felt we wanted to win in the best spirit of the game. When Gary Pratt ran out Ricky his annoyance was more on principle. We got beaten in that game but we never felt out of it, you don't when you have great players like Warney [Shane Warne] and Glenn McGrath."
JB "I think there was a sense of tension in our dressing room – they're desperately fighting to stay alive in a long drawn-out contest with a lot of tension on the field. Ricky was still carrying that statement of not being the first Australian captain to lose the Ashes all tour. So the Pratt incident was not one he'd ordinarily react to. It was clear England were winning the battle. That last day was open to the crowds – it was like those old black-and-white photos you see of 1930s Test matches."
AF "There was no thought but the win, that's how confident we were as a side. It got a little bit tighter than it should have but we played some great cricket."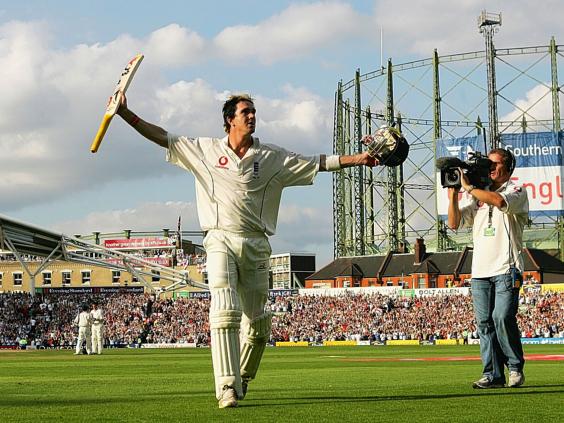 Fifth Test, The Oval  (Match drawn)
JL "Steve Waugh called me on the way to the ground to wish me luck. Five seconds later he rang back to say, 'Smash Ashley Giles out of the park'. So I came in that first day and felt under pressure from Tugga. The first or second ball I hit him for six. But the seminal moment was on day four. Andrew Flintoff was there in boxer shirts and a T-shirt with a pint of Red Bull in one hand and a cigarette in the other – he was at his jovial best. I was like, 'We've got him here'. Then he came out and bowled that whole session. On reflection, if I'd known what I do now, Matty Hayden and I wouldn't have taken the light on day one as we were going well. And then came that Kevin Pietersen innings. Brett Lee hit him in the ribs and then Warney dropped him, to which there was some irony as they were great mates. It was one of the best innings I'd ever seen, he took it on and became a legend."
AF "I wanted them to see that [him relaxing]. Suddenly this great Australia side, we didn't fear them. We were the ones that led it. I was feeling so relaxed, looking forward to it. And then Kevin – to play in that way when we were in that position was just amazing. I think the Ashes needs its heroes, he was one that day. I remember sitting in the dressing room with Steve Harmison, one of my best mates, and we had won the Ashes. It was just amazing."
JA "Had Warne caught Pietersen, that may have cost England the Ashes. It was just manic brilliance from Pietersen. He hooked Brett Lee for six, smashed Glenn McGrath for six. It was stupendous, like a blizzard. I remember we had Hugh Grant in for the tea break and I gazed out at The Oval with people sitting on chimney pots and rooftops. All you could see was people. I don't think we'll ever see that again."
JB "Wherever you went, there was this belief that this was England's time. By the time we got to The Oval we just couldn't escape that. I think there were quite a few people that probably felt quite lonely in our dressing room. In the past if one person was down there were enough buoyant people to pick them up but now there were a lot of demons to be exorcised. If we'd got Pietersen out then maybe history would have been rewritten. He played beautifully. He was like a good hunting animal that can sniff its prey and sense any signs of vulnerability. It was like he knew it was his moment."
Aftermath
AF "It's quite strange, actually. It's not something I think about a lot. People make a lot of my part but it's embarrassing. Everyone played their part. I was no different. My job was made so much easier by the people around me. I didn't have any pressure. It was like taking the glory."
JL "I remember getting on the plane to go home and it was just a huge relief. It was like we'd been caught in this fight swimming into a tidal wave. The reaction at home was odd. People were like, 'That's the best cricket we've ever seen', but we'd lost. I remember the red, white and blue streamers when they won at The Oval – that was a sobering moment. But it was the kick in the backside we needed – a really galvanising moment."
JA "That day on the open-top bus [tour in London] was one of the greatest moments of my life. It was this incredible celebration with tens of thousands coming out for it. I never really thought people would turn up for the bus tour, certainly not in those numbers."
For tickets to see Freddie's 2nd Innings Tour go to andrewflintoffofficial.co.uk
'Test Match Special' on BBC Radio 5 live sports extra and bbc.co.uk/cricket will bring you exclusive radio coverage of every ball of the Ashes series from 8 July
Reuse content