Kevin Pietersen will tomorrow become the 10th player, the third born in another country and the most controversial to play 100 Test matches for England. Of the 55 men who have previously reached the milestone for all cricketing nations, none has so divided opinion, courted dispute or exasperated team-mates. A few, a very few, might have been as regally entertaining.
There have been moments since he played the first of his century, at Lord's against Australia in 2005, when it seemed impossible that this day would come. Yet he sat before the media yesterday for 30 minutes and more and was engaged and engaging throughout. He sounded genuinely disbelieving that he had come this far. Some hardened observers wanted to hug him.
To reach three figures, even in these days of round-the-clock cricket, takes talent allied to application. Pietersen has both qualities in abundance and, of course, he has needed them because other factors have militated against him.
He tried to tell us that while it all felt surreal and he might see it as something special at the end of his career, he viewed it now only as the start of an important Ashes series. But in the crowd at the Gabba in Brisbane tomorrow will be his mum and dad, his three brothers, an uncle and two of his closest mates, one from England, one from South Africa. This is special all right.
There were moments, he has conceded, when he thought it might be all over for him, most of them in the bitter dispute with management last year. It started, publicly, when he lamented how tough it was being him in the England dressing room and led to his being dropped from the team after it was revealed he had sent texts to England's opponents, South Africa, disparaging his captain at the time, Andrew Strauss.
Now Pietersen was eager to say how lovely it all is in the dressing room. "I think I've seen comments from the players that we all made mistakes last year," he said. "And we've all grown up and actually grown a lot tighter. If you look at the environment now it's absolutely fantastic and I'm not lying, I'm being dead straight."
He was able indeed to make light of the front page in the local paper with the headline: "He's so arrogant not even his own team-mates like him." The organ had another go yesterday: "KP loves himself but not this boring city."
Pietersen thought it was all a hoot and said wryly: "We're all having so much fun and that front page yesterday was so funny because 10 hours before that we'd all had an amazing team dinner. We all had such a great time in Sydney, such a great time together, that when you see a front page like that it just makes me laugh.
"I think the key to a good relationship is communication. I think the communication wasn't there last year or it wasn't as much as it is now. The guys now get on and talk, and if there's an issue we talk about the issue and if there is good stuff then we talk about the good stuff.
"Last year there was a bit of treading on eggshells and pussy-footing around, whereas now the boys have acknowledged that it is time to do some business as an England team and that is what we are here to do."
This was a return to the Pietersen of years ago who, if not craving publicity, never sought to spurn it. For the last 15 months he has been aloof to the point of surliness but yesterday, perhaps aware that this was an occasion for celebration, he never ducked either a question or anyone's line of vision.
Some of the lighter touches might not quite have worked and humility never fits Pietersen as if it were tailor-made. But here was a man who was enjoying batting for England almost as much as he did the first time 171 innings ago. Australia had better beware.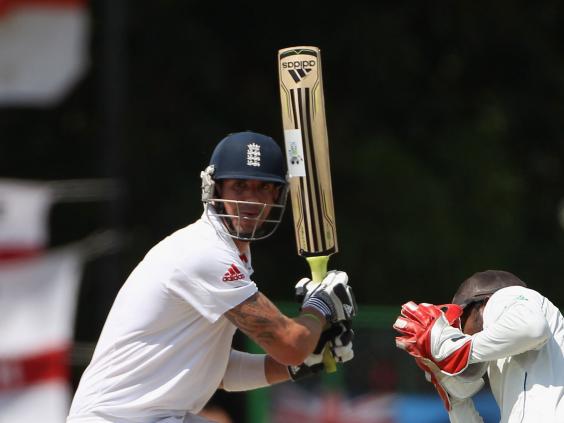 So might others. Pietersen insisted there are no plans for retirement, that he wants to make 10,000 Test runs (he has 7,887) and that while his right knee is occasionally painful, it would need only minor surgery to rectify.
He and Ian Bell, the side's other batting genius, will each win their fifth Ashes if England prevail in this series, a feat managed in modern times only by Ian Botham. It was typical of his mood yesterday that Pietersen said his interest levels in that would pick up only if England won.
That he and the rest of the team are rubbing along as never before may be important. He dared suggest that they may be friends after they have all finished playing.
"I think that is the key and that is what I want to do," he said. "I want to enjoy the next two or three years of international cricket for England because last year wasn't fun. I can make it a lot more fun and so can the team, and we're all doing that at the moment."
He and Strauss made up shortly after the shocking revelation about the texts last year, as the former captain made clear in his autobiography. In case anybody should have doubted the renewed strength of their association the pair had breakfast together almost as soon as Strauss stepped off the plane this week.
Last year, Pietersen made three of the greatest hundreds of his career, in Colombo, Leeds and Mumbai. Of the trio, he picked the riveting 151 against Sri Lanka as the crème de la crème.
"That for me was the one where I never thought I could bat for that long in those conditions," he said. "That's right up there for me. I know people will say in terms of skill levels the ones against South Africa and India were probably better but for me the hardest was dealing with the weather in Colombo.
"I even sweat in England in pre-season. I went through nine pairs of gloves and four shirts in Colombo. I can't believe I got runs there."
Momentous occasion though this is, it will be tinged with deep sadness because Pietersen's childhood friend, Jon Cole Edwards, died shortly before England arrived in Australia. He joined the team late so he could attend the funeral and undoubtedly has been profoundly affected.
"My best mate who I grew up with as a kid and losing him has really hurt me over the last month or so," he said. "It has been bad. I got to say goodbye to him 18 hours before he passed away and left us. He left his wife and twins behind.
"I will be thinking about him if I get a big one here, I've been thinking about black armbands and stuff, but I don't want to get the violin out and all that. I'd rather just concentrate on things. I've been speaking with his mum and yesterday she said 'Jon will be watching'.
"Mate, you try saying goodbye. I grew up with this guy since I was a baby and every single holiday we went on together, literally he is like my brother and saying goodbye to him 18 hours beforehand was just so tough. I had to go and do a eulogy at his funeral on the Saturday when the guys were already here. This cricket malarkey is simple. I was a shambles there."
This was a reminder of citizen Pietersen, not simply cricketer Kevin. Yesterday, it suited him well.
Real-time snicko gets the green light
The hotly debated Hot Spot camera is to be joined by the real-time snickometer to determine umpire review decisions in the Ashes. The ICC yesterday approved the request by both England and Australia to use the two gizmos in conjunction to try to eliminate errors which plagued the series in England last summer. RTS, available for the first time, detects noise, Hot Spot is based on infrared technology. Teams will have their number of reviews topped up to two after 80 overs. India continue to flout the ICC's declared desire to use DRS in all series.
Stephen Brenkley
Reuse content