Australia's batting remains brittle. It is susceptible to bouts of stupidity, carelessness and technical failure and at least three of the upper order are probably in the selectors' firing line.
If and when it improves, England will be in real trouble. At 143 for 5 on the opening day of the third Test yesterday, Australia were up the creek for the third time in the series, and the Ashes, if not on their way home again at that precise point, had been halted in transit on their inexorable journey the other way.
For the third time in the series the creek gave way to a much more comfortable environment. For the third time in the series, England's bowlers could not finish off the job. Australia recovered again, this time to 326 for 6.
The Ashes Podcast: Stephen Brenkley and Tom Collomosse review day one of the Third Test in Perth. Listen below...
There were good reasons for this. It was oppressively hot, draining strength and energy by the perspiration load; the pitch was fast but true; England's bowlers went for far too much short stuff, carried away by the pace and bounce; Brad Haddin arrived ready to play to the hilt again; Steve Smith turned up for the first time; Mitchell Johnson – well you can guess; and Australia got lucky.
Haddin made a substantial contribution yet again, his 55 following 94 in Brisbane and 118 in Adelaide. In those terms it was a relative failure but as part of a sixth-wicket partnership of 124 with Smith, who made his team's fifth century of the series, it came at exactly the right time for Australia and the wrong time for England.
In its typically stubborn, hate-all-Poms-to-the-day-I-die kind of way, Haddin's presence in the series has been as influential if not as spectacular as Johnson's. He helped to salvage them from the perils of 132 for 6 at Brisbane, took them into sunlit uplands of 570 from the uncertainties of 257 for 5 at Adelaide and was not about to be denied yesterday.
Actually, he was about to be denied but Haddin, as he acknowledged only last week, is travelling around Australia at present with Lady Luck on one arm and Madam Fortune on the other. Before he settled to his task yesterday he top-edged a hook, gloved marginally short of the slip cordon, twice saw balls roll dangerously near the stumps after hitting his body and managed narrowly to clear mid-off.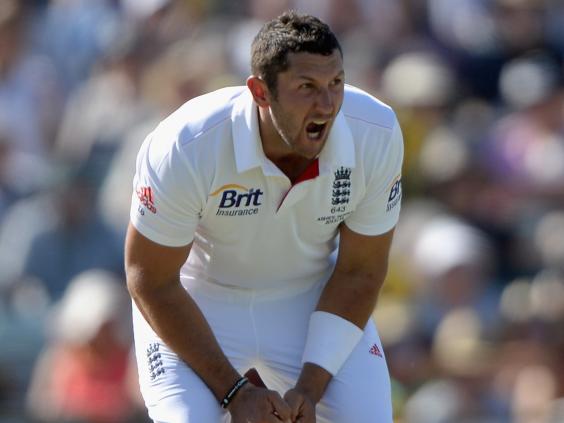 He let these narrow escapes affect his intentions not a jot and clubbed in his usual fashion, driving on the off, slogging to the leg side. England must have felt that life was not fair and that, although they have not played well, the gods are conspiring against them.
Smith needed some runs. He made 138 not out at The Oval in the last Test of the home summer but has been badly out of nick recently. A fidget at the crease, he touches the peak of his helmet and the tops of his pads as if he was tapping out a secret code.
He played seamlessly yesterday. His drives were crisp, his footwork dainty. Smith is one of those batsmen who manages to look so disorganised – maybe it's the tapping – that he could not possibly be a Test player. But Australia like him and are being proved correct in their assessment of him.
By the end of the day, England wilted. Johnson came in when a Haddin miscued pull at last fell to hand. His much-publicised moustache – the local paper has printed a cutout version for fans to stick on – is giving him an increasingly sinister look like, say, Lee Van Cleef's Angel Eyes in The Good, The Bad and The Ugly. The good news is that Clint Eastwood eventually finished off Van Cleef in the movie.
England might try to claim that they were unfortunate that top edges evaded fielders or that, as in Michael Carberry's case, he was too dozy in the sun to run in from the boundary quickly enough. But they failed to bring batsmen forward when they might have been persuaded to edge to the slip cordon. That is how wickets tend to fall here at the Waca.
Early in the sweltering day they mixed up their lengths more judiciously as Australia came hard at them. The tourists were given what might have been interpreted as lift-off in the series when Jimmy Anderson effected a stunning run-out in the match's second over. Chris Rogers, one of those playing for his place, dashed for a quick single but Anderson calmly moved to his left from mid-on, switched the ball to his right hand and dead-eye-dicked at the stumps.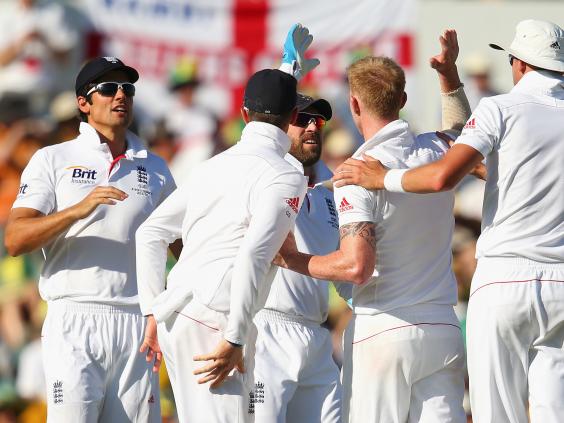 It all went well for the tourists after that. Shane Watson, under growing pressure, edged a full-length ball that lifted to slip (that should have told Stuart Broad, the bowler, something). When Graeme Swann took two wickets –Michael Clarke driving to mid-on and the ever-belligerent and dangerous David Warner cutting to point – England must have felt that this was a definite shift. Off-spinners do not take wickets on the first day at Perth.
Broad then bounced out George Bailey, the third of the top six in selection trouble. Bailey left the first two bouncers and then made a hopeless hash of hooking the third down Kevin Pietersen's throat.
And so England thought this was the way to go. They were patently wrong but they failed to address it. Australia buzzed along and the last session and a half belonged to them.
Anderson was more intelligent than some of his colleagues but he was wicketless again. Anderson's form is beginning to be a concern. Since his outstanding performance in the first Ashes Test last summer when he took 10 wickets he has taken 17 more at an average above 40 and at a wicket every 100 balls. That sort of form does not bring home the Ashes.
Reuse content