England have returned before from disastrous depths to sunlit uplands. Only the memory of those happy expeditions will sustain them in the days to come as they lick their heavy wounds and then seek desperately to repair them.
The size of their defeat to Australia in the First Test, by 381 runs, was unexpected enough. That it came after England reduced their opponents to 132 for 6 on the opening day indicates a dramatic shift in fortune and conviction.
There was a lack of resolve, determination and skill against fast, extremely fast, short-pitched bowling that was designed to terrify and succeeded. That was exacerbated by the overwhelming evidence that these teams appear positively to loath each other.
The players can (and do) talk all they like about mutual respect but on the field there is a snarling, bickering stream of sledging cum abuse, which they prefer to couch as banter. "Get ready for a broken thumb," said Michael Clarke, Australia's captain, to England's number 11, Jimmy Anderson, yesterday as his team closed in on an overwhelming win.
Perhaps David Warner, Australia's perpetually contentious opening batsman, was reaching for needless extremes on Saturday evening when he accused the opposition of having "scared eyes" and Jonathan Trott of being "pretty poor and weak" but he may also have presented some of them with food for thought, of the type not contained in the tourists' fancy dietary regime.
This was not so much a loss as a dismantling. Plenty of England teams, nay most of them have lost at the Gabba before. But this looked and felt worse than some of its predecessors because of the manner in which they subsided.
To be dismissed for 136 in the first innings was a grave disappointment but to succeed that with another limp effort yesterday bordered on the inexcusable. On Friday they lost six wickets for nine runs, yesterday they lost four for nine, their last seven for 49. The last time England scored fewer than 315 runs in their two innings combined was at Perth three years ago when Mitchell Johnson and Ryan Harris were again their nemeses.
Johnson was once more irresistible when he sensed blood but the supporting cast was equally imposing. Harris was almost as venomous, Peter Siddle summoned up his usual reserves of accuracy and commitment to the cause and the much-derided off-spinner Nathan Lyon elicited bounce from the pitch which eluded his English rival, Graeme Swann.
From midway through the first day, England struggled. They could not finish Australia off when they had the chance, were almost immediately under Johnson's cosh in their first innings, powerless to stop two immaculately attacking centuries in Australia's second innings and went quietly on the fourth day, again all but petrified in the face of the whirlwind.
There are two straws that England may cling to with reason to believe that they may yet transport them to a better place. It is only a matter of weeks since they completed a 3-0 series victory against these opponents in England.
Thus they know that Australia are not the omniscient force that they sometimes appeared at the Gabba. The force of that argument is reduced a little because in England last summer, Australia did not have Johnson, a man now returned to the height of his powers. But then Johnson has rarely sustained his peak form throughout a series. He is a fragile soul.
The other reason to think that England can back is that they have managed it in the past. In the next few days some of their minds will turn to India last winter when after losing the first Test by nine wickets in Ahmedabad, they turned the series round with two of their greatest wins, in Mumbai and Kolkata.
Somehow, they must summon up that spirit again. It was absent yesterday, however, whereas in Ahmedabad at this time last year they at least fought a commendable second innings rearguard action which appeared to make them buoyant again.
The form of three of their senior and most trusted players must be of particular concern. Trott was wretchedly exposed by Johnson in both innings, his incessant work against the short ball in the nets nullified. His method simply is not working and if Warner was being disrespectful to a man who has scored nine Test centuries and is a former ICC world cricketer of the year the harsh truth is that Trott did not cover himself in glory.
Trott has performed with distinction at the highest level but his Test average has been declining for most of this year. He was not in prime form and now he has Johnson on his case.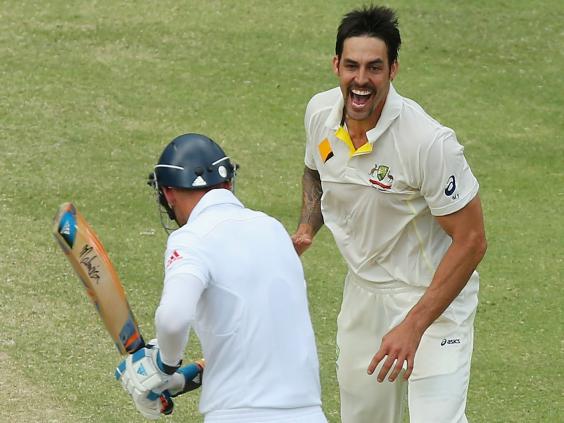 Then there was Matt Prior. England moved heaven and earth to make sure Prior was fit for this Test after he sustained a torn calf in the second warm up game in Hobart. He made it just but was out first ball in the first innings and yesterday was naive and careless in turning to the hands of leg slip a ball outside leg stump that he might have kicked away.
Since he saved the third Test for England in Auckland last March with a doughty century, when he kept out 182 balls, he has scored 180 runs in 15 innings and faced 365 balls. Prior has plenty of credit but it is not limitless.
Swann was ineffectual. Perhaps he was short of bowling coming into the match and since he has now taken 250 Test wickets he should not be lightly disregarded. But on Saturday when Warner and Michael Clarke were scoring accomplished, aggressive centuries they had Swann for breakfast. On his Twitter feed last night, Swann conceded that England had been outplayed but added "rest assured will be back."
What work there is to do. Only Alastair Cook made a half century in the second innings and his defiance was ended immediately after a rain break when Lyon's bounce beat his cut shot.
Too many of the rest were obliterated by pace. Kevin Pietersen hooked Johnson early in the piece (to a substitute fielder who had never played a first-class match), Ian Bell resisted nobly awhile but was done for by pace and lift. Stuart Broad and Swann virtually submitted, Joe Root was unbeaten and presented a straight bat and sharp movement round the crease. It was not much but it was something and yesterday for England anything did.
Reuse content