They might make one of those unfathomable number sequence conundrums from it. What followed 132-6, 257-5, 143-5, 112-5 and 97-5? To which only the mathematical masochist will find the courage to answer immediately: 295, 570, 385, 204 and finally, maybe most brutally of all, 326.
These are the miserable first-innings scores from which Australia have recovered during the 2013-14 Ashes series to reach totals to win them the Test. It is the batsmen who have been most culpable in England's sorry and unforetold demise but the bowlers have, equally, let these opponents off some extremely pointy hooks.
There was a period on the first day when the attack was at least the equal in inefficiency and carelessness of the men who have failed to score sufficient runs. It was comfort for the present but mostly for the future that Ben Stokes, the 22-year-old Durham firebrand, took 6 for 99, again displaying his fondness for the fray and his reluctance to call it a day. Few England cricketers have scored a hundred and taken a five-wicket haul in the same series – Ian Botham, Andrew Flintoff and Denis Compton to name some of the also-rans – and in following his excellent 120 in Perth it can be stated with some assurance that England have found an all-rounder.
Inevitably, the man who has come in at the fall of every fifth Aussie wicket in this series to restore order was there again on his home ground. Brad Haddin was assisted and then overtaken by Steve Smith, who made with some gusto his second ton of the series.
ASHES PODCAST: Stephen Brenkley and Tom Collomosse discuss the first day of the Fifth Test. Listen below…
Once more, Haddin browbeat the tourists into submission, carving and pulling merrily away. Smith kept a watching brief, aware that his turn might come if he stayed around. England's response was as unprofessional as could be, pitching short when they should have been much fuller in length on a pitch they had decided was fit for bowling first on.
Much has been made of how the dressing room has held together despite the beatings, but this assurance will be hard to maintain after the first day when it was pretty obvious that England were fed up with each other. They used to snarl at the opposition, now they snarl among themselves and that does not seem to work either. They fielded three debutants and dropped Joe Root, three days after his 23rd birthday, Tim Bresnan and Monty Panesar.
Gary Ballance was initially expected to start the series, Boyd Rankin was supposed to feature in some part of it and Scott Borthwick received a belated summons to the squad just as he was about to go home to Sunderland after some grade cricket in Sydney. Quite what they made of it all may never be told but Rankin's story would be worth the first hearing.
He left the field with what was described as cramp while rubbing his hamstring. Presumably he was suffering from it earlier in the day, too, because when the caps were handed out he was in the changing room receiving treatment. Rankin did return later, only to hobble off again after delivering just one more ball. Heaven forfend that on such a shambolic tour England would pick a player who was not fit.
It was grist to Haddin's mill. The feeling is that no one quite despises the Poms, or at least likes to beat them, quite like Brad. When he speaks of them he gives the impression that he would much rather be discussing someone's unpleasant toilet habits. This may be understandable since Haddin, lest it be forgotten, had been on the receiving end of three Ashes defeats before this. This was his last chance for vengeance and he has taken it like the great redeemer. Haddin has scored fifty in each first innings of this series, which has never before been achieved in the Ashes. Doing it from  No 7 when the lot before you have all gone has made it a supreme performance.
Doubtless the game will come back to bite him, although rumours are swirling about Haddin's impending retirement, so perhaps he is intent on getting his retaliation in first.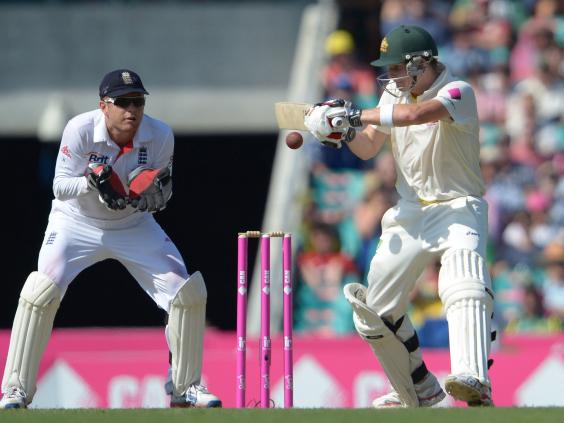 Smith's assurance grew after Haddin was out. He was harsh on Borthwick, recognising a rookie leg-spinner when he saw one, having been one himself, and hit him for six and four in three balls to reach his ton. Borthwick at least took his maiden wicket, the first England leg-spinner since Ian Salisbury to claim a Test scalp.
How lovely it all seemed before Haddin and Smith shared their sixth-wicket partnership of 128. England had won the toss for the first time in the series, there was grass on the pitch, the skies were overcast and Alastair Cook asked Australia to bat.
It took until the sixth over for Stuart Broad to send a sizzler through David Warner's casual shot and Stokes earned his first victim through Chris Rogers' mistimed pull on to his stumps. He struck again by having Michael Clarke caught at slip (the third time in his four matches he has dismissed Australia's captain) and Jimmy Anderson had deserved reward with Shane Watson's wicket: the first time England had snared an Aussie lbw in the series, which tells its own story about how infrequently they have bowled at the stumps.
In the afternoon, Anderson and Broad bowled beautifully without much reward, save for George Bailey's nick to slip. If they could have made one more breakthrough, Australia might have gone quietly.
Instead their bowling became ragged, short of length, discipline and common sense. The bowlers seem to be as scared of what Haddin can do to them with the bat as the batsmen are of what Mitchell Johnson can with the ball.
Stokes finished it in a flurry with three wickets in an over and made a decent stab with his hat-trick ball. But by then Australia were glad to have a bash at England. Michael Carberry obliged by glancing to a leg-slip placed exactly for the stroke. When such plans work captains look good. It has happened to Clarke often in this series.
Reuse content