Doubts have must have invaded Jimmy Anderson's mind. He is among the world's most revered fast bowlers but he has not been taking any wickets, or at least too few to bother the scorers overmuch. There must have been days when he has glanced in the mirror several times on leaving the dressing room to check that he was wearing clothes.
Everybody close to him has been saying how it would all come good. But they would say that Anderson has been struggling for lateral movement, off the air or the pitch, and if the reason was a sudden loss of zip, nip, dip and rip then he was in trouble.
He needed a day like yesterday. Three wickets was as good as it has been in this series. The pitch probably suited him, a low, slow old thing which put Australia's booming batsmen back in their boxes. Anderson found it to his liking and was able to dry up runs for the first time in this Ashes series using what used to be his routine expedient of making them commit a mistake.
ASHES PODCAST: Stephen Brenkley and Tom Collomosse discuss the second day of the Fourth Test. Listen below…
Anderson was visibly relieved. He was smiling, which is not an everyday occurrence. "Days like that have been few and far between on this trip," he said. "We're just really hungry to get something out of this tour and I think we showed that."
He would not have been the grumpy fast bowler had he not had something to complain about. He found it. "I felt terrible today," he said. "I didn't have any rhythm. I felt really frustrated at times. I felt all right throughout the series.
"The frustration is not getting the ball swinging as much as we would have thought, and there's not been as much seam movement as last time here. I feel like I've been bowling OK, just not getting the rewards, and I've worked really hard in between games: checking my seam position, am I in the right place to swing it, am I hitting the right lengths?" Phew, he should have felt when Michael Clarke shouldered arms and the ball did just enough to take the off stump.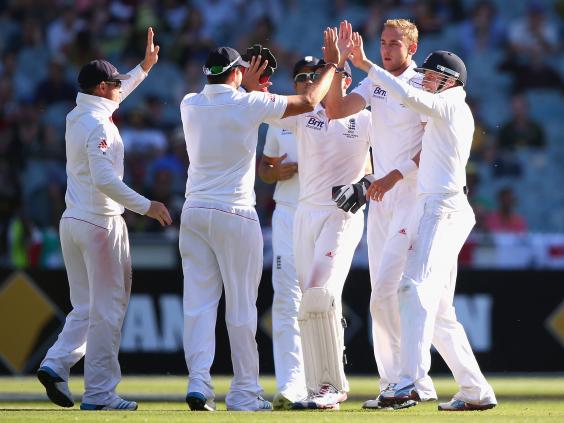 Anderson's place in the dressing room has altered because of the retirement of Graeme Swann. The two were an inseparable double act. But Anderson will not be following him. "I'd like to carry on playing for a bit," he said. "I have got other friends in the team. I know we've got lot more to show people and I want to be a part of that."