There have been times on this ill-starred tour when it seemed that things could become no worse for England. All of them were made to feel like moments of high jubilation yesterday as the fourth Test went the inexorable way of its three predecessors in the  past month.
Australia took a 4-0 lead in the Ashes series, winning here at the gallop by eight wickets. Chris Rogers scored his side's eighth hundred of the series, dominating gloriously after an early reprieve. The day was barely half done, the tourists' cricket was half-baked. This was the most dispiriting of all their heavy defeats, as if because the urn had already gone they might as well kick it down the road.
Inquests can start now because there is so much negative evidence to sift that the fifth defeat in Sydney, now seemingly inevitable from the moment the match starts on Friday, cannot possibly add to the pile. The positions of both Alastair Cook, as captain, and Andy Flower, as coach, will come under scrutiny and the conclusion that one or both should go may prove irresistible to the coroner.
But if they were to go – and they should not – then the positions of the chairman of the England and Wales Cricket Board, Giles Clarke, and the chief executive, David Collier, who design the structure from which all else flows and are pretty proud to do so, should also be examined. It is as well, for their own sakes, that the managing director of England cricket, Hugh Morris and the national selector, Geoff Miller, have already departed.
The pair must reflect on the events that have taken place since 21 November and wonder how it all went so wrong so quickly. They must have imagined this to be a glorious swansong for the system they had devised and the team they had built. Instead of which, the whole edifice is crumbling. Had it not been for Edward Gibbon, someone might one day call it the history of the decline and fall of the English cricket empire.
It leaves their successors, Paul Downton and James Whitaker, with much to ponder. Both are due in Sydney for the fifth Test, both can now unfurl clean sheets. What must be conceded as a starting point is that this team have not been fit for purpose.
ASHES PODCAST: Stephen Brenkley and Tom Collomosse discuss the fourth day of the Fourth Test. Listen below…
Too many players have been short of form or the necessary quality, too many have not been considered suitable for selection. The policy of picking three fast bowlers was obviously flawed because it was never given its head and the batting, poor throughout, has barely been altered because there was insufficient reason to think anybody coming could do better.
Of those who finished the match, Michael Carberry, Jonny Bairstow, Tim Bresnan and Monty Panesar are under most imminent threat after the series ends. But the contributions of Cook, Kevin Pietersen and Ian Bell with the bat and Jimmy Anderson with the ball have left much to be desired. All will not be rectified by a few cheap runs and wickets at home in the early series against Sri Lanka next summer.
This series in general has been an advertisement for the significance of high pace in a tightly disciplined bowling unit. Australia have had both with Mitchell Johnson lent admirable support, England have had neither. It has meant that the home side have scored eight centuries in the series and the tourists a mere one.
The one, however, shines like a diamond and its source may have inadvertently changed the future direction of this team. Ben Stokes was brought on this tour as a player of promise; he will leave as one around whom the team can evolve in the 18 months before the next Ashes in 2015.
He has much to learn in the smarts department as an international cricketer but he is audacious and gifted. If he can develop into a true No 6, his bowling will lend an entirely fresh dimension to the attack, which may be urgently required in the light of Graeme Swann's retirement. It may give Anderson the reinvigoration he so obviously needs.
Cook, it should be remembered, has already led a team to victory in India and to an Ashes series victory at home, credentials that few other England captains can display. He has sometimes looked overwhelmed by events here, not least yesterday, but criticism of his tactical nous should be treated with caution if not disdain.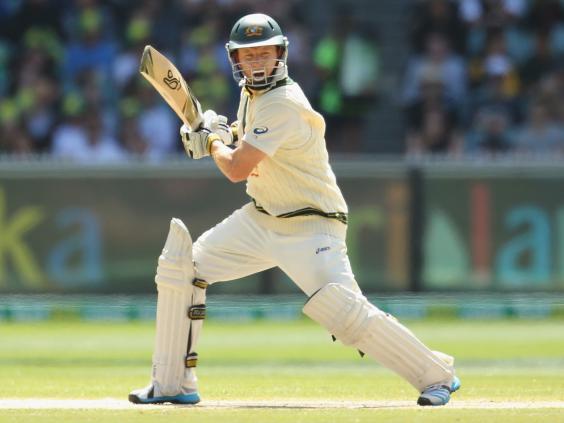 It is true that he needs runs and plenty of them soon to sustain his role in the medium to long term. However, it would be folly to discard a batsman who has 8,000 Test runs and a captain with the ability to learn. While not a natural leader (and how many of those are there to the pound, as the infantry in any walk of life will gladly testify?) he is still one who can inspire by example.
There could be no disguising the grotesque nature of the latest defeat. At one point early on the third afternoon, England led by 116 runs with all 10 second-innings wickets in hand on a slow pitch which batsmen found difficult to trust. A day later, having shed wickets and catches as casually as if they were swatting Melbourne flies, they had allowed Australia to chase down 231 to win.
The target should have been substantially greater but, despite England's litany of batting errors, it still seemed sufficient to pose their opponents a troublesome task. Within 15 minutes of the start yesterday, two chances, one offered by each of the openers, had been spurned by Bairstow and Cook, and Australia were suddenly flying.
England did not know whether to attack or defend and ended up employing a kind of hybrid which was neither one nor the other. It was a microcosm of what has become of them in such a short period, not knowing whether to stick or twist. The indecision led to more mistakes and they were on their knees.
David Warner's dismissal to the admirable Stokes brought in Shane Watson in bludgeoning mode. That was that. Hard to think that, when proceedings in the series began, England were favourites to win the Ashes for the fourth consecutive time. Even those who counselled caution did not anticipate this. Everything has changed: nobody would have imagined it would be 4-0 after four, everyone now considers it will be 5-0 after five.
Reuse content