On a cloying, compelling afternoon Australia revealed their grand design for the Ashes. It is based on one of the oldest, most effective and terrorising weapons in the game: the bouncer.
When propelled at high pace as inevitably it was on the second day of the First Test, it intimidates batsmen so that it disturbs their mind and erodes their soul. Michael Clarke, Australia's captain, will know precisely how England felt as he urged his bowlers to turn up the gas.
He had been brutally exposed himself in his side's first innings, made to look a nincompoop. It was not retribution he sought necessarily, he has simply come to recognise the menace. Welcome to Bodyline, gentlemen.
Was that Douglas Jardine looking down through the harsh glare of a Queensland day and smiling, fondly remembering perhaps his legacy to the world left 81 years ago when England launched their own assault? And was that Pelham Warner, his manager, grimacing at the prospect of it all over again? It would be a travesty if every match was based on this but amid the ferocity there was something beautiful about it.
Not all of England's batsmen fell to the bouncer or the short ball on a rapid, lively pitch but they all realised with grim certainty that another one was coming along soon. Mitchell Johnson, who had talked the talk before the series, walked the walk in a thrilling exhibition of irresistible, hostile, potent and rapid bowling.
He was supported importantly by the exemplary Ryan Harris, who was also unafraid to give his opponents the chance to smell leather. The important intervention of the off-spinner, Nathan Lyon, himself assisted by bounce, merely compounded England's misery.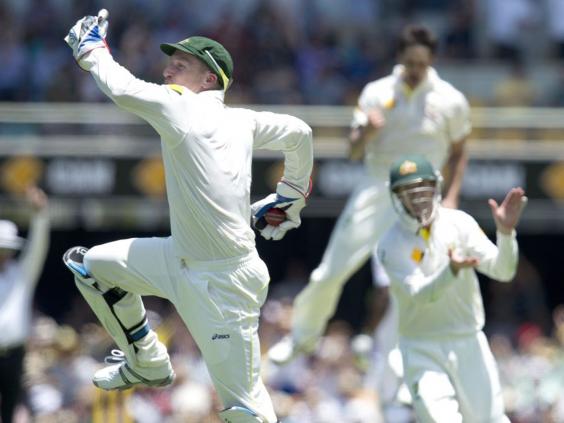 It all went horribly wrong in that second session of play, the period of the day known to Australians as the arvo. Johnson's drooping moustache made him look as fearsome as Emiliano Zapata, the Mexican revolutionary who gave his name to the facial growth. He loped in and let it go as Emiliano did to government forces.
England lost six wickets for 39 runs in 25 overs but six of them went down for nine in 13.3 tortured overs. Three times before, England had suffered comparable collapses, the last in Melbourne in 1990 when they went from 147-4 to 150 all out when their nemesis was another mercurial left arm fast bowler called Bruce Reid.
If the bowling was impressive it was supported by some cunning captaincy by Clarke. He changed his bowlers often, in Johnson's case he switched them from one end to another. He suggested a different line of attack from over and round the wicket, crucially he sensed when the opponents were ready to crumble.
There was, as on the first day of a series which threatens now to be full of fire and brimstone, a key moment. It arrived in the last over of the first session, before the arvo began.
Australia had been bowled out for 295 and England would have been feeling pretty pleased with life. They lost Alastair Cook, their captain, much earlier, about a day earlier, than they would have liked when he edged a ball from Harris which lifted and moved away outside off stump.
In came Jonathan Trott, out came the bumper. Trott could not settle in the crease, Johnson was moving him around it with a series of well directed balls aimed at the head. Perhaps he was unlucky when he nicked one of these aimed down the leg side but it was a plan perfectly hatched and executed as the batsman moved across his crease yet again. Trott needs to seek urgent counsel from someone because this sort of fallibility can terminate careers. Like Clarke the day before it was almost sad to see a player of such high accomplishment treated in this manner.
For a brief passage before the flames began spitting from Johnson's mouth, Kevin Pietersen, in his 100 Test, flirted with the idea of doing something special for the occasion. But he was too carried away with imposing himself and clipped a ball from Harris to mid-wicket. That made England 82 for 3 and it was to become a whole lot worse.
The tourist's top scorer was Michael Carberry, a man playing only his second Test at the age of 33, nearly four years after the first. He had provided a minor master class in the art of leaving the ball and he ignored most of the stuff that was pitched up outside off, of which there was not much, and the short-pitched battery, of which there was plenty.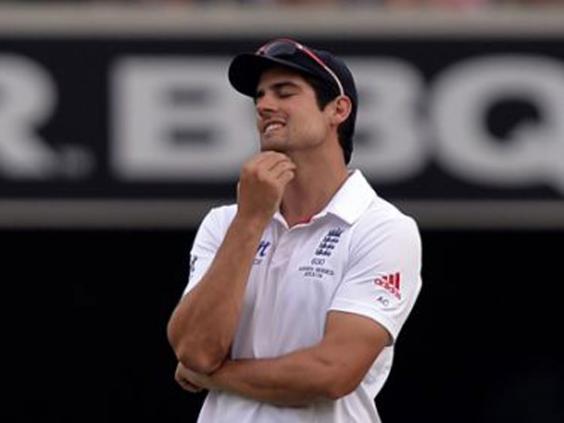 Johnson, moving fittingly from the Stanley Street End to the Vulture Street End, changed his line of attack to round the wicket. He whistled a couple past Carberry's nose and then forced him to play at a ball searing at him around off stump.
At this stage, of course, there was always Ian Bell. In the summer there had always been Bell. But Lyon removed him with a snaking, lifting ball which he played off bat and pad to short leg and then did more or less precisely the same to Matt Prior next ball. It was one of those beastly quirks of sport, of life: England had spent days ensuring Prior was fit for this match after sustaining a torn calf and then he goes and lasts one ball.
There was a brief, brave riposte from Stuart Broad who was greeted to a succession of bouncers and took most of them on before being caught in the deep hooking once more. But the truth was out. If England are to find harmony on this tour they have to learn to play chin music.
Reuse content