England can and should create history this week at the place where Test cricket started in this country. If they defeat Australia in the fifth Test at The Oval they will achieve an unprecedented fourth victory in the series.
It could be proposed that better English teams have tried and not come close and that worse Australian sides have been beaten less soundly. It could be posited that the old ground, albeit in new trappings these days, has witnessed more resonant feats.
But it is the men led by Alastair Cook, in the 25th series of at least five matches in this country, who stand on the threshold of this particular form of greatness. Cook's team have reached this point not by virtue of an outstanding team display throughout the series and several of their leading performers have had a worryingly quiet time of it.
When it has mattered, however, as embodied on the fourth evening in the most recent Investec Test at Durham when the match was slipping away, they have found something to weaken their opponents' resolve.
Somehow, perhaps because they have become used to winning again, England have recognised that Test matches can hinge on a single session, sometimes a single over and that they can turn quickly. Traditionally, the first day of a long match has been seen as significant but the true test of any team is never to let go, always to think there is a way out.
England, under Cook's undemonstrative stewardship, have done precisely that in the past six weeks, constantly making good on their mistakes. If they ever hit their straps, as the captain put it, they will be a real handful. "We've won some critical moments and won those moments well," Cook said. "That's why we're 3-0 up and I think we're good value for it."
Australia are all over the place. England, the home side, will have used 13 players when they name Chris Tremlett in the side and that would almost certainly have been 12 had Tim Bresnan not pulled up with a stress fracture of his back.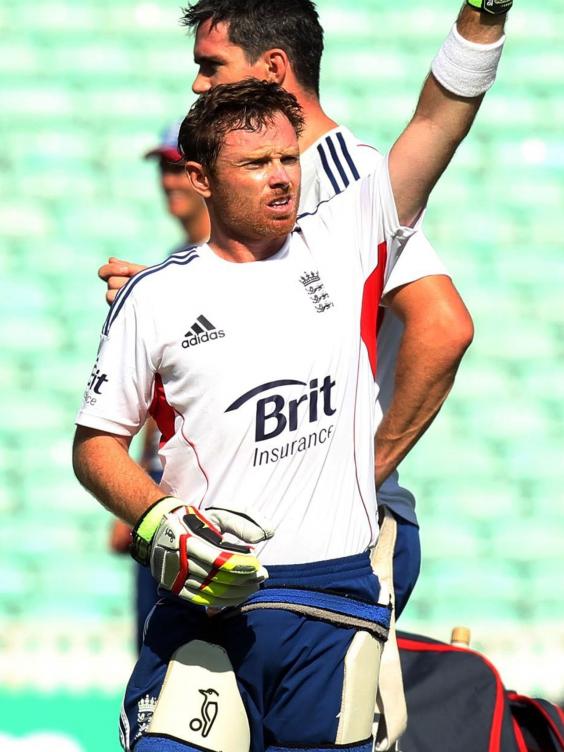 By contrast, the tourists have confirmed that they will bring to 17 the number of players used in the series. James Faulkner, the 23-year-old left-arm, fast-bowling all-rounder from Tasmania, will make his debut. Mitchell Starc, the left-arm swing bowler, will be called back into the team for the third time this series. It is not the selection of a team that knows what they are doing, where they are going, or indeed precisely where they are.
If England win the toss, as Australia's old warhorse Merv Hughes opined, the tourists are in big trouble. It is not entirely a coincidence that England have been able to choose whether to bat or bowl in all three matches they have won (and in the one match Australia dominated at Old Trafford they called correctly). By now, however, England will be less affected by which way the coin comes down than Australia.
Enthralling though it has been, partly because England have frequently turned round unpromising positions, this series has not possessed the epic qualities of its recent predecessors in 2005 or 2009, both of which went to the wire. Nor has it had that feeling of true greatness being grasped as England so stirringly managed in Australia in 2010-11.
Cook was asked where this team of his rated with those. It was probably a wee bit unfair because this is his first Ashes command. "The one that got to No 1 in the world and won in Australia was a very good side as well," he said. That was the one in which he was scoring all the runs but not captaining. It has been vice versa this summer. "I've given my batting just as much attention as if I wasn't captain," Cook said. "That's not why I haven't scored the runs I'd have liked. Sometimes it's the natural ebb and flow of form."
England's player of the series, which will be presumably formalised sometime over the weekend, has been Ian Bell. He would not have been the preference of many before it all started. Bell, always a class act, has discovered something extra, something that we feared he did not have, in this hot summer.
Had he not found it, with England up against it so often, things might easily have turned out differently. Bell's hundreds have been scored when England have lost their third wicket at 121, 28 and 49. In addition, he has scored half-centuries entering the arena at 30 for 3 and 110 for 4.
England have not lost any of the 20 Tests in which Bell has scored a hundred and have won 14 of them. That counts for something but the trio of centuries that he has assembled this summer has raised his career to a whole different level.
This is the 96th Test match at The Oval since the first in 1880, the 36th between England and Australia, of which the home side have won 16 and lost six. The last thing Australia want at this stage is for history not to be on their side.
All England teams should have fond memories of the ground. The Ashes were secured here in 1926, 1953, 2005 and 2009. On the first three of those occasions it was to regain the urn after a long gap and the country went wild with a mixture of elation and relief.
Four years ago, there was still all to play for in a way that is not the case now. But to prevail four times against any Australia team would be to manage an achievement that will not be easily repeated. "Our preparation has been excellent, training has been good and we haven't done anything different than if it was 1-1 in the series," said Cook. "To win the Ashes 4-0 has never been done before, so that is our motivation as a side. It would be very special.
"We have a lot of record breakers in this team and the chance to add another little notch is a great motivator."
The pitch is dry and unlikely to be as fast as Oval pitches were in the Nineties and early this century. It may easily help spin from fairly early on and it would be no surprise if much of the fifth day were not needed.
England have spurned twice before the opportunity to win four Ashes matches in this country, in 1977 and 1981 when the matches ended in draw. If the weather holds as it ought, this match will not be a draw. Cook's men seem intent on their purpose, the rub of the green has largely gone their way and Australia do not seem in any shape whatever to stop them. Fifth Ashes Test: The Oval details
Probable teams
England A N Cook (capt), J E Root, I J L Trott, K P Pietersen, I R Bell, J M Bairstow, M J Prior (wk), G P Swann, S C J Broad, J M Anderson, C T Tremlett.
Australia M J Clarke (capt), C J L Rogers, D A Warner, S R Watson, S P D Smith, B J Haddin (wk), J P Faulkner, M A Starc, P W Siddle, R J Harris, N M Lyon.
Umpires A Dar (Pak) & K Dharmasena (Sri L).
Pitch report Extremely dry, should not be particularly fast but could break up and encourage spin reasonably early. Both sides will expect reverse swing.
Weather
Wednesday Staying dry with some sunshine. Max temp: 23C
Thursday Sun and showers: 22C
Friday Warm and sunny: 27C
Saturday Dry with some sun: 23C
Sunday Warm with some sun: 27C
Odds England Evens; Draw 5-2; Australia 5-2.
TV Sky Sports Ashes, 10am-7pm. Highlights Channel 5, 7-8pm.
The series so far
First Test (Trent Bridge): England won by 14 runs
Second (Lord's): Eng won by 347 runs
Third (Old Trafford): Match drawn
Fourth (Durham): Eng won by 74 runs