Jimmy Anderson and Old Trafford deserve each other at last. One of the most complete fast bowlers in the world will play his first Ashes Test at a ground that is now fit to keep him company.
In the past three years Anderson has emerged as a formidable operator in almost any conditions, a bowler who bears comparison with any of his forerunners. Something similar can now be said of Old Trafford, a ground that had become so weary as an international venue it was on life support.
Anderson's sense of excitement at appearing in a match that returns his home ground to its rightful but long mislaid place on the international roster was palpable, if characteristically understated. On his 31st birthday he was anxious to avoid making England's understandable confidence sound like complacency or to contemplate the winning of the Ashes.
He said: "I think in the past, in the last two Ashes series there has been a stumbling block for us mid-series, so we have to make a conscious effort that we don't look too far ahead. Don't look at the outcome before concentrating on the smaller bits that will help us win that game. We won't look too far past the first hour on Thursday."
In the last two contests, both of which eventually had happy outcomes, England were clawed back after going ahead. At Headingley in 2009 they lost the fourth Test by an innings and 80 runs and at Perth in 2010-11 they went down by 267 runs, for Australia to level the series in both cases.
The tourists' position is rather more parlous now since they must win this match to avoid losing the Ashes for the third consecutive time. At 2-0 down, it is difficult to see how they can bridge the chasm between the sides which became obvious at Lord's last week.
But Anderson has been around England long enough to know their foibles and has played Australia often enough to recognise that they tend not go quietly. "Most of the guys in the dressing room have experience of Headingley and Perth and, hopefully, we can use that so it doesn't happen again," said Anderson.
"It's been tough so far. We narrowly won at Trent Bridge – it was a very close game there. We won more comfortably at Lord's but we still had our backs against the wall a couple of times – we were 30 for 3 each innings. We still have improvements to make and we know how dangerous they can be. Maybe they might be even more dangerous now they have nothing to lose."
Old Trafford, while an incomplete edifice, is unrecognisable from the dreary old stadium that was in severe danger of losing not only its Test status but its reputation. It has been transformed with a £32m redevelopment which perhaps took Lancashire too long to begin but which they eventually undertook with fervour.
Anderson and the rest of the county's players went across the road to Trafford Borough Council's offices in March 2010 to lobby for the redevelopment. It was a dramatic moment but it was to be another year before the proposals cleared their final hurdle.
The result is a ground almost fit for the 21st century. It holds 25,750 spectators and will be full on at least the first four days of this Test. Despite the addition of an imposing new stand and the raising of the old pavilion to ensure it has not been completely dwarfed, the most striking change is to the pitch, which has been moved at right angles.
"It's not too different," said Anderson. "The first couple of games for Lancashire it took a bit of getting used to, it did look a bit odd. It's quite strange saying 'state of the art' and 'Old Trafford' in the same sentence.
"It was getting a bit tired a few years ago and we were very lucky to get the money together to be able to redevelop it as it has been and now it's up there as one of the best grounds in world cricket."
Anderson will probably, though not definitely, choose the Statham End from which to do the bulk of the work, which is otherwise the New Stand End. The pitch looks dry and if it plays as Old Trafford surfaces have in the past few years it will encourage bounce early and spin from around the third day.
Mike Watkinson, Lancashire's cricket director, said that when Old Trafford was overlooked as a venue for the 2009 Ashes it was probably the final kick that the club needed to effect change. "We had sat on our hands for too long but now when people who have not been for three or four years come in they all say how fantastic it is.
"The pitch is on the old square and has the same blend of ingredients. If it stays dry I should think there will inevitably be some reverse swing as well."
England will entertain the prospect of playing two spinners to include Monty Panesar alongside Graeme Swann, but it will probably not go beyond that stage. They will also consider adding Chris Tremlett to the team because of the extra bounce he can achieve which would only disturb Australia more than they already have been.
Equally they have arrived in Manchester off the back of a thumping victory at Lord's and Tremlett has not bowled for three weeks. There is something to be said for the avoidance of tinkering. The biggest concern still revolves around the fitness of Kevin Pietersen.
Anderson has played three previous Test matches at Old Trafford without having spectacular success, the last against Bangladesh in 2010. He is an atypical product in the England team, coming as he did through club cricket at Burnley, where he first played for the juniors and then for the second team.
He performs on a much bigger stage these days but his heart, as Watkinson was willing to emphasise, remains in Lancashire. It would be appropriate if he had a significant influence on proceedings. One day the Statham End at Old Trafford may be joined by the Anderson End.
Home pride: Anderson's record
James Anderson bowling statistics in Old Trafford Tests:
Average 27.10 (overall 29.66)
Economy 3.92 (overall 3.07)
Strike rate 41.4 (overall 57.8)
Old Trafford Tests/Match figures:
v West Indies 2004 1-71
v New Zealand 2008 5-139
v Bangladesh 2010 4-61
Statistics for 2013 Ashes series:
Wickets 13
Average 18.30
Economy 2.70
Strike rate 40.5  
A new look for Old Trafford: how historic venue has turned round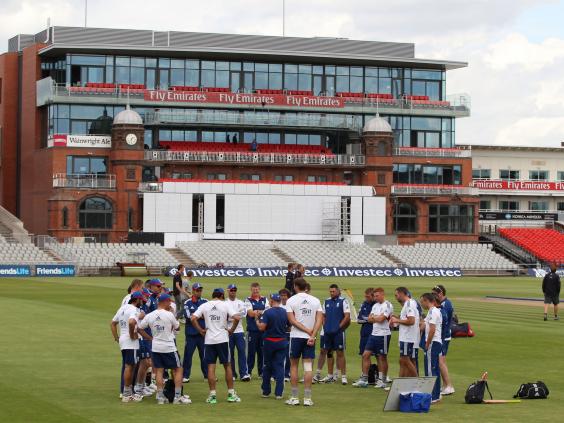 1. New pavilion This is the centrepiece of the £32m redevelopment of the ground, which staged its first Test match in 1884. It contains new dressing rooms, and also houses journalists in unaccustomed comfort.
2. Dressing rooms Large, comfortable and possessing a plunge pool with its own treadmill – to enable, it is said, Jimmy Anderson to walk on water.
3. Old pavilion A new tier has been added and while it looks slightly out of place it ensures it is not overwhelmed by the conference centre next to it.
4. Rotation of the square To accommodate the changes and resist the effects of early-evening sun the pitch has moved at right angles.
5. New stands Prosaically named the B and C Stands they are still uncovered. But with temporary seating at the old Stretford End, it means the ground now holds 25,750, second only to Lord's.
Stephen Brenkley