England, 3-0 ahead in the Ashes, are assembling a conflicting body of work. What is numerically significant is becoming spiritually moribund.
Some of this side's fairly recent predecessors would have given up a year's supply of sponsorship deals to be this far in front of Australia. Maybe expectations have become far too high: winning is not enough, it has to be winning with knobs on.
Intermittently during this series, the victors have conjured some inspired passages of cricket but, gosh, they have also been frequently, mind-numbingly tedious. This match at the Kia Oval, the scene of some of the greatest moments in England's history when it was merely the Kennington Oval, might have been the ideal occasion to mark a considerable triumph with style and zest.
Between lunch and tea on the third day of the fifth Investec Test, as a throwback to when these encounters were mere Tests, England compiled 84 for two in 38 overs. They were batting for survival, for attrition, for goodness knows what, anything but attention.
The session was enlivened only in its last five minutes when Michael Clarke, the Australia captain, and Kevin Pietersen, who was playing against type, engaged in an exchange of pleasantries which needed umpire intervention. Between tea and the merciful close there came another 66 runs in 34 overs at which point the players might have expected the crowd to break into a rendition of That's Entertainment.
England could be reasonably satisfied with the contribution of Joe Root, who made a solid 68 before giving it away. Ian Bell, man of the series, was 29 not out from 109 balls. Chris Woakes made a glittering start to his Test career, hitting his first ball for four. But only two runs came from the day's last six overs. Perhaps England really do intend to use him as an authentic all-rounder who will be their third seamer. In which case his surprising selection will come to be seen as a masterstroke of geniuses.
The pitch, dry, lifeless, from an arid planet far away, could take some of the blame for the general torpor. Australia's bowlers were miserly, defying ambitious batsmen. But ambition is built in the soul not on a strip of grassless turf and England did not feel encumbered by it.
They finished proceedings on 247 for 4 , still 245 runs adrift, still 46 short of avoiding the follow on. It is safe to assume that England do not have a fourth victory, unprecedented in an Ashes series at home, on their minds. Or if it is on their minds, the attempt to attain it is not being put into practice.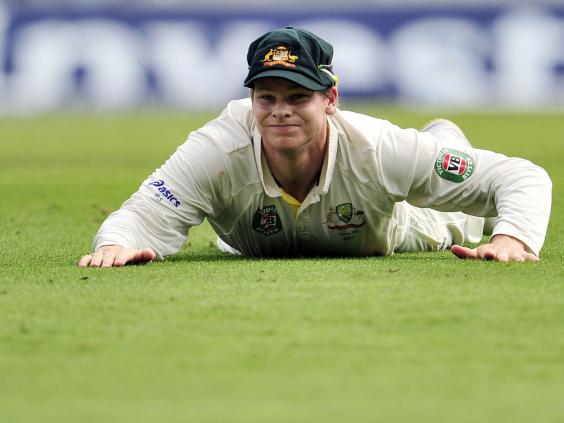 There is some reasoning for this, which does not meet their obligation to please the crowd. Having conceded almost 500, England might have reckoned that a win was beyond them or would take too many risks in the prevailing conditions.
The last thing they would want is a consolation Australia win with a return series beginning in November. It is not necessarily an appealing mindset but it is a strategy.
If it rains for most of the fourth day, as is predicted, a draw will be all but nailed on.
At the start of the summer, England would undoubtedly have settled for winning three of the five Tests and denying Australia a single victory for the first time since 1977. Alastair Cook's lips will not be puckered any less when they kiss the replica Ashes urn on Sunday evening.
The players may wonder what the fuss is about. They may presume that it is a frenzy about nothing whipped up by the media. They can presume what they like.
This was an unattractive day towards the end of a series which has been alluring only in patches. It has been like the girl with the curl: when she was good she was very good indeed, and when she was bad she was horrid.
England began in determined fashion under hot sun. There was nothing in the pitch and Australia's bowling was pretty unthreatening. Both sides simply went about their business in the first hour.
In the first over after the first (official) drinks break of the day, Cook reached for a ball around fifth stump and edged behind, where Brad Haddin caught him for the fourth time in a forgettable series. Cook will never have an Ashes series like he had in Australia in 2010-11 when he scored 766 runs and England must hope he never has another like this when he has made 243.
Root batted attractively and within himself, as well as in his 180 at Lord's, but was eventually guilty of playing a poorly judged sweep against Nathan Lyon which he top-edged to short fine leg.
Jonathan Trott dug in, but it seemed as though he was exposing himself to a form of torture. Australia continued their version of Bodyline to undermine him and he never looked wholly as though this was where he wanted to be. It has been a long summer for Trott in which he has never looked in. He shuffled across to Mitchell Starc and was lbw.
Bell joined Pietersen, who was in one of his moods of self-denial. When Pietersen is in that frame of mind it is inevitably tough out there. There were glimpses of King Kev, nothing more.
Lyon bowled beautifully at him from round the wicket and it was difficult to contemplate that this was the  off-spinner who was being so derided, usually by his compatriots, two months ago. He found some turn, his flight was deceptive and Pietersen, one of the great destroyers, was in a muddle.
Pietersen was out peculiarly, jabbing at a ball from Starc outside off stump which flew to slip soon after making his second slowest fifty in Tests (the slowest was in New Zealand in the winter, so maybe Pietersen is changing). Umpire Aleem Dar was unsure, Australia had no reviews but were insistent and the umpire review told the truth.
Woakes arrived as breath of fresh air on a balmy, cloudy evening before bedding in for the evening. The day was long, the series is almost done.
Reuse content