Seven years ago, England were swept away in Australia. It was a demolition which led to a radical change in the structure and management of the team. The idea behind it, undeclared but sonorously felt, was that it must never happen again.
In its way, what has taken place in this Ashes series so far seems worse than its recent forebear. Then the Australian side contained great players. Some of the best to have adorned the game studded it from top to bottom.
This team are not of that ilk. There is one authentically outstanding player for the ages in the captain, Michael Clarke, a magnificently hostile fast bowler operating at the peak of his powers in Mitchell Johnson and a group of other men hell-bent on revenge and the desire to prove themselves.
In 2006, England came out aware that they might be walking to the gallows despite their marvellous deeds of the previous year. In 2013 they arrived as favourites, strolling in the sunshine created by being three-time Ashes winners.
The discord between these sides is growing by the day. Whatever they say about mutual respect it is evident that they have a fervent dislike of each other. Throughout the fourth day, as England batted vainly to save the match, praying for rain, Australia were sledging.
While Joe Root tried to smile his way into their affections (a tougher ask than fending off a Johnson bouncer at full tilt), the old campaigners, Stuart Broad and Matt Prior, were embroiled in bitter altercations towards the end of the day. They continued the discussions leaving the field. They might have thought that as ye sow, so shall ye reap.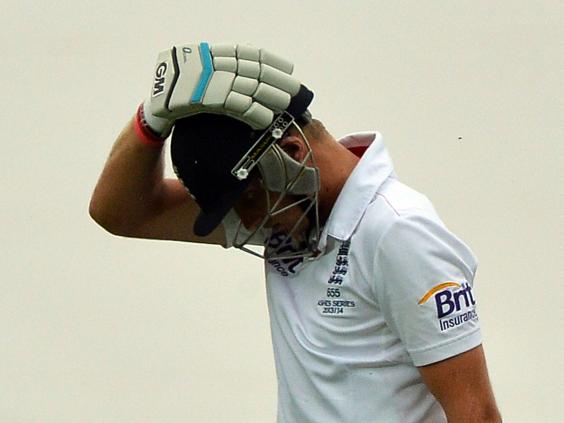 It can be stated with certainty after the bulk of two Tests are complete that England are sliding down the other side of the mountain from the summit they reached two years ago. The events of the past few weeks have shown that the 3-0 victory over Australia last summer was a chimera.
Senior members of this team have frequently told us that they pride themselves on their honesty. This means that on the occasions they have been up against it there has been plenty of straight talking in the dressing room. It is time for the boys to fess up again and this time there may be no going back.
The second Test has been dreadful for England. If the fourth day was better than the third it was a matter of fine margins. Bowled out for 172 on Saturday, they were left with a purely nominal 531 to win yesterday when Australia, wary of impending rain, declared their second innings at 132 for 3.
There was a modicum of resistance but it was surrounded by some strokes that in the circumstances beggared belief. For the second day in succession, the tourists' batting was imbued with stupidity, fear and a desperation not to show fear. Johnson is stalking England. In recognising that, they are dealing badly with the others. That is the effect dominant bowlers have had throughout history.
England were left 180 overs to bat, either to win or save the game, which was 112 more than they managed in their first innings, 28 more than they lasted in their epic draw at Brisbane three years ago and 32 more than South Africa held out for in achieving their own improbable draw at Adelaide last year. It was stretching the bounds to suppose there could be a reprise.
To suggest that England were not prepared for this series is completely to undervalue the meticulous nature of their coach, Andy Flower. He does not have a middle name but if he did it would be Preparation.
The attempt to counter the threat of Johnson was carefully planned. Two English left-arm seam bowlers, Tymal Mills and Henry Gurney, accompanied the squad for the first month of the tour. They peppered England's batsmen in the nets and Mills won particular plaudits.
But there is only one Johnson, of course. Perhaps Mills and Gurney should have grown drooping moustaches to capture the menace more precisely.
The depth of the tourists' discomfort, starkly exposed on Saturday when Johnson took 7 for 40, including a breathtaking burst of 5 for 12 in 18 balls, emerged quickly again yesterday. Alastair Cook, the captain on who so much depends, hooked in Johnson's first over and was splendidly caught at long leg.
It was a stunning shot for a man attempting to save a Test match, unless he really thought England should be trying to win it, in which case his brains really are scrambled. Yet there was still a repeat of it 10 overs later.
Michael Carberry had seemed composed yet he, too, decided to take on the short ball and he, too, was well caught on the leg-side boundary. Australia were dangerous enough without gifted wickets.
The partnership between Root and Kevin Pietersen that followed demonstrated that not all the fight had gone out of England. Pietersen struck three sixes, including the 19th of the match, making it a record for the number of sixes in an Ashes contest.
Before he could add more, he became the victim of Peter Siddle for the ninth time in Tests. He played Johnson like a virtuoso but Siddle, rather more unsung, has his number.
Root seemed set for a hundred before he also was dismissed by a bowler who was not Johnson. It was unfortunate as he edged Nathan Lyon into his body for Brad Haddin to react quickly and take a one-handed diving catch. It was a memorable 200th Test catch.
Ian Bell, who had batted sublimely in the first innings, was guilty of a woeful lapse yesterday, hitting a Steve Smith full toss in the air. Ben Stokes was out to the second new ball after a decent but uncertain vigil. It was something that England made the second new ball.
Reuse content