Ashes series define the careers of England and Australia cricketers. Heroic, match-winning deeds in these contests have and will continue to transform good cricketers into legends.
Series between these fierce rivals also give a strong indication of where a player is at in his career. I became as aware of this as anybody. In 1989 I made my Test debut against Australia at Edgbaston. At the time I was young, fit, strong and confident and by performing relatively well in a disastrous series for England I realised I could perform on the biggest of stages. My last Test also came against Australia at Melbourne in 1998. By then there were several thousand miles on the clock. England won the game but by then I had been reduced to a supporting rather than leading figure.
As a player, I was fortunate enough to feature in five Ashes series, each of which England lost. Then, as the cricket correspondent of The Independent, I had the pleasure of covering three further Ashes series, in which England were defeated in two.
From a results perspective the 2005 series stood out by some distance. It had everything. Even during the series defeats there were, however, some good times for England. There were obviously many outstanding displays from Australia, most by a number of the greatest cricketers to have played the game. Though win bonuses were rare against Australia I feel honoured to have played against and watched many of the greatest players this wonderful game has seen.
Matt Prior rates England and Australia
Matt Prior rates England and Australia
1/30 ENGLAND: Alastair Cook (capt)

Captains have a huge role to play in an Ashes series and he'll lead from the front. He loves the challenge of playing Australia, and I think he'll have a big series.

Getty Images

2/30 Adam Lyth

He has a lot of runs in county cricket and when he gets hundreds he gets big ones. He's a nuggety player and he's not going to take a step back. He's the right choice to open the batting.

Getty Images

3/30 Gary Ballance

He has had a tough time recently but you don't average 50 in Test cricket without having a lot of quality, and you're only ever one innings away from that form returning. He needs to start the series well, though.

Getty Images

4/30 Ian Bell

You just hope his form continues. He's a hugely passionate English cricketer and he'll be motivated by what happened in the last Ashes series in Australia, when he was dropped for the final Test in Sydney. He's a different player now.

Getty Images

5/30 Joe Root

You just hope his form continues. He's a hugely passionate English cricketer and he'll be motivated by what happened in the last Ashes series in Australia, when he was dropped for the final Test in Sydney. He's a different player now.

Getty Images

6/30 Jos Buttler (wicket-keeper)

Another hugely talented young cricketer. There's no limit to what he can achieve with the bat and, after doing some sessions with him last week, his glovework is hugely impressive too.

Getty Images

7/30 Moeen Ali

The Aussies will target whichever spinner England go with, but Moeen is pretty unflappable, he'll take it in his stride. He got wickets against India's top batsmen last summer so don't underestimate him.

Getty Images

8/30 Adil Rashid

He gives it a rip and has a great googly. If England play two spinners at Cardiff, which they could well do, then he's a great option. Graeme Swann obviously left a huge gap when he retired but it's great to see competition for that spinner's slot.

Getty Images

9/30 Jimmy Anderson

Still one of the world's best. You always look at your new-ball partnership to set the tone in the field and that's something which Jimmy and Broady have done for England time and time again.

AP

10/30 Stuart Broad

He bowls spells that change series – and the Aussies know that better than anyone. He knows his game so well now and he and Jimmy won't need firing up for this series after what happened Down Under.

AFP/Getty

11/30 Mark Wood

I hope he gets the nod at Cardiff. He's quick and I really think he has added something to this attack. I've been really impressed with him, as much with his attitude and temperament as his ability – he looks like he enjoys playing for England.

Getty Images

12/30 Steve Finn

It's great to see Finny back in the squad. He's a champion bloke and when he's on form he's a serious handful with his height and his pace. It has been a long road back for him but the signs are positive.

Reuters

13/30 Liam Plunkett

He's another guy who will be knocking on the door this summer. He's big, he's quick and he showed last summer that when he gets it right he can be very dangerous.

Getty Images

14/30 Mark Footitt

All the reports suggest that he's in great form and bowling very quick. He also gives you that variation too, with that change of left-arm angle. He needs to go back to county cricket and keep taking wickets.

Getty

15/30 AUSTRALIA: David Warner

You know what you're going to get from him. He's brash and he's going to come out there and attack the English bowlers from the off. When he's in form he's devastating and England need to pick him up early.

Getty

16/30 Chris Rogers

He's the perfect foil for Warner. He's a nuggety batsman who will just sit in all day and get to a hundred without really looking like he has played a shot. He knows these conditions well so I would expect him to open up.

Getty

17/30 Shaun Marsh

He's a very elegant player and has all the shots. He's very comfortable against the short ball and has started the tour very positively. He'll battle it out with Rogers for that opening slot.

Getty Images

18/30 Steve Smith

The thing you can't argue about is the number of runs he has scored, because he has been in incredible form. From an England point of view, you hope he has used all those runs up before the Ashes. The key is to get that ball moving away from the bat.

PA

19/30 Michael Clarke (capt)

It will probably his last Ashes tour but his experience will be crucial. A class player but he has never won an Ashes series here. That will be hanging over him. He'll want to put that right.

Getty

20/30 Shane Watson

Like Clarke he has never won the Ashes here but he's another superb player. He'll be battling it out with Mitchell Marsh for that No 6 slot.

21/30 Adam Voges

He has come through really late, which isn't rare in Australia. He's another who has had to wait for his chance but he has grabbed it. A very orthodox batsman and another guy who has played a lot here.

Getty

22/30 Mitchell Marsh

He has started the tour superbly and he's a hugely gifted cricketer. Again, he could be the all-rounder to provide the Aussies with the balance that they need. It will be fascinating to see if he gets the nod over Watson.

GETTY

23/30 Brad Haddin (wkt)

He had a storming series against us last time and gets most of his runs against England, which is a shame. He's a pivotal member of their side. Another wicket we need to get early.

Getty Images

24/30 Peter Nevill

He might not get too much cricket this summer but he's a capable wicket-keeper. If Haddin gets injured then he'll obviously come in.

Getty Images

25/30 Mitchell Johnson

He was lethal in Australia but he hasn't done it over here on a consistent basis in the past. If he gets it right in his first spell in Cardiff then England should be worried – but if he doesn't it could turn into a real headache for Clarke.

Reuters

26/30 Peter Siddle

Siddle is the kind of bowler who keeps the pressure on you all the time. He and Harris kept it so tight in the last Ashes series and that really enabled Johnson to bowl the way he did.

27/30 Josh Hazlewood

He showed in the West Indies what a good bowler he has developed into. He's not as quick as Johnson or Starc but he's accurate and seams it around.

28/30 Nathan Lyon

A revelation in the back-to-back Ashes series and we were pretty disappointed with how we played him. We allowed him to bottle up an end and that can't happen again. England will need to attack him.

Getty Images

29/30 Fawad Ahmed

His is a great story but I'm not sure how much bowling he's going to get in this Ashes series. I don't think the Aussies will go in with two spinners.

Getty Images

30/30 Pat Cummins

I know how highly he's rated in Australia and when he gets it right he's seriously quick. But he has suffered a lot of injuries. It would be a brave call to pick him at Cardiff.

Getty Images
During this 18-year period there have been so many great moments, good and bad, so picking out 10 has not been easy. I have left out several, including David Gower getting caught at fine leg just before lunch at Adelaide on the Tiger Moth tour, Darren Gough's hat-trick in Sydney, Shane Warne's "wonder ball" to Mike Gatting at Old Trafford, England's win in Adelaide and Glenn McGrath's 500th Test wicket at Lord's.
The matches, moments, innings, bowling displays and decisions selected here may not be the most predictable but they are those that have left a lasting impression on myself.
1. Steve Waugh's hundred
Sydney, 2002-03
Though he had led his side to a comfortable Ashes victory, Steve Waugh's place in the Australia team was being seriously questioned. Runs were not coming fluently and he had looked extremely uncomfortable against England's fast bowlers in the fourth Test at Melbourne. Waugh walked out at the SCG with his side in trouble and believing this could be his final Test. As ever he batted with grit, determination and the occasional piece of aggression. As he got close to his hundred, time became an issue. Would he get there before the close of play? He needed four runs off the final ball, to be bowled by Richard Dawson, England's off-spinner. Nasser Hussain, the England captain, spent minutes setting the field. It did not unsettle the "Ice Man", who crashed the ball to the cover boundary. The roar that followed inside a packed SCG was amazing, as was the standing ovation he received as he walked off. It was a brilliant moment. Thinking about it still makes the hair on the back of my neck stand up.
2. Shane Warne's bowling on the final day
Adelaide, 2006-07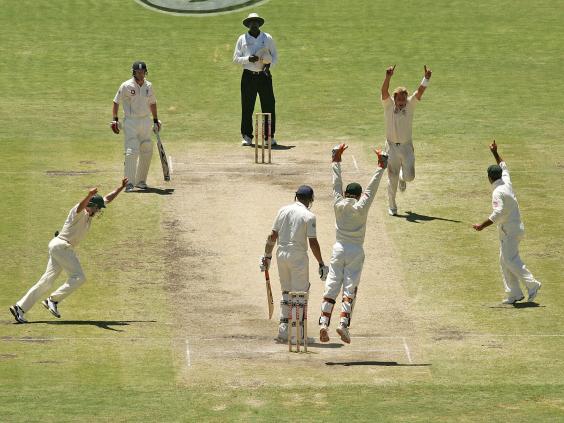 A brilliant double hundred from Paul Collingwood and an equally stunning 158 from Kevin Pietersen had allowed England to declare their first innings on 551 for 6. Australia responded with 513 so as the match entered its final day, with England 97 runs ahead and one wicket down, the draw was the predicted result. Warne and the Aussies had other ideas. For me this performance is exactly why Warne is one of the greatest cricketers the game has produced. On the final day, and having bowled 53 overs in England's first innings, he was relentless. His skill and desire gave England nowhere to go. Warne bowled 27 unchanged overs on the final day and took 4 for 29. It was like watching an anaconda slowly squeeze the life out of its prey.
3. The comparative dressing rooms
Old Trafford, 1989
As a youngster all I wanted to do was play cricket for England. At Edgbaston, in the second Ashes Test of 1989, the dream came true. By the fourth Test at Old Trafford, the Ashes were lost and chasing South African rand on a rebel tour of the country became the major goal of several of my team-mates. For me, the illusion of it meaning everything to play for your country had been shattered. As the Australia team, proudly wearing their Baggy Green caps, noisily sang their victory song "Under the Southern Cross I Stand" I was disconsolately packing my bags in a half-empty, broken, dysfunctional and selfish England dressing room. How I wanted to be in the Australian dressing room next door.
4. The Australia balcony
Old Trafford, 2005
The series was level at 1-1 when the teams travelled to Manchester. England had been superb throughout the Test and entered the final day requiring 10 Australian wickets. By now Ashes Fever had gripped the country and tens of thousands of spectators were queueing for tickets. Thousands did not get in. Several England players were late because of the gridlock around the ground. England claimed wickets at regular intervals but Ricky Ponting held firm, scoring a brilliant 156. Ponting's departure left Australia's last pair of batsmen needing to see out 24 balls, which they did, just. The jubilant scenes on the Australian balcony highlighted how far England had come and how vulnerable Ponting's side were. Never before had an Australian side celebrated a draw with such joy.
5. My comeback Test
The Oval, 1993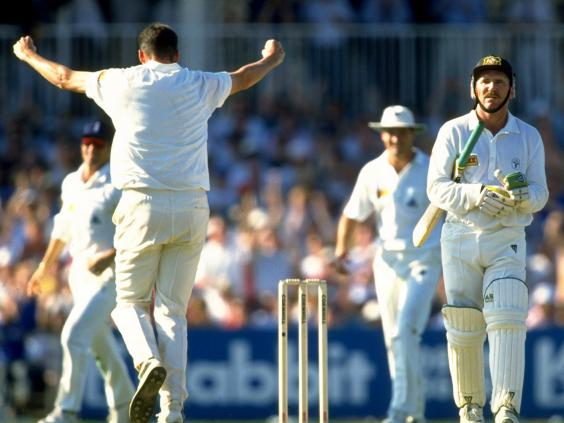 Personally, the final Test of the 1993 series will always be special. A hip injury had threatened to end my career prematurely and, after more than two years of frustration, uncertainty and hard work, I won a recall for the final Test of another disappointing Ashes summer for England. My first wicket back, when Mark Waugh edged a lifter through to Alec Stewart behind the stumps, means as much to me as any I took. I claimed eight wickets in the match and, more remarkably, scored 42 runs. England won a very fine Test, I won the man of the match award and, for me, life could not have been better.
6. Graeme Hick 98*
Sydney, 1994-95
A Warne-inspired Australia had put the hosts 2-0 up as we entered the third Test at the SCG. England dominated the opening three and a half rain-affected days and were looking to declare to set Australia a huge target. Michael Atherton, the captain, became frustrated at the slow progress the batsmen were making. Graeme Hick was approaching 100 but couldn't get much of the strike. Our dressing room was a happy place as Hick was a very popular member of the side and we had all shared his international frustrations. At last he was showing his class. Then, to everybody's surprise, Atherton chose to declare, a decision that left Hick stranded on 98. The decision killed the moment and deflated the team. Australia put on 208 for the first wicket before English-style conditions allowed a typically English bowler to take a few wickets. Team objectives should always come before individual landmarks but motivating a side is an objective. A cracking and forever contentious match ended in a draw.
7. Adam Gilchrist hundred off 57 balls
Perth, 2006-07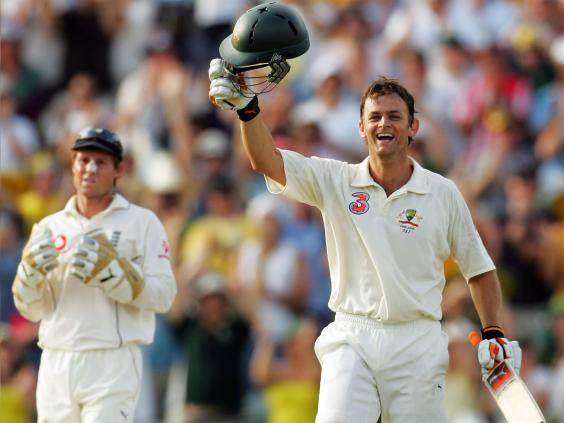 Australia regained the Ashes when Warne bowled Monty Panesar at the WACA but it was Adam Gilchrist's stunning onslaught that highlighted the gulf in class and confidence that existed between the two teams. England were down and virtually out when Gilchrist walked to the crease but the Aussie wicketkeeper ruthlessly destroyed any semblance of hope and self-worth by taking a beleaguered attack apart. His first 50 runs came off 40 balls, the next 50, remarkably, off just 17. At the time it was the second-fastest Test hundred ever, one ball behind Viv Richards, who smashed a 56-ball century against England in Antigua in 1986. This was ball-striking of a cleanness, power and quality rarely seen in Test cricket. Panesar and Matthew Hoggard both went the distance.
8. Michael Vaughan's batting
2002-03
Michael Vaughan is most remembered as the England captain who won the 2005 Ashes. His ability as a batsman is often overlooked and for a period of time there was no better player in the world. This period was during the 2002-03 Ashes in Australia. But for victory in the final Test in Sydney, instigated by a wonderful 183 by Vaughan, England would have suffered the ignominy of another 5-0 whitewash. Vaughan scored two other big hundreds during the series, 177 in Adelaide and 145 in Melbourne. These runs were scored with elegance and grace. His driving and pulling were magnificent. He looked at ease and in complete control at the crease. Watching him bat was a pleasure.
9. Making the wrong sort of first impression: opening deliveries of a series
1994-95 and 2006-07
I wasn't named in the Ashes squad of 1994-95 but positioned myself in Sydney playing Grade cricket for Western Suburbs in case anything happened. Illness in the England squad – chicken pox – caused me to be rushed up to Brisbane for the first Test as cover. I didn't play but nervously sat on the dressing-room balcony to watch the first ball of the series bowled by Philip DeFreitas. It was short and wide. Many batsmen would have left it alone but not Michael Slater, who savagely cut it for four. The same happened two balls later. At the end of the over those of us not playing looked at each other as if to say: "We're knackered here."
In 2006-07 Stephen Harmison was given the honour of bowling the opening ball of the series. An illness to my son, Alex, meant I set off late to Australia but the pair of us were sat on our sofa at home in Pinner as Harmison roared in at The Gabba. It took both of us a second or two to work out exactly what had happened as the ball flew straight to Andrew Flintoff at second slip. The nonchalant way in which Flintoff caught the ball and tossed it to gully made it even more mystifying.
Setting the tone early on in a contest is vital and on both occasions Australia's desire to dominate and England's nerves were highlighted. Both series were lost by England.
10. Dean Headley and Darren Gough
Melbourne, 1998-99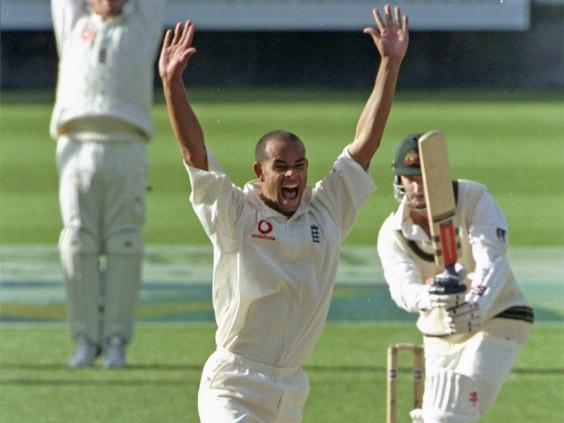 Few matches in cricket are bigger than the Boxing Day Test at the Melbourne Cricket Ground. The MCG is like a Colosseum: huge, steep-sided, imposing and extremely noisy. It is not a place for the faint-hearted, so winning there, as an Englishman, was special. The Test was my last and I only played because Alex Tudor withdrew because of illness. After three innings of a low-scoring game Australia were left requiring 175 to win. They seemed well on course on 102 for 2 before Mark Ramprakash took a brilliant, diving one-handed catch to dismiss Justin Langer. In an unbelievably long final session to the fourth day Dean Headley then produced the greatest spell of bowling of his career to rip out Australia's middle and lower order. Darren Gough grabbed the limelight by claiming the last wicket but it was Headley who made my final Test appearance a memorable one for the right reasons.
Reuse content