For Michael Clarke, shadows seem to lurk behind every corner, every lamppost, every bedpost. "There are people everywhere. There are people at breakfast, the corner of your bedroom; someone everywhere these days," he ruminated, reflecting that the whole world seemed to know that Shane Watson had been dropped for the second Ashes Test when he, the captain, had no idea what the selectors had in mind. "That's how it works, certainly with social media and the amount of journalists you see in the room," Clarke lamented.
The man seems worn down, speaking on continuous loop, wearing a pain behind his eyes barely before this Ashes road starts rolling out before him. He has made everything in his cricket life subsidiary to this summer's journey – depositing one-day and T20 international cricket firmly in his past to make some space for his Ashes swansong. And yet the spark seemed as faint off the field as it had been on it, in the depths of defeat in Cardiff.
Appearances and first Ashes Tests can be deceptive, of course. Let no one forget that Australia took first honours by 239 runs at Lord's  10 years ago. Clarke, however, had still not had communication from coach Darren Lehmann about Watson when he sat down to talk, by which time a picture had already emerged of Tuesday's hushed conversations, preceding the announcement of Brad Haddin's withdrawal from the second Investec Test. First, Haddin and Lehmann in the Lord's pavilion; then Clarke, head bowed, as the coach related the news that a pillar of the captain's side would be missing.
Ashes 2015 First Test in pictures
Ashes 2015 First Test in pictures
1/45 Day One

Alastair Cook wins the toss and elects to bat first

Getty Images

2/45 Day One

Josh Hazlewood celebrates the wicket of Adam Lyth

Getty Images

3/45 Day One

Brad Haddin and Michael Clarke celebrate after dismissing Alastair Cook

Getty Images

4/45 Day One

Joe Root runs as Mitchell Starc looks on from the ground

Getty Images

5/45 Day One

Joe Root celebrates reaching his half-century in the first innings

Getty Images

6/45 Day One

Gary Ballance passes his 50 for England in the first innings

Getty Images

7/45 Day One

Joe Root passes his 50 for England on day one of the first Test

Getty Images

8/45 Day One

Nathan Lyon unsuccessfully appeals for the wicket of Joe Root

Getty Images

9/45 Day One

Steve Smith drops Gary Ballance before he reaches his century

Getty Images

10/45 Day One

Joe Root celebrates reaching his century

11/45 Day One

Gary Ballance reacts after being caught lbw by Josh Hazlewood

12/45 Day One

Joe Root raises his bat as he is dismissed for 134

13/45 Day One

Mitchell Starc goads Ben Stokes after taking the wicket of the Englishman

GETTY IMAGES

14/45 Day One

Jos Buttler was out for 27

GETTY IMAGES

15/45 Day Two

Wales rugby player Jonathan Davis started the day's action

Getty Images

16/45 Day Two

Stuart Broad struggled to cope with the high ball once again

Getty Images

17/45 Day Two

Moeen Ali hit 77 on his Ashes debut

Getty Images

18/45 Day Two

Mitchell Starc finished with five wickets as England were dismissed for 430

Getty Images

19/45 Day Two

Mitchell Johnson failed to take a single wicket in the first innings

Getty Images

20/45 Day Two

Warner failed to reproduce the fireworks that has tormented England in the past

Getty Images

21/45 Day Two

David Warner survived one lbw shout when James Anderson's ball pitched outside leg stump

Getty Images

22/45 Day Two

Alastair Cook dives to his right to take the wicket of David Warner

Getty Images

23/45 Day Two

England celebrate after James Anderson takes the wicket of David Warner

Getty Images

24/45 Day Two

Joe Root signals for help after Alastair Cook is hit by the ball

Getty Images

25/45 Day Two

Alastair Cook writhes in agony as Joe Root sees the funny side

Getty images

26/45 Day Two

Joe Root looks on as Alastair Cook receives treatment

Getty Images

27/45 Day Two

Cook gives the universal gesture that he's ok while tending to the injured area

Getty Images

28/45 Day Two

Steve Smith trudges off the field after being dismissed for 33 by Moeen Ali

Getty Images

29/45 Day Two

Moeen Ali (L) celebrates taking the wicket of Australia's Steven Smith

GETTY IMAGES

30/45 Day Three

Jimmy Anderson celebrates as the England bowlers restricted Australia to 308

Getty Images

31/45 Day Three

Australia celebrate the wicket of Gary Ballance, who was out for a duck

Getty Images

32/45 Day Three

Nathan Lyon was Australia's best bowler, taking four wickets

Getty Images

33/45 Day Three

After a poor first innings Ian Bell responded with a half-century to steady the ship

Getty Images

34/45 Day Three

Ian Bell falls on 60

Getty Images

35/45 Day Three

Joe Root batted his way to a decent 60

Getty Images

36/45 Day Three

Joe Root sweeps a shot away in his second innings

Getty Images

37/45 Day Three

No 10 Mark Wood made an impressive cameo at the end of the day, making 32 runs off just 18 balls

Getty Images

38/45 Day Three

Mitchell Johnson reacts to a missed chance in the second innings

Getty Images

39/45 Day Three

Mitchell Starc fields a ball from the boundary

Getty Images

40/45 Day Three

Mark Wood reverse-sweeps a shot towards Michael Clarke

Getty Images

41/45 Day Four

Alastair Cook leads England out on day four

Getty Images

42/45 Day Four

Stuart Broad runs off in celebration after having Chris Rogers caught for 10

Getty Images

43/45 Day Four

David Warner passes his 50 in the second innings

Getty Images

44/45 Day Four

David Warner was dismissed by Moeen Ali in the second innings for 52

Getty Images

45/45 Day Four

Alastair Cook leaps in joy as Moeen Ali traps David Warner lbw

Getty Images
That Clarke's defence of Watson's game should have commanded so much of the pre-match conversation at Lord's was ironic, considering the big, lurid revelation on the eve of the 2013 Ashes Test here was that Clarke had once called Watson a "cancer". That story was symptomatic of how strained Clarke's relationships with some of his players have been over the years. But when you actually consider the headlines and the controversies that had weighed on him when the last tour of these shores got under way, you wonder why there isn't a spring in his step now. Another prelude to the 2013 series was the sacking of coach Mickey Arthur, Clarke's friend, ally and confidant. It left Clarke drifting up to his room at the Royal Garden hotel in London's Kensington, consumed with the guilt and the shock, having been told the news before Arthur. He was unable to take Arthur's call when it came. "I didn't want to lie to him," he reflected in his published diaries of that tour.
But the dynamic was different to this. The turmoil back then – part of a decline which had seen Australia punished heavily in the preceding series on the subcontinent – seemed to be a place from which the only way was up. The first Test brought defeat, though the 14-run deficit at Trent Bridge carried nothing like the enormity of Cardiff. And though the conversation about Mitchell Starc's spasmodic efforts by the Trent (2 for 80 off 15 overs in the first innings) resonated just as strongly then as now, there was an old warhorse waiting in the background.
Ryan Harris had been nursed through to contention for Lord's, with the retinue of medics needed to keep him fit resembling a Tour de France support crew, as Gideon Haigh puts it in his memorable narrative of the 2013-14 back-to-back series. Clarke nursed him sparingly through the Test match, too. His short first-innings spells of 5-2-9-2, 4-1-12-0, 4-1-7-1 and 4-0-13-0, all from the Pavilion End, typified the vital Harris dependability. His forced retirement, on the eve of this series, is a source of more bitter regret to Clarke with every passing week.
The middle-order struggles are another echo of 2013, when that team of Clarke's were only beginning to discover the enormity of the space Mike Hussey had left behind with his sudden retirement. It left the side labouring under a series of middle-order collapses.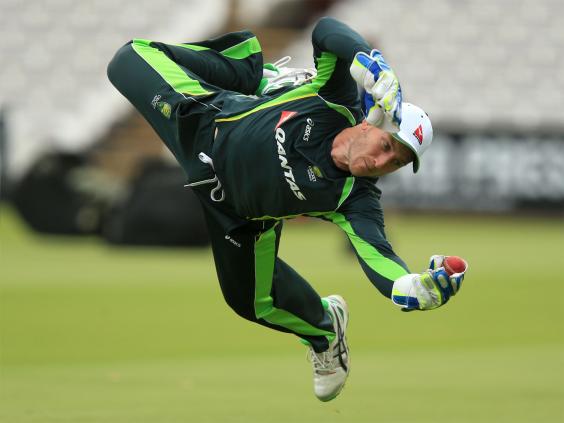 By the time the Ashes started, the only one of the seven players entrusted with the No 6 slot across the course of eight Tests had been Phillip Hughes, with his 81 not out in the first Test at Trent Bridge, which was such a magnificent foil for Ashton Agar's golden debut. Australia mourns Hughes in so very many ways.
The search for the glue that "Mr Cricket" Hussey provided at the heart of the batting engine has now reached Mitch Marsh, though it will be a gamble once again – and a choice which runs against the selectors' better judgement. It was clear from Clarke's discussion of Marsh that the hope had been to persist with Watson for the foreseeable future beyond Cardiff.
At least Marsh brings youth, which is as invaluable to the tourists as the Western Australian's two hundreds in the two tour games. If evidence were needed of how lacking in that elixir Australia is, then it is present in the prospect of a 29-year-old – Peter Nevill – taking Haddin's gloves. The conservatism of Sheffield Shield sides, packed out with older players, leaves Clarke bereft of the young, fearless hearts and minds flourishing for Alastair Cook and his brave new England.
Clarke does not want to go down in cricketing history as the first Australian since the 19th century to have lost four Ashes series. His reasons to believe Lord's will be different include a less moribund pitch, that raw and innate Australian desire to avenge any humiliation and greater luck. And can he actually summon the energy to be the engine for this?
It is possible, though there seemed to be an omen in him reaching for the example of an individual struggling to attain old heights as he sought to articulate the way fortunes in sport can turn. "I watched Roger Federer play Novak Djokovic the other day," Clarke said. "And in the first set I was certain Roger was going to win. And in the second set I wasn't so certain. That's sport right there: the highs and lows..."
Reuse content