There are some little rehearsed facts about Alastair Cook as captain of England. Perhaps there is a conspiracy to keep them quiet because they do not fit with accepted wisdom, perhaps they do not mean much although that seems too convenient, perhaps their full import is only now on the verge of being revealed.
For instance, only one England captain in the past half-century, a period when 31 in all have been asked to lead the country, has a higher batting average. If results matter as well as personal performance, then only five of those 31 have led teams with a higher proportion of victories and one of them is not Graham Gooch, whose average as captain of 58.72 is alone in being superior to Cook's 48.02. Cook went 16 Tests as captain before he lost (and then he lost five in a row).
Yet his term of office, certainly since the heavy loss of the Ashes in late 2013, and sometimes before, has been generally treated with an air of resignation, often still with scepticism, by a minority with disdain. Barely a year ago, he seemed to be within a match, an innings, an over, a ball of being sacked or invited to resign. He could not buy a run, the team had lost a home Test series to Sri Lanka, which can never be a guarantee of job security, and were soon to be 1-0 down to India because of an exhibition of breathtaking ineptitude on the final day of the Lord's Test.
Classic Ashes moments
Classic Ashes moments
1/15 1882

A newspaper obituary mourning 'the death' of English cricket appears after their 7-run defeat to Australia at the Oval, and the Ashes is born.

Hulton Archive/Getty Images

2/15 1932/33

Harold Larwood bowls at Bill Woodfull during the controversial 'Bodyline' series, which England won 4-1.

Hulton Archive/Getty Images

3/15 1938

Len Hutton scores 364, still the highest individual score in the Ashes, as England post a mammoth 903-7 declared at the Oval. They win by an innings and 579 runs.

Hulton Archive/Getty Images

4/15 1948

Don Bradman's 'Invincibles', who go a whole English summer unbeaten, chase down 404 for the loss of just three wickets to win the Leeds Test, with 'The Don' scoring 173 not out.

Hulton Archive/Getty Images

5/15 1956

Jim Laker bowls England to victory at Old Trafford with match figures of 19-90, still the best ever recorded in First Class cricket.

Hulton Archive/Getty Images

6/15 1977

On his return to the England side following a self-imposed exile, Geoff Boycott runs out the local hero Derek Randall at Trent Bridge on his way to 107.

Getty Images

7/15 1981

Ian Botham smashes 149 after England follow on at Headingley before an inspired Bob Willis takes 8-43 to win a famous, series-turning 18-run victory.

Getty Images

8/15 1981

Days after the miraculous display at Headingley Botham rides to England's rescue again at Edbgaston, taking the last five Australia wickets for just one run to clinch another unlikely win.

Getty Images

9/15 1993

Shane Warne announces himself on the world stage by dismissing a bemused Mike Gatting at Old Trafford with the 'ball of the century'.

Getty Images

10/15 1994/95

Shane Warne has Devon Malcolm caught by David Boon during the Boxing Day Test at the MCG to complete the first Ashes hat-trick in 90 years.

Getty Images

11/15 1997

Steve Waugh scores 108 and 116 in difficult conditions at Old Trafford, as Australia win by 268 runs to level a series they eventually clinch 3-2.

Getty Images

12/15 2005

Andrew Flintoff consoles Brett Lee after England won a classic encounter at Edgbaston by two runs to claw their way back into the series.

Getty Images

13/15 2005

Substitute fielder Gary Pratt becomes an unlikely folk hero as he runs out the Australia captain Ricky Ponting at Trent Bridge.

AFP/Getty Images

14/15 2009

Jimmy Anderson and Monty Panesar bat out 69 minutes in a last-wicket partnership that saves the first Test at Cardiff.

AFP/Getty Images

15/15 2010/11

Alastair Cook celebrates reaching his double century at Brisbane on his way to 235 not out in a drawn Test. He goes on to score 766 runs in the series.

AFP/Getty Images
It is testament to Cook's quietly cussed character, iron will and belief in his ability that he has returned from this slough of despond. He is not quite master of all he surveys but for the moment he is unchallenged as opening batsman and captain of the team. There has been a severe depletion in the once abundant supply of sticks with which to beat him.
The next eight weeks, starting on Wednesday in Cardiff, will mark a watershed in Cook's captaincy and career. It is his sixth Ashes series since 2006-07, his third as captain. As a player, he has been part of three glorious wins and two calamitous losses, as captain he has won one and lost one. The latter was the 5-0 reversal 18 months ago.
His leadership has always seemed to be innately conservative, in keeping with the nature of his batting which eschews flamboyance in favour of solidity. In response to this, he has taken in the last half of his tenure to trying myriad fancy, unconventional, almost surreal field settings, John Constable trying to be Salvador Dali.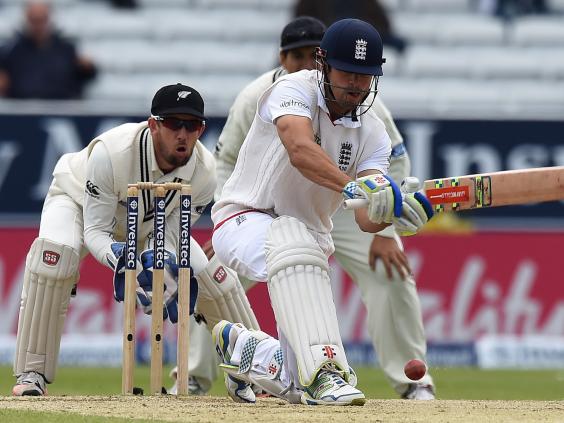 This has been easy to interpret as a forced conversion, the rebellion of the St Paul's choirboy he once was, saying "yah boo sucks" to his detractors. But in the last few weeks there has been a much less artificial shift in the design of English cricket.
Hastened, probably provoked by their ignominious exit from the World Cup and also jolted by a New Zealand team hell-bent on adventure and enjoyment, England have embraced a different approach and way of playing. Whether this can survive the white heat of an Ashes series when Australia will be unleashing what will feel like, more often than not, the forces of hell, is at least open to doubt.
No England captain in any era was scrutinised and examined more closely for flaws and weaknesses than Cook in the summer of 2014. That is about to be repeated both because of the opposition and the sea change.
If England can stick to the script then it may disrupt opponents who wear their machismo next to the kangaroo on their Baggy Green caps.
Cook has two crucial roles. He has to perform as batsman so that his team may function in an orderly way. He goes into the series in sterling form. Between July 2013 and July 2014, between innings of 130 and 95, that is, Cook had a dreadful trot, batting 27 times and for an average a little more than 20. In all, he would go 33 innings without a hundred.
But since that day in Southampton, of all unlikely Test venues to recover what was missing, he has been resplendent. Fourteen innings have brought nine fifties, six of them in the last eight, two of them hundreds. In essence, he has learned to leave again.
The regard in which he is held was apparent that warm morning in the third Test against India. By lunch on the opening day, Cook had reached 49, having been dropped on 15, and the crowd gave him a standing ovation. His travails had made him admired as well as respected.  Cook has had only one truly productive series against Australia, in 2010-11, when he scored 766 runs at an incredible 127.67. In the other 20 Tests he averaged a little more than 26.
It is imperative that he continues in something approaching his recent vein, for only then can his captaincy truly flourish. Australia will be testing him with speed and swing, teasing him in his traditionally vulnerable areas outside off stump.
If he can leave the ball early instead of pushing in the area in line with where fourth or fifth stumps would be, he has to do so. Easier said than done with the pace and swerve which Mitchell Johnson and Mitchell Starc will attain but essential for a top-class batsman.
Then Cook still has to do the difficult bit, finding a way to help his bowlers take 20 Australian wickets in at least two Test matches they must probably win to regain the prize. The manner in which he conducts his business will be endlessly intriguing.
Andrew Strauss, England's recently appointed director of cricket who opened the batting with Cook in 68 matches, reiterated his support last week. "As I said at the start of the summer I think Cook is very much the man to take the England Test team forward," Strauss said. "He's had two Test matches, he's played well.  I think he has captained well and so my opinion hasn't changed in any way."
The advent of a new and Australian coach in Trevor Bayliss, also Strauss's choice, may help Cook to continue to recast his captaincy in a different image. Much depends on the players in his charge and England, for the first time in a generation or two, have a clutch of players whose default position is to entertain.
A caveat here is that Australia, hard-nosed, relentless, desperate to overturn a losing streak in England which has persisted since 2001, may decree otherwise. But Cook, within the limits of his personality, seems to have recognised that there is an opportunity here to take the game to Australia as the great victors of 2005 did. He has begun to appreciate that they cannot afford to perish wondering.
"I think Alastair is in a phase of his career where he is not afraid to try new things," said Strauss.  "I know from my experience that when you've been involved with English cricket for a long time it's quite nice to have that sort of fresh change of thinking and I am sure he and Trevor will forge a very strong partnership."
A less determined man than Cook would certainly have gone by now.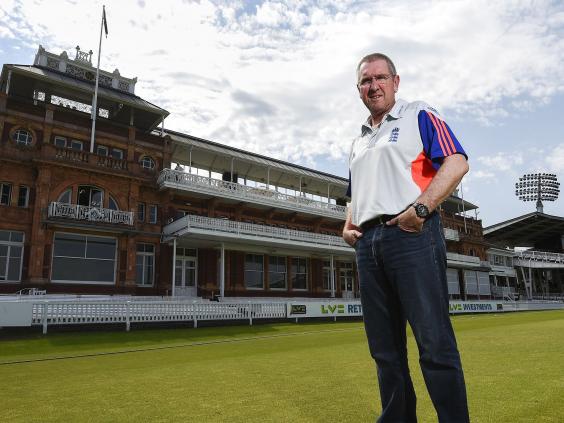 There was a strong case for his removal last summer and most of his recent predecessors as captain turned away from him, not least to spare his suffering. Cook did not listen, he had no intention of listening, he stood defiant, determined to survive, daring someone to pull the plug.
These are exciting times then, but there is the unmistakable sense that if Cook's team do not defeat Australia it may be time for a change. In that sense, he has nothing to lose (only the Ashes, as it were).
"None of us knows what the future holds – none of us knows what's going to happen over the next five Test matches – it would be wrong to speculate about what goes on after the end of this series," said Strauss.
 "But at the moment he is the right man.  I also know he is incredibly motivated for this series – from a team level he is going into this series in a better frame of mind than he has been for some time."
Cook is not, it must be emphasised, a natural orator. Graeme Swann, Cook's friend and former team-mate, wrote in his autobiography, The Brakes Are Off, of nervous team talks. "He stumbles and stammers a lot when he speaks and is renowned for starting one sentence and jumping into another before he has finished. He is best summed up as a bit of a rambler."
But that was four years ago. Cook has developed since then. This is his team now, as opposed to the one he took over from Strauss in 2012. He has had chances to mould and direct them and now he may be prepared to amend his caution in pursuit of a famous victory. There has been a shift in mood and opinion unthinkable a month ago. Cook and England can win the Ashes.
--
Captains' batting in The Ashes
Inn NO Runs Ave
G A Gooch 63 2 3,582 58.72
A N Cook 62 4 2,787 48.05
M W Gatting 39 4 1,542 44.06
M C Cowdrey 24 0 1,053 43.08
D I Gower 55 3 2,267 43.60
Captains' win record in The Ashes
P W L D %
D B Close 7 6 0 1 85.71
J M Brearley 31 18 4 9 58.06
M P Vaughan 51 26 11 14 50.98
M E Trescothick 2 1 1 0 50.00
A J Strauss 50 24 11 15 48.00
A N Cook 33 14 10 9 42.42
Ashes Dates
First Test: Sophia Gardens,  8-12 July
Second Test: Lord's, 16-20 July
Third Test: Edgbaston, 29 July- 2 August
Fourth Test: Trent Bridge,  6-10 August
Fifth Test: The Oval, 20-24 August
Reuse content