England have created a wonderful opportunity to take the lead in the Ashes series. If that alone is remarkable, it is equally significant that they have reached this happy state by playing with a conviction and flair which have hardly been their constant companions and have often been on long-term leave.
After three days of the campaign, England have had the best of most sessions and have audaciously refused to bow to Australia's will. There is a long, long way to go before serious contemplation can be given to the return of the urn – the tourists will probably consider that they can turn round the matter immediately at hand – but it has been a riveting start.
In a golden morning on the third day of the first Investec Test yesterday, England brought their opponents' innings to a shuddering close with fast bowling of an extremely high quality. There were moments in the afternoon when Australia threatened to close the gap to something manageable but England merely stepped on the gas again, ensuring that they proceeded, as they have done throughout, at four runs an over.
Ashes 2015 First Test in pictures
Ashes 2015 First Test in pictures
1/45 Day One

Alastair Cook wins the toss and elects to bat first

Getty Images

2/45 Day One

Josh Hazlewood celebrates the wicket of Adam Lyth

Getty Images

3/45 Day One

Brad Haddin and Michael Clarke celebrate after dismissing Alastair Cook

Getty Images

4/45 Day One

Joe Root runs as Mitchell Starc looks on from the ground

Getty Images

5/45 Day One

Joe Root celebrates reaching his half-century in the first innings

Getty Images

6/45 Day One

Gary Ballance passes his 50 for England in the first innings

Getty Images

7/45 Day One

Joe Root passes his 50 for England on day one of the first Test

Getty Images

8/45 Day One

Nathan Lyon unsuccessfully appeals for the wicket of Joe Root

Getty Images

9/45 Day One

Steve Smith drops Gary Ballance before he reaches his century

Getty Images

10/45 Day One

Joe Root celebrates reaching his century

11/45 Day One

Gary Ballance reacts after being caught lbw by Josh Hazlewood

12/45 Day One

Joe Root raises his bat as he is dismissed for 134

13/45 Day One

Mitchell Starc goads Ben Stokes after taking the wicket of the Englishman

GETTY IMAGES

14/45 Day One

Jos Buttler was out for 27

GETTY IMAGES

15/45 Day Two

Wales rugby player Jonathan Davis started the day's action

Getty Images

16/45 Day Two

Stuart Broad struggled to cope with the high ball once again

Getty Images

17/45 Day Two

Moeen Ali hit 77 on his Ashes debut

Getty Images

18/45 Day Two

Mitchell Starc finished with five wickets as England were dismissed for 430

Getty Images

19/45 Day Two

Mitchell Johnson failed to take a single wicket in the first innings

Getty Images

20/45 Day Two

Warner failed to reproduce the fireworks that has tormented England in the past

Getty Images

21/45 Day Two

David Warner survived one lbw shout when James Anderson's ball pitched outside leg stump

Getty Images

22/45 Day Two

Alastair Cook dives to his right to take the wicket of David Warner

Getty Images

23/45 Day Two

England celebrate after James Anderson takes the wicket of David Warner

Getty Images

24/45 Day Two

Joe Root signals for help after Alastair Cook is hit by the ball

Getty Images

25/45 Day Two

Alastair Cook writhes in agony as Joe Root sees the funny side

Getty images

26/45 Day Two

Joe Root looks on as Alastair Cook receives treatment

Getty Images

27/45 Day Two

Cook gives the universal gesture that he's ok while tending to the injured area

Getty Images

28/45 Day Two

Steve Smith trudges off the field after being dismissed for 33 by Moeen Ali

Getty Images

29/45 Day Two

Moeen Ali (L) celebrates taking the wicket of Australia's Steven Smith

GETTY IMAGES

30/45 Day Three

Jimmy Anderson celebrates as the England bowlers restricted Australia to 308

Getty Images

31/45 Day Three

Australia celebrate the wicket of Gary Ballance, who was out for a duck

Getty Images

32/45 Day Three

Nathan Lyon was Australia's best bowler, taking four wickets

Getty Images

33/45 Day Three

After a poor first innings Ian Bell responded with a half-century to steady the ship

Getty Images

34/45 Day Three

Ian Bell falls on 60

Getty Images

35/45 Day Three

Joe Root batted his way to a decent 60

Getty Images

36/45 Day Three

Joe Root sweeps a shot away in his second innings

Getty Images

37/45 Day Three

No 10 Mark Wood made an impressive cameo at the end of the day, making 32 runs off just 18 balls

Getty Images

38/45 Day Three

Mitchell Johnson reacts to a missed chance in the second innings

Getty Images

39/45 Day Three

Mitchell Starc fields a ball from the boundary

Getty Images

40/45 Day Three

Mark Wood reverse-sweeps a shot towards Michael Clarke

Getty Images

41/45 Day Four

Alastair Cook leads England out on day four

Getty Images

42/45 Day Four

Stuart Broad runs off in celebration after having Chris Rogers caught for 10

Getty Images

43/45 Day Four

David Warner passes his 50 in the second innings

Getty Images

44/45 Day Four

David Warner was dismissed by Moeen Ali in the second innings for 52

Getty Images

45/45 Day Four

Alastair Cook leaps in joy as Moeen Ali traps David Warner lbw

Getty Images
Sometimes their determined boldness might have got the better of them but the upshot was that England, whose second innings ended at 289 in the last over of the day, have a lead of 411. Australia will not make it easy but the target is already greater than they have made to win any Ashes Test including the legendary 404 at Leeds in 1948.
They won then by making all the runs on the last day, whereas now they have two full days at their disposal. The pitch, though still slow, is showing a few signs of untrustworthiness. Somebody will have to play a monumental innings.
There was a return to form of sorts for Ian Bell and a continuation along a glorious line he has followed for the past year for Joe Root. Bell played some enchanting strokes, his footwork delightful, his flashing blade certain until he somehow contrived to misjudge the line to Mitchell Johnson.
As for Root, he is already posing a huge stumbling block to these opponents. Twice he has come in to bat in this match with the innings precariously poised and twice he has responded with a sublime counter-offensive. As if that were not enough to get up Australian pipes, he has probably been doing it with a huge grin spread across his baby-faced chops. It was a surprise when he was surprised by one that kept low and went into his stumps off his pads.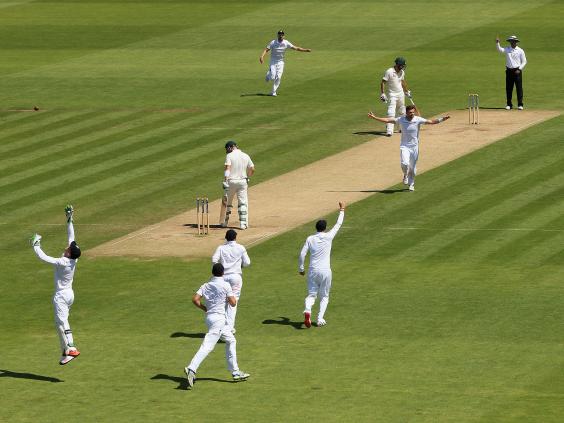 Like Bell, he cover-drove splendidly and Australia's plans, if there were plans, were foiled. Both made 60 from 89 balls. Ben Stokes blazed away until he too was bowled narrowly short of his second fifty of the match. The loss of three quick wickets in the evening was not exactly what England desired but it was followed by a blazing cameo from Mark Wood.
He seems to take the view that Ashes Test matches are to be enjoyed rather than endured and delighted the evening crowd with some unfettered hitting, which yielded 32 from 18 balls. It was all in the nature of the way they have chosen to play.
We had better become accustomed to it and enjoy the ride. It was not as though Australia's bowlers were treated contemptuously but their threat was neutered in these conditions and England knew it. They took wickets yesterday but there were always runs available.
Proceedings began with the home side slightly in front, more than a nose perhaps but less than a neck. The first hour was hardly out before that had been extended to four or five lengths, which, translated, was a first-innings lead of 122.
Australia, patently not at home on this surface in every sense, capitulated before an unbroken sequence of uniformly purposeful fast bowling. The first departure was akin to the playing of the three-card trick and Shane Watson fell for it again.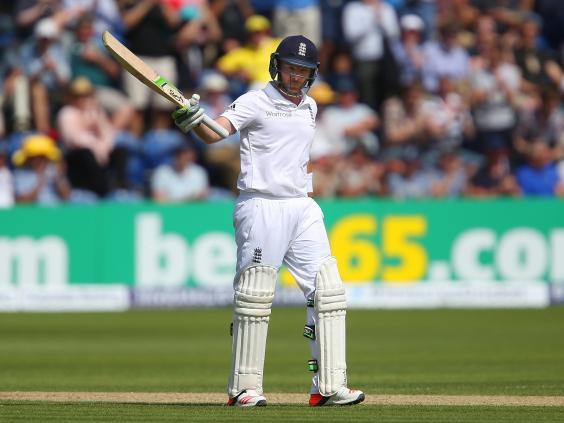 England's ploy was to bowl straight at his wickets to take advantage of his tendency to move across and play around his front leg while planting it down the pitch. He obliged to Stuart Broad almost immediately, the 13th time he has been lbw against England and his review, as it has been so often before, was forlorn.
Before long, Wood, who looks capable of having a profound influence on the course of this series, produced a full-length sizzler which thudded into Nathan Lyon's pads and won another leg before decision.
There was a brief lull before the advent of the second new ball which both Jimmy Anderson and Broad used with aplomb. It was all done in the blink of an eye. Anderson produced a peach of an outswinger to Brad Haddin, who had already lived dangerously, Broad persuaded Johnson to clip him to midwicket and Anderson wrapped it up by having Mitchell Starc superbly caught at third slip by Root.
The last five wickets had gone for 50 runs and no England bowling order had together confounded opponents so collectively since the quintet of 2005 was instrumental in winning the Ashes. Australia may have to rethink their plans of going quite so hungrily after the off-spin of Moeen Ali.
England had time to lose their captain, Alastair Cook, before lunch. The ball he drove to point appeared to go through the surface as a puff of dust flew up as it pitched. Australia's pleasure at the early wicket might therefore have been muted by the knowledge that they had to bat last.
In an eventful first over after the break, Adam Lyth survived a review of an lbw decision first ball before Gary Ballance was out to the sixth, trying and failing to remove his bat from a lifter. At 22 for 2 England might have tried to consolidate now but instead plundered their opponents' bowling. In five overs Bell and Lyth added 49 runs.
This gallop was arrested when Lyth was out to a breathtaking catch by Michael Clarke swooping to his left at slip to hold on to a one-handed catch. But England had barely begun.
--
BEST OF THE DAY
Shot of the day
In a flurry of counter-attacking after England's second wicket fell (49 runs coming from five overs) Ian Bell began it with a classic late cut-cum-guide to third man for four.
Ball of the day
In a sublime mini spell with the second new ball in the morning, Jimmy Anderson hastened Australia to a large deficit. Nothing was superior to his lifting outswinger to dismiss Brad Haddin.
Moment of the day
Of the smart slip catches in this match the smartest of the lot was Michael Clarke's full-length diving effort to his left to remove Adam Lyth, combining skill and instinct.
Quick single
Shane Watson was out lbw for the 13th time in 36 innings against England, which works out at 36 per cent. It was his 28th lbw in 108 Test innings.
Reuse content