Abundant evidence was supplied on Thursday to indicate how well England must play this summer if they are to regain the Ashes. Out of their skins would seem to be the minimum requirement.
No-one expected otherwise, of course, but for the four Ashes novitiates in the home team it was a perfect introduction to what they can expect in the next eight weeks. On a surface which continued to be cosy for batsmen and unforgiving for bowlers they strained every sinew in trying to curb the initial Australian threat.
Their reward on the second day of the first Investec Test was to nudge in front of opponents whose clearly audacious strategy never took full flight and who may have become over-excited in trying to execute it. This is what England must do all summer, stay level, stay strong, search for a break, in the hope of being a nose ahead by the end.
Australia were 264 for 5 with power yet to add but at every moment when it looked as though England needed a wicket to stem stately progress they managed to acquire one. If they can keep repeating that trick until late August then the Ashes might yet return home.
All of Australia's top five stayed around long enough to be feeling comfortable, only the opener Chris Rogers turned the start into something substantial. Even he was curtailed a mite earlier than his heart's desire, steering a catch to the wicket on 95 and perhaps betraying his desperation for a hundred.
Rogers who batted in his maturely compact style, driving with aplomb through the covers and adept square of the wicket, became only the fifth batsmen to pass fifty in seven consecutive Test innings.  But when he was cramped for space as part of an admirable day's work from Mark Wood, perhaps disrupted by the bounce, he became the only one among the quintet not to convert one of those innings into three figures.
As with England's batsmen before them, several of the tourists will rue their dismissals, feeling their own contribution to their downfall was greater than it ought to have been. The deficit at present, after England took their total to 430 all out, is 166 and the tourists' scoring rate was curtailed in the final session.
At one point they were rattling along – 119 runs came in 29 overs in the afternoon – but even for daredevil Australians, maybe especially for daredevil Australians, pragmatism has its place. Among their main ploys for this series is the intention to plunder Moeen Ali which worked up to a point, though he also took two key wickets. The trade off may continue to be a delicate one to judge as the affair progresses.
Still, concern may endure about who can play containing roles among England's bowlers. They can only pray that Jimmy Anderson keeps body, soul and mind together. There is always an alternative in cricket selection circles but it does not bear prolonged contemplation.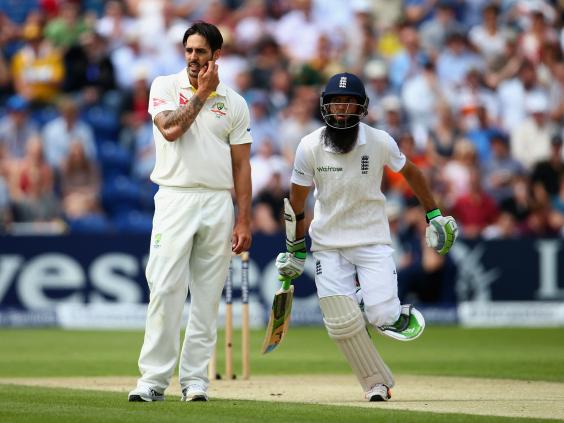 England secured a total of the type which not so long ago would all but have inured them from defeat. Not so in the modern era where it amounts to respectability without representing adequate insurance. From 43 for 3 on the opening morning, however, it was riches indeed.
Moeen, who had played serenely on his initial entry to the Ashes arena the previous evening, again made sweet contact. He and Stuart Broad took their partnership to 52 as runs flowed in the opening overs.
It helped that Broad, again targeted with short stuff, was reprieved after being given out caught at short leg fending a vicious bouncer off his glove and immediately accepting the verdict. Five yards from crossing the boundary rope, when his fate would have been irreversible, replays showed the ball had touched the ground as Adam Voges grasped it. Broad was recalled and swished away merrily.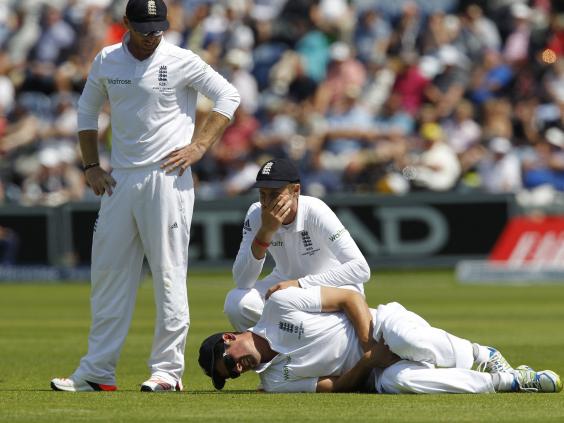 Mitchell Starc removed Moeen and then splayed Anderson's stumps to finish with five wickets in a Test innings for the third time. It left Australia a little more than half an hour before lunch which they negotiated safely, though there was the hint of swing for both Anderson and Broad.
England were probably beginning to grow slightly anxious about the need to make inroads when Anderson produced a peach to David Warner at which he drove. Cook took a smart catch at first slip swooping to his right – the sort that England must hold on to constantly if they are to capture the prize.
This brought in Steve Smith, both the world's top ranked batsman and its number one fidget at the crease, and still becoming accustomed to the rarefied heights of number three. Bowlers must sometimes wonder if he is touching the forelock or needs to rush to the toilet such is his fussy manner – until, that is, the bat crunches into the ball when everything seems in sequence. There is something in this of the village idiot transmogrifying into Einstein: "fooled you," Smith seems to be saying.
Smith was beginning to look dangerous and had already behaved disdainfully towards Moeen with three fours in an over when he dashed down the pitch at him. He might have sent a telegraph for Moeen was able deftly to readjust and pushed the ball at leg stump, ensuring that Smith had to play.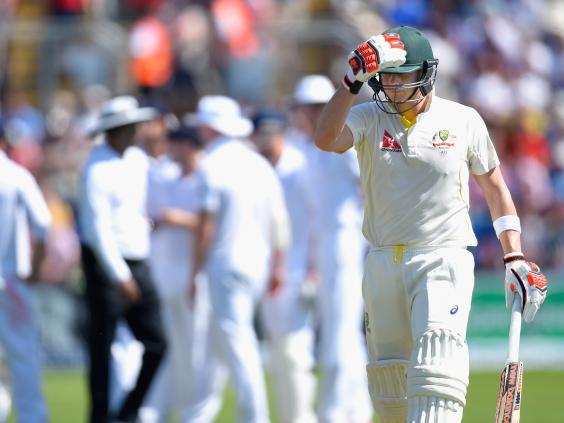 In the resultant tangle he could only prod it to short mid-on where Cook was expertly positioned to take a catch close to the ground. At that moment Cook, who had been off the field for 40 minutes after being struck a nasty blow in the nether regions from  ball edged into the ground towards the slips, looked to be a captain  of genius.
After Rogers was undone by Wood, Michael Clarke who was determined to impose himself, attacked a ball floated up by Mooen and drove a hatd return catch. Just when it looked as though Australia would survive with only four down, Adam Voges was dismissed aiming a drive to cover at the persevering Ben Stokes and being unbalanced when the ball jagged back off the seam. England's day narrowly but they now know what a relentless campaign lies ahead.
Reuse content