England may have surprised themselves. By the start of next week the Ashes could be regained. As a prospect three months ago this would have been risible, so perplexingly fickle were England, so confidently swaggering were Australia.
Somehow, England have made a virtue out of their mercurial ways. Last summer they had to come back from an abysmal defeat against India to win the series. This year, in seven matches spanning three series, they have won one only to lose the next.
It is an unprecedented sequence and it may have helped fuel the belief that any defeat can be turned round. The loss by 405 runs in the Second Test at Lord's, which levelled the series at 1-1, seemed to have a worryingly terminal air. The real Australia and the real England had arrived.
Not a bit of it. England lost the toss in Edgbaston and almost nothing else in the eight sessions of the match that followed. So contrasting have been the fortunes across the three Tests that it would be folly now to predict how it might turn out.
Following England's unexpected win in Cardiff their new coach, Trevor Bayliss, refused to embrace the general exultation and warned that Australia would be back. He was proved correct by events at Lord's a few days later but came to regret giving quite such a fillip to his compatriots.
Ashes 2015 Third Test in pictures
Ashes 2015 Third Test in pictures
1/35 Day Three

Joe Root and Ian Bell celebrate after adding the winning runs for England on the third day

GETTY IMAGES

2/35 Day Two

Jimmy Anderson grimaces in pain. He is to be assessed by the England medics over an intercostal muscle injury

GETTY IMAGES

3/35 Day Two

Steve Finn celebrates his fifth wicket of the innings - Mitchell Johnson's

4/35 Day Two

David Warner reached 77

5/35 Day Two

Steve Finn (far left) is congratulated after taking the wicket of Mitchell Marsh

6/35 Day Two

Adam Voges heads back to the pavilion after being dismissed for

7/35 Day Two

Michael Clarke (right) watches from his crease as England's Adam Lyth (left) catches him out for 3

8/35 Day Two

David Warner hit the joint-fastest half-century in Ashes history off 35 balls

Getty Images

9/35 Day Two

Steve Smith balloons a shot into the sky with Jos Buttler taking the catch to dismiss him for 8

Getty Images

10/35 Day Two

Stuart Broad celebrates after trapping Chris Rogers lbw

Getty Images

11/35 Day Two

Australia celebrate wrapping up England's first innings with the wicket of James Anderson

Getty Images

12/35 Day Two

Moeen Ali eventually went for 59

Getty Images

13/35 Day Two

Stuart Broad ht a valiant 31 before going to Josh Hazlewood

Getty Images

14/35 Day Two

Moeen Ali reached his 50 off 66 balls after taking the attack to Australia's bowlers

Getty Images

15/35 Day Two

Australia players rush to congratulate Mitchell Starc on dismissing Joe Root

Getty Images

16/35 Day Two

Mitchell Starc celebrates taking the wicket of Joe Root

Getty Images

17/35 Day Two

Ben Stokes dejectedly walks off after scoring a duck

Getty Images

18/35 Day Two

Mitchell Johnson celebrates taking the wicket of Ben Stokes

Reuters

19/35 Day Two

Mitchell Johnson celebrates taking the wicket of Jonny Bairstow

Getty Images

20/35 Day Two

Australia celebrate the early wicket of Jonny Bairstow on day two

Reuters

21/35 Day Two

Joe Root resumed day two on 30 not-out

Getty Images

22/35 Day One

David Warner takes the catch of Ian Bell

Getty Images

23/35 Day One

Ian Bell of England plays a shot before being caught by David Warner of Australia off the bowling of Nathan Lyon for 53

GETTY IMAGES

24/35 Day One

Alastair Cook after his dismissal in the Third Test

GETTY IMAGES

25/35 Day One

James Anderson takes the plaudits after taking five wickets on day one having dismissed Mitchell Johnson

Getty Images

26/35 Day One

James Anderson leaps for joy after dismissing Mitchell Marsh for a duck

Getty Images

27/35 Day One

Adam Voges walks off after James Anderson takes his wicket

Getty Images

28/35 Day One

James Anderson celebrates the wicket of Adam Voges

Getty Images

29/35 Day One

Michael Clarke's desperate search for form continued when Steven Finn clean bowled him

Getty Images

30/35 Day One

Steve Finn celebrates the wicket of Steve Smith in his first over after his recall to the England side

Getty Images

31/35 Day One

Alastair Cook leads the celebrations as the third umpire confirms Warner's wicket

Getty Images

32/35 Day One

James Anderson appeals for the wicket of David Warner

Getty Images

33/35 Day One

David Warner dives into the crease after Stuart Broad's attempted run-out

Getty Images

34/35 Day One

Alastair Cook on the morning the Third Test day one

Getty Images

35/35 Day One

England run out for the opening morning at Edgbaston

Getty Images
After the triumph in Birmingham, which puts England 2-1 ahead, Bayliss said: "I was right and they probably will again. You don't have the success over a period of time that they've had without being able to put those things behind you, as we did ourselves in this game.
"You look at the positives from our point of view and, using them as an example, we have also been able to come back and hopefully in years to come we can have the success that the Australian team have had."
A dip into history suggests that England's followers have mild cause for optimism. Only once have Australia come from behind after three matches to win the series. The last time England won the third Test of the rubber, in 1981, they went on to claim the Ashes.
If England were to lose at Trent Bridge in the Fourth Investec Test which starts on Thursday, they would still rather think they were due to win the next, what would then be the clincher at The Oval.
"We will take 3-2," said Bayliss. "Obviously we want to win the next one and take the fifth game out of it. We'll certainly be playing to win the next match.  I think we can take some lessons out of this match – some of the Australians will be under pressure, as we were in this game, and hopefully we will be able to build on that pressure in the next match and not let them up off the floor. 
"The message to the boys is go away and relax for a few extra days but come back with their own personal plans in place. I think that was the big change for us in this game – I think guys had their own plans in their own minds and went out and did it.  I felt in London that we just got away from our individual plans on how to bat and  bowl against this opposition."
The loss of Jimmy Anderson, definitely for Trent Bridge, almost certainly for The Oval, is grievous for England whatever the merits of his potential replacements, Mark Wood (most likely), Liam Plunkett (possible) and Mark Footitt (improbable). He had just made his first significant intervention of the campaign in conditions to which his craft was ideally suited when he felt a twinge in his side.
This is a big hole to fill but it is not as gaping as it might have been a week ago. Charging into the summer, a bowler reborn, came Steve Finn. Transformed entirely from the player he had become 18 months ago, Finn was fast, achieved bounce and movement and surpassed anything he had managed in a Test match before.
There will be many theories about Finn's decline which saw him reach a level that made it possible to fear for his continued existence as a professional player. Chief among them may be the possibility that too many people were offering him advice and, anxious to please them, he ended up knowing not what to do.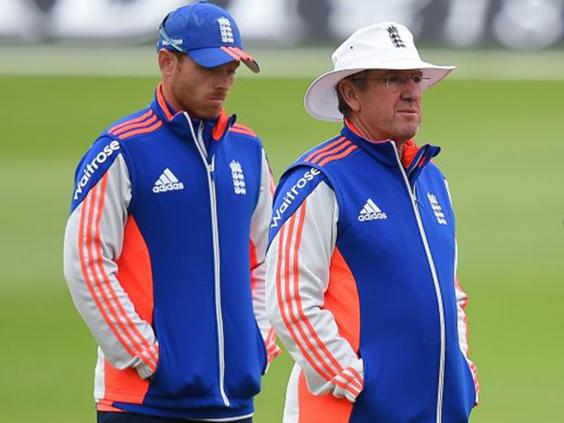 Finn's return now in such a decisive fashion could not have been more timely given Anderson's exodus. It gives England options they feared they would not have and may free up Wood to open the bowling with Stuart Broad.
Presumably, England would settle for the type of pitch in Nottingham that they found in Birmingham, a surface where there was enough carry and the ball seamed. It scrutinises batsmanship in a way that happens almost nowhere else.
The decision to promote Ian Bell to No 3 in the order paid early dividends with two half-centuries, though Adam Lyth's place as Alastair Cook's opening partner looks increasingly vulnerable.
Bell came out on his home ground clearly having decided that he would play most of his strokes – which by the way is a considerable array – as soon as he came the crease and to hell with it. There were some worrying moments but Bell backed his class and was rewarded.
At Trent Bridge, England could do with at least one of their middle order firing. No blame whatever can be attached to Jonny Bairstow or Ben Stokes for being dismissed by brutal bumpers from Mitchell Johnson at Edgbaston, Jos Buttler is coming to terms with how he should play Test cricket, Moeen Ali is a superb No 8 whose spin bowling continues to be a concern.
Bayliss made it clear in his understated way what he expects from his batsmen from now on, what they have lacked now for two matches.
"One thing we didn't have, from either side, was someone to score a hundred and bat for a long, long time," he said. "Yes, it might have been a bit difficult, but there were enough guys that actually got starts that showed it wasn't impossible to bat on. Sometimes in those difficult situations it just needs that little bit of extra application to get through those tough periods, and then the easy runs come later on."
He was right. England can win this series by application. Lyth scoring his second Test hundred would save the selectors some long dark nights of the soul.
Reuse content