England are on the verge of taking a 2-1 lead in the Ashes after an explosive second day at Edgbaston but are facing the prospect of their strike bowler Jimmy Anderson missing the rest of the series.
Anderson's team-mate Steven Finn took 5 for 45 as Australia stumbled to 168 for 7 by stumps – a lead of just 23, despite opener David Warner's defiant 77.
Barring more remarkable events, England should wrap up victory on Friday but they will have to do it without Anderson, who was forced off with a side injury.
There will be more news this morning. Side strains usually require up to six weeks to heal, so Anderson's prospects of playing again in this series appear remote. The fourth Test begins on Thursday.
An England and Wales Cricket Board statement said: "James Anderson has a tight side and will be assessed overnight and in the morning."
Ashes 2015 Third Test in pictures
Ashes 2015 Third Test in pictures
1/35 Day Three

Joe Root and Ian Bell celebrate after adding the winning runs for England on the third day

GETTY IMAGES

2/35 Day Two

Jimmy Anderson grimaces in pain. He is to be assessed by the England medics over an intercostal muscle injury

GETTY IMAGES

3/35 Day Two

Steve Finn celebrates his fifth wicket of the innings - Mitchell Johnson's

4/35 Day Two

David Warner reached 77

5/35 Day Two

Steve Finn (far left) is congratulated after taking the wicket of Mitchell Marsh

6/35 Day Two

Adam Voges heads back to the pavilion after being dismissed for

7/35 Day Two

Michael Clarke (right) watches from his crease as England's Adam Lyth (left) catches him out for 3

8/35 Day Two

David Warner hit the joint-fastest half-century in Ashes history off 35 balls

Getty Images

9/35 Day Two

Steve Smith balloons a shot into the sky with Jos Buttler taking the catch to dismiss him for 8

Getty Images

10/35 Day Two

Stuart Broad celebrates after trapping Chris Rogers lbw

Getty Images

11/35 Day Two

Australia celebrate wrapping up England's first innings with the wicket of James Anderson

Getty Images

12/35 Day Two

Moeen Ali eventually went for 59

Getty Images

13/35 Day Two

Stuart Broad ht a valiant 31 before going to Josh Hazlewood

Getty Images

14/35 Day Two

Moeen Ali reached his 50 off 66 balls after taking the attack to Australia's bowlers

Getty Images

15/35 Day Two

Australia players rush to congratulate Mitchell Starc on dismissing Joe Root

Getty Images

16/35 Day Two

Mitchell Starc celebrates taking the wicket of Joe Root

Getty Images

17/35 Day Two

Ben Stokes dejectedly walks off after scoring a duck

Getty Images

18/35 Day Two

Mitchell Johnson celebrates taking the wicket of Ben Stokes

Reuters

19/35 Day Two

Mitchell Johnson celebrates taking the wicket of Jonny Bairstow

Getty Images

20/35 Day Two

Australia celebrate the early wicket of Jonny Bairstow on day two

Reuters

21/35 Day Two

Joe Root resumed day two on 30 not-out

Getty Images

22/35 Day One

David Warner takes the catch of Ian Bell

Getty Images

23/35 Day One

Ian Bell of England plays a shot before being caught by David Warner of Australia off the bowling of Nathan Lyon for 53

GETTY IMAGES

24/35 Day One

Alastair Cook after his dismissal in the Third Test

GETTY IMAGES

25/35 Day One

James Anderson takes the plaudits after taking five wickets on day one having dismissed Mitchell Johnson

Getty Images

26/35 Day One

James Anderson leaps for joy after dismissing Mitchell Marsh for a duck

Getty Images

27/35 Day One

Adam Voges walks off after James Anderson takes his wicket

Getty Images

28/35 Day One

James Anderson celebrates the wicket of Adam Voges

Getty Images

29/35 Day One

Michael Clarke's desperate search for form continued when Steven Finn clean bowled him

Getty Images

30/35 Day One

Steve Finn celebrates the wicket of Steve Smith in his first over after his recall to the England side

Getty Images

31/35 Day One

Alastair Cook leads the celebrations as the third umpire confirms Warner's wicket

Getty Images

32/35 Day One

James Anderson appeals for the wicket of David Warner

Getty Images

33/35 Day One

David Warner dives into the crease after Stuart Broad's attempted run-out

Getty Images

34/35 Day One

Alastair Cook on the morning the Third Test day one

Getty Images

35/35 Day One

England run out for the opening morning at Edgbaston

Getty Images
The fast bowler completed three deliveries of his ninth over this afternoon before leaving the field, with  Joe Root coming on to finish the over.
For Finn, the day represented a remarkable comeback after going through a difficult two years since he was branded "unselectable" by England's one-day coach Ashley Giles following the disastrous Ashes series in Australia in 2013-14 – in which he did not play – and was sent home early.
The 26-year-old fast bowler made a storming return to the Test arena, swinging the match hugely in England's favour in a fantastic spell either side of the tea break.
He removed the world's No 1-ranked batsman, Steven Smith, cheaply before the interval, then sparking an Australian collapse in the evening session by getting Michael Clarke and Adam Voges caught in the slips from consecutive deliveries. He later went on to add the wickets of Mitchell Marsh and Mitchell Johnson.
Finn admitted that it was a relief to be back after his difficult time in the wilderness. "There's been dark times along the way but it makes those good times all the more satisfying," he said. "To be sat here and to have helped put the team in a good position at the end of day two feels pretty darn good, to be honest with you.
"Every cricketer goes through ups and downs, no matter how high or how low, and to come out the other side is a good feeling."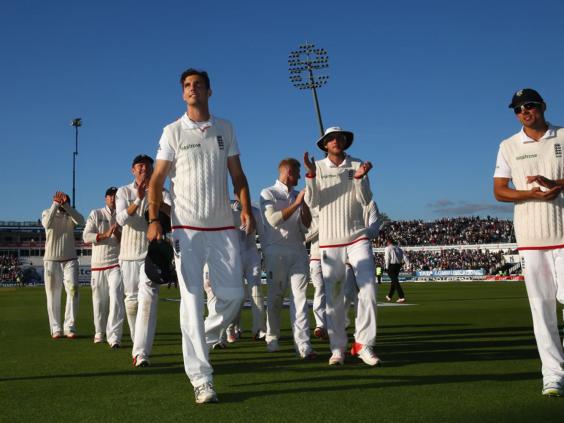 Finn admitted the possible loss of Anderson for the next Test at Trent Bridge would be a huge blow for England but he maintained that it was too early to tell anything for certain at this point.
"For Jimmy to walk off halfway through an over can't be too good," he said. "But who knows? With some magical medical healing and some rehab and stuff.
"Jimmy loves bowling at Trent Bridge, he's a huge player for us, he's the leader of the attack, he sets the tone with everything he does.
"We've seen the way that – even when the ball was flying around today a bit – he controlled the run rate, and the way he bowled in the first innings speaks for itself. If he was to miss it, it would be a big loss. But we don't know what's going to happen yet."
Overall, though, Finn was able to reflect positively on what had been an excellent day for him and for this young, emerging England side.
"In the dressing room we've had a good day, we can sit there with a smile on our face, but we do still have a big three wickets to take tomorrow morning and some runs to knock off," he said.
"It's nice to contribute towards putting us in a good position in the game, to be honest. There were obviously some personal milestones that were nice to get over, and to pull a Test shirt back on has been great fun."