England's selection for this Ashes series is fraught with risk. Perhaps it should not be so, given an entirely unexpected 2-1 lead against Australia with two matches left.
The great prize is tantalisingly close – by this time next week it might have been reclaimed – yet it still seems worryingly far away. No one expected this and therefore everyone expects that it could still go horribly wrong.
The selectors, who are spending the summer uncertain whether they will have jobs by the end of it, are trying to stick as closely as possible to their original intentions, demonstrated by the 14 players named for the potentially decisive fourth Investec Test which begins at Trent Bridge on Thursday. But, despite the lead and a manner of achieving it that has excited the country, there remain doubts about their team.
Ashes 2015 Third Test in pictures
Ashes 2015 Third Test in pictures
1/35 Day Three

Joe Root and Ian Bell celebrate after adding the winning runs for England on the third day

GETTY IMAGES

2/35 Day Two

Jimmy Anderson grimaces in pain. He is to be assessed by the England medics over an intercostal muscle injury

GETTY IMAGES

3/35 Day Two

Steve Finn celebrates his fifth wicket of the innings - Mitchell Johnson's

4/35 Day Two

David Warner reached 77

5/35 Day Two

Steve Finn (far left) is congratulated after taking the wicket of Mitchell Marsh

6/35 Day Two

Adam Voges heads back to the pavilion after being dismissed for

7/35 Day Two

Michael Clarke (right) watches from his crease as England's Adam Lyth (left) catches him out for 3

8/35 Day Two

David Warner hit the joint-fastest half-century in Ashes history off 35 balls

Getty Images

9/35 Day Two

Steve Smith balloons a shot into the sky with Jos Buttler taking the catch to dismiss him for 8

Getty Images

10/35 Day Two

Stuart Broad celebrates after trapping Chris Rogers lbw

Getty Images

11/35 Day Two

Australia celebrate wrapping up England's first innings with the wicket of James Anderson

Getty Images

12/35 Day Two

Moeen Ali eventually went for 59

Getty Images

13/35 Day Two

Stuart Broad ht a valiant 31 before going to Josh Hazlewood

Getty Images

14/35 Day Two

Moeen Ali reached his 50 off 66 balls after taking the attack to Australia's bowlers

Getty Images

15/35 Day Two

Australia players rush to congratulate Mitchell Starc on dismissing Joe Root

Getty Images

16/35 Day Two

Mitchell Starc celebrates taking the wicket of Joe Root

Getty Images

17/35 Day Two

Ben Stokes dejectedly walks off after scoring a duck

Getty Images

18/35 Day Two

Mitchell Johnson celebrates taking the wicket of Ben Stokes

Reuters

19/35 Day Two

Mitchell Johnson celebrates taking the wicket of Jonny Bairstow

Getty Images

20/35 Day Two

Australia celebrate the early wicket of Jonny Bairstow on day two

Reuters

21/35 Day Two

Joe Root resumed day two on 30 not-out

Getty Images

22/35 Day One

David Warner takes the catch of Ian Bell

Getty Images

23/35 Day One

Ian Bell of England plays a shot before being caught by David Warner of Australia off the bowling of Nathan Lyon for 53

GETTY IMAGES

24/35 Day One

Alastair Cook after his dismissal in the Third Test

GETTY IMAGES

25/35 Day One

James Anderson takes the plaudits after taking five wickets on day one having dismissed Mitchell Johnson

Getty Images

26/35 Day One

James Anderson leaps for joy after dismissing Mitchell Marsh for a duck

Getty Images

27/35 Day One

Adam Voges walks off after James Anderson takes his wicket

Getty Images

28/35 Day One

James Anderson celebrates the wicket of Adam Voges

Getty Images

29/35 Day One

Michael Clarke's desperate search for form continued when Steven Finn clean bowled him

Getty Images

30/35 Day One

Steve Finn celebrates the wicket of Steve Smith in his first over after his recall to the England side

Getty Images

31/35 Day One

Alastair Cook leads the celebrations as the third umpire confirms Warner's wicket

Getty Images

32/35 Day One

James Anderson appeals for the wicket of David Warner

Getty Images

33/35 Day One

David Warner dives into the crease after Stuart Broad's attempted run-out

Getty Images

34/35 Day One

Alastair Cook on the morning the Third Test day one

Getty Images

35/35 Day One

England run out for the opening morning at Edgbaston

Getty Images
While they opted to call up two players, Liam Plunkett and Mark Footitt, as possible replacements for the injured James Anderson, exemplifying his worth, they will have mused apprehensively on the continued presence of others. After the exhilarating victory at Edgbaston, following as it did the wretched defeat at Lord's, Alastair Cook, England's captain, went out of his way to praise all his players. All 11, he said, had played their part. Up to a point. There are questions that the selectors will have asked about the opening batsman Adam Lyth and the side's spinner Moeen Ali.
In any team at any time, some players are more productive than others. Ian Bell went into the match at Edgbaston under the closest scrutiny and emerged with two half-centuries and credit, despite the first of them ending ignominiously.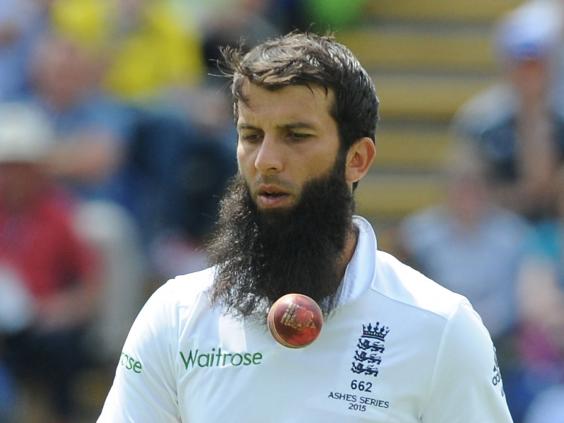 Attention has shifted to others. The player with the most urgent need to offer something is Lyth. It may be only three matches since he made his maiden Test hundred but Lyth has played six innings in this series for a tally of 72 runs. He has been dismissed in a fashion that opening batsmen should not be dismissed – twice edging balls it should have been his natural instinct to leave.
Lyth was kept waiting by the selectors. He had a prolific season for Yorkshire, the county champions, in 2014, a modestly successful winter with England Lions in South Africa and started this season where he had left off the previous one with a hundred for Yorkshire against MCC.
England have been casting around for an opening partner for Cook. Since Andrew Strauss retired they have tried Nick Compton, Joe Root, Michael Carberry, Sam Robson, Jonathan Trott and now Lyth. Of those the liaison with Compton was easily the most fruitful but he was discarded before the 2013 Ashes, less for reasons of form, it is said, than because his earnest demeanour did not quite fit in the dressing room.
Had Compton been granted his heart's desire, which was to represent England in an Ashes series, it might have turned out differently. He might have relaxed and become the player the selectors envisioned. Compton's part in the wonderful victory in India in late 2012 and the drawn series in New Zealand in 2013 (when he made two hundreds) should not be overlooked.
Cases could also be made for continuing with all the rest. Root has established himself elsewhere but it was as an opener that he was brought up and initially touted. Robson, like Lyth, made a century in only his second Test but the runs then dried up and the selectors appeared to take a view.
There are no straightforward choices after Lyth, who took a corking slip catch at Edgbaston. He needs runs in Nottingham and a scratchy half-century might do. Without them, it would be difficult for the selectors to make his case.
Lyth is an uncomplicated soul who has been determined to bring his own game to Test cricket, the game that made him. He is a dasher in county cricket but Australia and the Ashes are different from anything he has encountered before and so far it is showing.
Moeen promises to be the most prodigious No 8 batsman England have had. His half-centuries in the two victories of this series have been crucial, both in Cardiff and Birmingham, ensuring that an unchallenging total has become daunting.
He is attractive on the eye and a confident, clever player whose occasional soft dismissal can be forgiven. Unfortunately, Moeen's place is primarily as the side's spinner. Nine wickets in this series belie his contribution.
Plenty of England spinners have taken their wickets at greater cost than Moeen's 35 runs apiece, including John Emburey, Robert Croft and Ashley Giles of recent vintage. But no spinner with 20 or more wickets has conceded runs at Moeen's rate.
He is going at 3.75 runs an over, a rate that increases to 4.20 in his five Tests this summer. He offers his captain little control nor the certainty that he will tear through opponents should conditions ever be helpful. Part of this is because of the way in which the matches are being played. Spinners are easy and certain targets in the contemporary long form of the game, though Nathan Lyon, Australia's spinner is going at 3.50 an over and taking wickets much more readily.
Moeen is bowling far too many bad balls, so the pressure built up on batsmen is relieved. Far from trying to smash him out of the attack there is evidence to suggest that Australia are content to wait now, aware that something loose will come along.
While there is promise that Moeen can improve yet, off-spin bowlers of the past can only shake their heads and wonder. Moeen is an admirable cricketer in many ways but his bowling average in first-class cricket of 41.32 does not suggest a performer of the top rank. The leg-spinner Adil Rashid, described by his estimable coach at Yorkshire, Jason Gillespie, as a genius, has similar first-class batting figures and better bowling stats and perhaps deserves a go soon.
These are positions that England must continue to ponder. The director of cricket, Andrew Strauss, is still deciding whether he wants to change the selection procedure after this series, though he will not do so without knowing that a different system will be superior. Whoever picks the team may still be left with the abiding questions about opening batsmen and spinners.
--
England
Leading batting averages
J E Root 313 runs@62.60
M A Wood 45 @45.00
I R Bell 191 @38.20
M M Ali 190 @38.00
B A Stokes 181 @36.20
[A N Cook 180 @30.00]
Leading bowling averages
S T Finn 8 wkts @14.62
S C J Broad 12 @27.41
J M Anderson 10 @27.50
Root 4 @30.50
Moeen 9 @45.55
Australia
Leading batting averages
C J L Rogers 385 runs@77.00
S P D Smith 354 @59.00
D A Warner 269 @44.83
P M Nevill 106 @35.33
M G Johnson 123 @24.60
[M J Clarke 94 @18.80]
Leading bowling averages
M R Marsh 3 wkts @21.00
J R Hazlewood 14 @22.50
N M Lyon 12 @26.00
M A Starc 12 @31.66
Johnson 10 @33.60
Reuse content