It is not the five-fers that maketh the man, but days like this when the wicket gives you nowt, the feet scream blue murder, and the opposition make you look silly late in the day. Ben Stokes will not look back fondly on his top-edged dismissal, part of another impoverished batting collapse divvied up by both sides in this freakish series. But, among Englishmen at least, Stokes is more blameless than others.
Before they turned England to mush with the ball, Australia racked up a total just 19 runs shy of 500, 133 off Stokes's bowling, each one an affront to his pride. He gave his skipper the wickets of Adam Voges and Mitchell Starc to add to that of Michael Clarke on day one. More than that, he gave him hope, a reason to believe, a whole-hearted stomper who won't take no for an answer.
In this 23-year-old, England have a talent as precious as any. As Andrew Flintoff remarked, don't look at days like this, when even he can't start the fire, look at the matches he turns with one eruption of his volcanic gifts with bat or ball. England are lucky to have him, and he is lucky to have England. Thank goodness they found each other. There were no guarantees.
You know his story, one in which I was given a unique insight. In another life I was called north to Durham to impart some wisdom in the direction of a kid who was all too readily the subject of unflattering accounts in local newspapers. They were silly scrapes, really, typically something he might have said on social media, banter with a laddish edge, you might say, and then a trigger that might have turned ugly, a run-in with police on a boozy night out.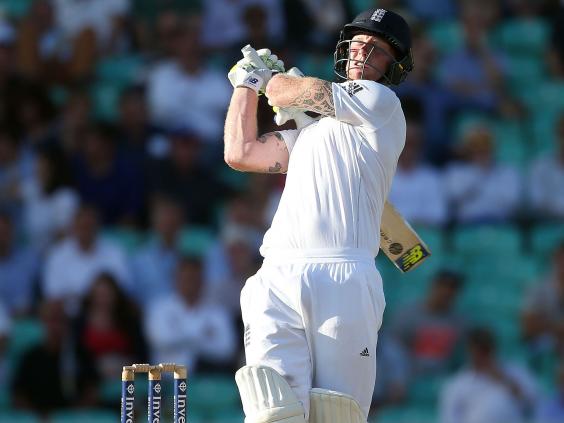 His parents joined us, concerned that he was unnecessarily harming his prospects as a professional cricketer with injudicious remarks that did not represent the kid they knew. His mother, in particular, took a dim view of some negative references regarding the opposite sex. His father, a former rugby league player and coach, shook his head incredulously, knowing how hard it is to get on without stepping on self-imposed booby traps.
The lad was polite enough, if not demonstrative. He indicated that he understood the points made, without convincing that he cared one way or the other. It was clear that he had had the same talk before, with his parents certainly, and his principal adviser, ex-Lancashire and England cricketer Neil Fairbrother, who knew the rules of the game.
The Ashes - Fifth Test
The Ashes - Fifth Test
1/15 Day 2

Steve Smith of Australia walks from the ground at stumps during day two

GETTY IMAGES

2/15 Day 2

Mitch Marsh of Australia and team mates celebrates after taking the wicket of Joe Root

GETTY IMAGES

3/15 Day 2

England batsman Jonathan Bairstow reacts after being dismissed

GETTY IMAGES

4/15 Day 2

Alastair Cook walks after losing his wicket on the second day

GETTY IMAGES

5/15 Day 2

Ben Stokes successfully appeals for the wicket of Adam Voges on day two

Getty Images

6/15 Day 2

Adam Voges passed his half-century early on Friday morning

Getty Images

7/15 Day 2

Steve Smith resumed day two on 78 not out

Getty Images

8/15 Day 1

Michael Clarke following his dismissal in the Fifth Test

GETTY IMAGES

9/15 Day 1

England give Australia captain Michael Clarke a guard of honour as he walks out for his first innings

Getty Images

10/15 Day 1

Ben Stokes acrobatically stops a ball from running past him

Getty Images

11/15 Day 1

Mark Wood celebrates the wicket of Chris Rogers (right)

Getty Images

12/15 Day 1

David Warner on his way to a half-century in the first innings

Getty Images

13/15 Day 1

England bowler Mark Wood unsuccessfully appeals for the wicket of Chris Rogers

Getty Images

14/15 Day 1

Australia batsman David Warner avoids a short ball during day one

GETTY IMAGES

15/15 Day 1

Australia captain Michael Clarke

Getty Images
Those with teenagers will recognise the futility of complaining about bedrooms not tidied and plates not placed in the dishwasher after use. Yes, yes, Dad. I knew that my outline about how the media works, what represents a story, why he would be of interest, were abstractions off a duck's back, but I had a job to do and his duty was to listen, if not absorb.
The indifference was engaging because it was sincere. He was fearless in the way many bright, cocky kids are until consequences bite. It was obvious I was addressing the alpha male in that combustible phase between adolescence and manhood, when sparks fly and you keep fingers crossed that none gets seriously burnt. Stokes would need life to smack him in the face before he would pay any heed.
It did. Within a year he was being sent home, with Matt Coles, from a Lions tour of Australia after ignoring warnings about behaviour unbecoming. In other words he was still struggling to reconcile the needs of a professional athlete with the desire to indulge the lad within. A year later, on duty with England in the Caribbean, he took himself out of the World T20 squad after smashing his fist into a locker and breaking it – hand, not cupboard.
One year on he has finally got everything pointing in the right direction, a lesson that none is beyond salvation. Which brings us to Mo, as courageous in his own way as Stokes. To accept the ball from the skipper in a Test match and try not to embarrass yourself or the team, even though you know you have little chance of succeeding – that takes cojones. Step forward Moeen Ali, a top bloke, a fine cricketer, and a great non-Test match bowler.
Mo is a better footballer than he is spinner. Indeed, he would probably do a better job for Roy Hodgson in the middle of the park than he does for Alastair Cook in the middle of a cricket field. Yes he took wickets, but they did not alter the course of the game. He simply brought to the crease another batsman to cart him to all parts.
It is not his fault. Mo is a frontline batsman, good enough to open in the United Arab Emirates, according to Shane Warne. But on a flat track, on a sunny day, in this context he does not know the meaning of keeping one end tight. There was enough all day to keep the quicks interested. The conditions favoured the batting team but Stokes, Mark Wood and Steven Finn kept Australia honest. What they needed was Moeen to keep the lid on the other end. Not a chance.
This does not render him any less of a treasure. He remains a significant cog in this team, who turns his arm because he is asked to – just like Stokes.
Reuse content