England fought back minutes before lunch on the second day of the fifth Investec Test. With Australia's captain elect, Steve Smith having reached his 11 Test hundred two wickets in the final over of the morning left the tourists at 376 for seven.
If this was hardly reeling it at least showed that England were ready for the fray after distinctly lacking gusto earlier in the day. Australia lost four wickets in all after starting the day on 287 for 3. They would still feel they were in the stronger position.
Smith needed 65 balls to score the 22 runs he needed after being unbeaten on 78 overnight and was also given a reprieve after apparently being caught at slip on 92.
The Ashes - Fifth Test
The Ashes - Fifth Test
1/15 Day 2

Steve Smith of Australia walks from the ground at stumps during day two

GETTY IMAGES

2/15 Day 2

Mitch Marsh of Australia and team mates celebrates after taking the wicket of Joe Root

GETTY IMAGES

3/15 Day 2

England batsman Jonathan Bairstow reacts after being dismissed

GETTY IMAGES

4/15 Day 2

Alastair Cook walks after losing his wicket on the second day

GETTY IMAGES

5/15 Day 2

Ben Stokes successfully appeals for the wicket of Adam Voges on day two

Getty Images

6/15 Day 2

Adam Voges passed his half-century early on Friday morning

Getty Images

7/15 Day 2

Steve Smith resumed day two on 78 not out

Getty Images

8/15 Day 1

Michael Clarke following his dismissal in the Fifth Test

GETTY IMAGES

9/15 Day 1

England give Australia captain Michael Clarke a guard of honour as he walks out for his first innings

Getty Images

10/15 Day 1

Ben Stokes acrobatically stops a ball from running past him

Getty Images

11/15 Day 1

Mark Wood celebrates the wicket of Chris Rogers (right)

Getty Images

12/15 Day 1

David Warner on his way to a half-century in the first innings

Getty Images

13/15 Day 1

England bowler Mark Wood unsuccessfully appeals for the wicket of Chris Rogers

Getty Images

14/15 Day 1

Australia batsman David Warner avoids a short ball during day one

GETTY IMAGES

15/15 Day 1

Australia captain Michael Clarke

Getty Images
He was unbeaten on 110 at lunch with 13 fours and two sixes, the second of which he hit down the ground off Moeen Ali immediately after reaching his century. It was his fifth against England and his second in this series following his 215 at Lord's.
But England thought they had dismissed him when he played a careless forcing shot at a wide ball from Steve Finn, which he went to Jos Buttler. Smith, having swished his bat in annoyance, was more than halfway off the ground when replays showed that Finn had overstepped the crease by at least three inches and a no ball was duly called.
It would have been Finn's 100 Test wicket and he had been similarly deprived at Trent Bridge when he had Peter Nevill caught at slip. He eventually reached the landmark when Mitchell Marsh played a poor shot at a ball outside off and  was caught at slip.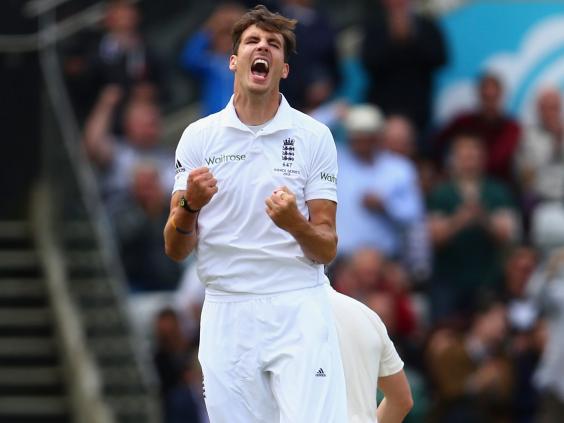 England had earlier dismissed Adam Voges after a fourth wicket partnership with Smith of 146. He was lbw to a full swinging ball from Ben Stokes.
Moeen who has bowled with moderate effect had Nevill caught down the leg side as he gloved a wide ball and then bowled Mitchell Johnson with one that went past the bat.
Reuse content