They have put a soundtrack to the video of what Mitchell Johnson did to Englishmen at the Gabba in 2013. It was chin music – Michael Carberry dancing and ducking around a crease as hard as concrete, Kevin Pietersen trying to smile, Johnson scowling with menace. These are the images that the Australians have been trying to conjure up in the last few days with stories of their man putting the fear of God in them in their recent net sessions.
There was no rocking and rolling this time. A featherbed pitch – not a means of derailing a 90mph express entirely in keeping with valiant British traditions of battle – made sure that the bouncer Johnson tried to inject into Gary Ballance's ribs in mid-morning hit him barely a foot above his waist. The shoulder of the bat took the blow and sent the ball ricocheting into his body, creating pain in moderation: a couple of hops around the crease.
Yet bowlers are not the only casualties on a pitch with the characteristics of the waking dead. England should have found runs hard to find but scored at a rate of four an over against a swinging ball as Joe Root wrapped up the fastest century in the first Test of an Ashes series. The bowling turned the screw only fleetingly. The bad balls flowed all day in the pursuit of wickets. That, almost as much as the evidence that the spirit of the new England also belongs in the Test arena, is cause for early encouragement.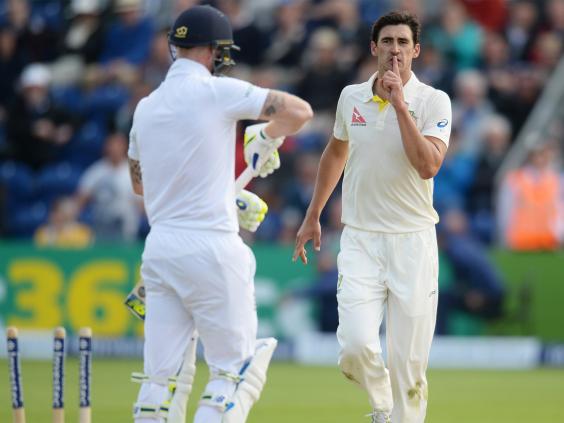 The day's first open sign of naked hostility – Mitchell Starc's shushing gesture to a departing Ben Stokes – came at precisely seven minutes to six. The pre-Ashes bubble seemed to have obscured the fact that the 25-year-old is here because of his World Cup performance, rather than a Test pedigree to speak of. The memory of what preceded Australia's triumph in Melbourne in March – such an indifferent Test performance against India that Shane Warne said he looked "a bit soft"– has been largely obscured. Starc and coach Darren Lehmann did not take well to Warne's suggestion but there was little sense of a hard man and plenty to explain why he has been in and out of Australia's Test team for several years, with 16 matches to his name since 2011.
The best of Starc came long before the clouds cleared; an accurate little spell that had Ian Bell trapped before his wicket in his big swinging start. It developed into an absorbing initial contest with Root that ought to have added that name to his wickets column, too, when some late swing found both edges of his bat in consecutive balls. It was the outside brush which may haunt wicketkeeper Brad Haddin, who spilled the chance. The shake of Starc's head when, through good luck not judgement, he invited a tired Root to chase a wide ball which Shane Watson collected, was the measure of how he had not imagined the first day of the summer this way.
There was pace – 90mph – but nowhere among Starc's intermittent reintroductions – seven spells in all – was there evidence that he is going to dominate this series. Some perspective for the discussion of whether he will apply his one-day success across five days:  his Test strike rate is 58.3; for ODIs it is 23.3.
Ashes 2015 First Test in pictures
Ashes 2015 First Test in pictures
1/45 Day One

Alastair Cook wins the toss and elects to bat first

Getty Images

2/45 Day One

Josh Hazlewood celebrates the wicket of Adam Lyth

Getty Images

3/45 Day One

Brad Haddin and Michael Clarke celebrate after dismissing Alastair Cook

Getty Images

4/45 Day One

Joe Root runs as Mitchell Starc looks on from the ground

Getty Images

5/45 Day One

Joe Root celebrates reaching his half-century in the first innings

Getty Images

6/45 Day One

Gary Ballance passes his 50 for England in the first innings

Getty Images

7/45 Day One

Joe Root passes his 50 for England on day one of the first Test

Getty Images

8/45 Day One

Nathan Lyon unsuccessfully appeals for the wicket of Joe Root

Getty Images

9/45 Day One

Steve Smith drops Gary Ballance before he reaches his century

Getty Images

10/45 Day One

Joe Root celebrates reaching his century

11/45 Day One

Gary Ballance reacts after being caught lbw by Josh Hazlewood

12/45 Day One

Joe Root raises his bat as he is dismissed for 134

13/45 Day One

Mitchell Starc goads Ben Stokes after taking the wicket of the Englishman

GETTY IMAGES

14/45 Day One

Jos Buttler was out for 27

GETTY IMAGES

15/45 Day Two

Wales rugby player Jonathan Davis started the day's action

Getty Images

16/45 Day Two

Stuart Broad struggled to cope with the high ball once again

Getty Images

17/45 Day Two

Moeen Ali hit 77 on his Ashes debut

Getty Images

18/45 Day Two

Mitchell Starc finished with five wickets as England were dismissed for 430

Getty Images

19/45 Day Two

Mitchell Johnson failed to take a single wicket in the first innings

Getty Images

20/45 Day Two

Warner failed to reproduce the fireworks that has tormented England in the past

Getty Images

21/45 Day Two

David Warner survived one lbw shout when James Anderson's ball pitched outside leg stump

Getty Images

22/45 Day Two

Alastair Cook dives to his right to take the wicket of David Warner

Getty Images

23/45 Day Two

England celebrate after James Anderson takes the wicket of David Warner

Getty Images

24/45 Day Two

Joe Root signals for help after Alastair Cook is hit by the ball

Getty Images

25/45 Day Two

Alastair Cook writhes in agony as Joe Root sees the funny side

Getty images

26/45 Day Two

Joe Root looks on as Alastair Cook receives treatment

Getty Images

27/45 Day Two

Cook gives the universal gesture that he's ok while tending to the injured area

Getty Images

28/45 Day Two

Steve Smith trudges off the field after being dismissed for 33 by Moeen Ali

Getty Images

29/45 Day Two

Moeen Ali (L) celebrates taking the wicket of Australia's Steven Smith

GETTY IMAGES

30/45 Day Three

Jimmy Anderson celebrates as the England bowlers restricted Australia to 308

Getty Images

31/45 Day Three

Australia celebrate the wicket of Gary Ballance, who was out for a duck

Getty Images

32/45 Day Three

Nathan Lyon was Australia's best bowler, taking four wickets

Getty Images

33/45 Day Three

After a poor first innings Ian Bell responded with a half-century to steady the ship

Getty Images

34/45 Day Three

Ian Bell falls on 60

Getty Images

35/45 Day Three

Joe Root batted his way to a decent 60

Getty Images

36/45 Day Three

Joe Root sweeps a shot away in his second innings

Getty Images

37/45 Day Three

No 10 Mark Wood made an impressive cameo at the end of the day, making 32 runs off just 18 balls

Getty Images

38/45 Day Three

Mitchell Johnson reacts to a missed chance in the second innings

Getty Images

39/45 Day Three

Mitchell Starc fields a ball from the boundary

Getty Images

40/45 Day Three

Mark Wood reverse-sweeps a shot towards Michael Clarke

Getty Images

41/45 Day Four

Alastair Cook leads England out on day four

Getty Images

42/45 Day Four

Stuart Broad runs off in celebration after having Chris Rogers caught for 10

Getty Images

43/45 Day Four

David Warner passes his 50 in the second innings

Getty Images

44/45 Day Four

David Warner was dismissed by Moeen Ali in the second innings for 52

Getty Images

45/45 Day Four

Alastair Cook leaps in joy as Moeen Ali traps David Warner lbw

Getty Images
The moments of imposition on the game by the great new Australian hope, Josh Hazlewood, were equally fleeting. There was the early ball that turned around Adam Lyth and invited an edge to gully which set the tourists on their way. After that, some attempts to bang in a short ball were akin to seeking bouncers out of a mud bath.
Johnson provided more than this, despite the swinging full toss gratefully accepted by Alastair Cook, when we looked for immediate signs of nearly two months of attrition to come. He did what he could with a surface which on initial evidence suggested someone had broken the roller by releasing the ball full and fast, though what left his hand at 87mph reached the bat at a fraction of the pace. After lunch, there was an effective spell around the wicket, spearing the ball across Ballance with pace and bounce into his body, looking for the perceived weakness of a man who does not look at that ball. He also drew most of the false shots which punctuated Root's climb to 50. But there were buffet balls, too: little of the nagging, probing wicket-to-wicket length which must serve to do the damage on a lifeless pitch.
The most dangerous missile Johnson aimed all day was the water bottle he chucked into the section of the Cardiff crowd taunting him as he walked down in front of them. They told him he could neither catch nor bowl. His suggestion that they try his drinking vessel for size was delivered with a grin, not menace.
In one of those twists served up by these series, it was Nathan Lyon, the spinner smashed the length and breadth of Essex by Ravi Bopara last week, who had most to take away. His frustration of – and dismissal of – Cook was the day's most substantial piece of guile. The captain had been tied down by each of Lyon's first 14 balls of the series before his over-spin generated extra bounce and Cook perished seeking to cut a  ball that lacked the width for the shot.
Rarely has an Australia captain made as many bowling changes as he seeks to create through intelligence what his side could not deliver with a ball. Michael Clarke chopped and changed all day and, as he did so, his talk of how hard he had taken the loss through injury of his bowler Ryan Harris – whose effortless fusion of attack, defence and sheer dependability could always be drawn on – rang true. Early pronouncements can come back to bite you, but this does not feel like McGrath-Lee-Gillespie-Warne, that elite and imperious quartet that started the 2005 Ashes.
Reuse content