At the heart of everything Australia are trying to do in the Ashes lies Mitchell Johnson. The team know it, the fans know it, Johnson knows it.
There were two unforgettable moments involving Johnson in the match in Birmingham last week, both redolent of what a rare talent he is, how he can change a match in a trice, that he is quite simply a star.
The first was on the second morning when he bowled an over that will remain imperishable in the minds of all who saw it. It was frighteningly fast, uncommonly brutal and contained in it two of the most potent bouncers – each of which took a wicket, his 300th and 301st in Tests.
Nothing that either Jonny Bairstow or Ben Stokes could do would have saved them. They had no time to remove themselves from the unerring line, they had to play but there was no way they could react in the way they would have wished. It was purely a matter of fortune if they survived. They did not.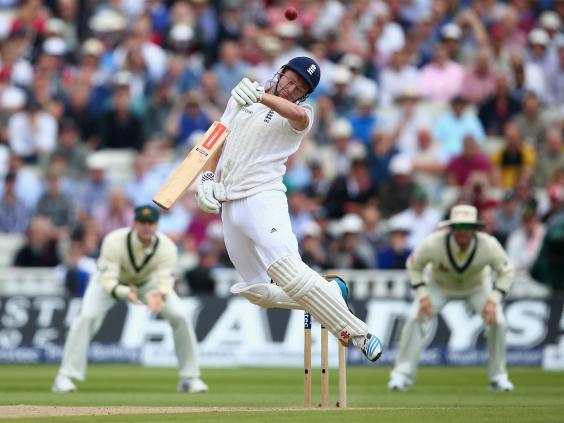 On the following afternoon when Australia were losing the game, Johnson was still the name on everyone's lips in an Edgbaston ground that seethed with passion. This is born of a combination of respect and fear. Johnson, a sensitive and gentle soul despite the nature of his job, responded by stopping in his run-up once and then bowling from alongside the umpire. It was all good fun, there was not an ounce of mean-spiritedness from Johnson.
"I get amongst it a bit more now," he said. "I definitely take it as a bit of a compliment now and when the whole crowd is cheering my name at the end of a game when they've just won, you have to take that as a compliment.
"That over, where I did stop in my run-up, was deliberate to try and have a bit of fun with the crowd, and apparently it had a fair bit of appreciation when I went down to fine leg with people clapping and saying a few choice words."
Ashes 2015 Third Test in pictures
Ashes 2015 Third Test in pictures
1/35 Day Three

Joe Root and Ian Bell celebrate after adding the winning runs for England on the third day

GETTY IMAGES

2/35 Day Two

Jimmy Anderson grimaces in pain. He is to be assessed by the England medics over an intercostal muscle injury

GETTY IMAGES

3/35 Day Two

Steve Finn celebrates his fifth wicket of the innings - Mitchell Johnson's

4/35 Day Two

David Warner reached 77

5/35 Day Two

Steve Finn (far left) is congratulated after taking the wicket of Mitchell Marsh

6/35 Day Two

Adam Voges heads back to the pavilion after being dismissed for

7/35 Day Two

Michael Clarke (right) watches from his crease as England's Adam Lyth (left) catches him out for 3

8/35 Day Two

David Warner hit the joint-fastest half-century in Ashes history off 35 balls

Getty Images

9/35 Day Two

Steve Smith balloons a shot into the sky with Jos Buttler taking the catch to dismiss him for 8

Getty Images

10/35 Day Two

Stuart Broad celebrates after trapping Chris Rogers lbw

Getty Images

11/35 Day Two

Australia celebrate wrapping up England's first innings with the wicket of James Anderson

Getty Images

12/35 Day Two

Moeen Ali eventually went for 59

Getty Images

13/35 Day Two

Stuart Broad ht a valiant 31 before going to Josh Hazlewood

Getty Images

14/35 Day Two

Moeen Ali reached his 50 off 66 balls after taking the attack to Australia's bowlers

Getty Images

15/35 Day Two

Australia players rush to congratulate Mitchell Starc on dismissing Joe Root

Getty Images

16/35 Day Two

Mitchell Starc celebrates taking the wicket of Joe Root

Getty Images

17/35 Day Two

Ben Stokes dejectedly walks off after scoring a duck

Getty Images

18/35 Day Two

Mitchell Johnson celebrates taking the wicket of Ben Stokes

Reuters

19/35 Day Two

Mitchell Johnson celebrates taking the wicket of Jonny Bairstow

Getty Images

20/35 Day Two

Australia celebrate the early wicket of Jonny Bairstow on day two

Reuters

21/35 Day Two

Joe Root resumed day two on 30 not-out

Getty Images

22/35 Day One

David Warner takes the catch of Ian Bell

Getty Images

23/35 Day One

Ian Bell of England plays a shot before being caught by David Warner of Australia off the bowling of Nathan Lyon for 53

GETTY IMAGES

24/35 Day One

Alastair Cook after his dismissal in the Third Test

GETTY IMAGES

25/35 Day One

James Anderson takes the plaudits after taking five wickets on day one having dismissed Mitchell Johnson

Getty Images

26/35 Day One

James Anderson leaps for joy after dismissing Mitchell Marsh for a duck

Getty Images

27/35 Day One

Adam Voges walks off after James Anderson takes his wicket

Getty Images

28/35 Day One

James Anderson celebrates the wicket of Adam Voges

Getty Images

29/35 Day One

Michael Clarke's desperate search for form continued when Steven Finn clean bowled him

Getty Images

30/35 Day One

Steve Finn celebrates the wicket of Steve Smith in his first over after his recall to the England side

Getty Images

31/35 Day One

Alastair Cook leads the celebrations as the third umpire confirms Warner's wicket

Getty Images

32/35 Day One

James Anderson appeals for the wicket of David Warner

Getty Images

33/35 Day One

David Warner dives into the crease after Stuart Broad's attempted run-out

Getty Images

34/35 Day One

Alastair Cook on the morning the Third Test day one

Getty Images

35/35 Day One

England run out for the opening morning at Edgbaston

Getty Images
It was not always like this for Johnson. On Australia's 2009 tour he was out of rhythm and the crowd being on his back exacerbated his difficulties. Perhaps he did not realise then that they loved him really and that they were also on his back because they were afraid of what he could do. By the time England reached Australia in late 2013, Johnson knew his game but it was also true that Australia knew it better as well. They finally recognised he should be used in short, sharp, rapid bursts, probably as first change, that he should be given his head and constantly encouraged.
This has worked so well that there is a temptation to be inflexible. There was a singular case for Johnson to open the bowling in England's second innings in Birmingham. Without England chasing a small but pesky target of 121, someone from Australia asked what they would least like to face. The only possible answer would have been Johnson but he was kept waiting until the ninth over, by which time England already had 47 of the runs they required. Johnson tried hard to conceal his own irritation.
"I thought to myself I was really keen to get the new ball, but whatever is best for the team in those situations I'm happy with," he said. "It's something that I've become better at, not to become frustrated in those situations where sometimes I feel like I might be better suited in a situation like that."
The day before it was Johnson himself who underestimated his powers. When he removed Bairstow and Stokes so dramatically, it seemed clear that more was to come instantly. It did not. Johnson largely bowled the fuller length he has tended to adopt for much of this series and when he reverted again to the occasional bumper it was no longer on the button.
Although he has indeed swung it on a full length, his two most telling spells in this series have been the one over at Birmingham and the last session at Lord's, when he put the frighteners on with the short stuff. He can still barely explain what he was up to but leaves the distinct impression it will not be happening again.
"I don't know," he said. "I guess from my point of view I was just trying to really dry up the runs and I probably just lost that bit of aggression. I don't read into it too much, to be honest. But I think because the ball has been swinging over here a lot more, I feel like I'm trying to get the ball up there a lot more often."
It may not be happening again soon.