England's Ashes series lead is in jeopardy after Steve Smith's maiden double century, and a rush of early wickets for Australia's pace attack, put the tourists in control at Lord's.
Smith reached 215 and Chris Rogers made 173 as they completed Australia's highest stand at the home of cricket, 284 for the second wicket, in a first-innings of 566 for eight declared in this second Investec Test.
Mitchell Johnson then led the demonstration of fast, swing bowling as England lost three wickets for two runs en route to 30 for four - before Alastair Cook and Ben Stokes engineered a partial recovery to 85 without further loss at stumps on day two.
James Anderson had observed 24 hours earlier that - despite Australia's 337 for one at that stage - England merely needed to 'win' the remaining four days to go 2-0 up here after all.
But Smith refused to yield until almost tea as Australia extended their plunder on a benign pitch - and then Johnson and Josh Hazlewood took the surface out of the equation by bowling full, fast and moving the ball late.
The ploy of delaying the declaration until one over into the evening session, preventing any leeway for England's openers to adjust mentally from toil to new-ball pressure, perhaps affected Adam Lyth.
He was first to go, to a poor shot, pushing out on the back foot as he edged behind off Mitchell Starc for second-ball duck.
Gary Ballance registered four boundaries, with gaps available as Michael Clarke packed his slip cordon.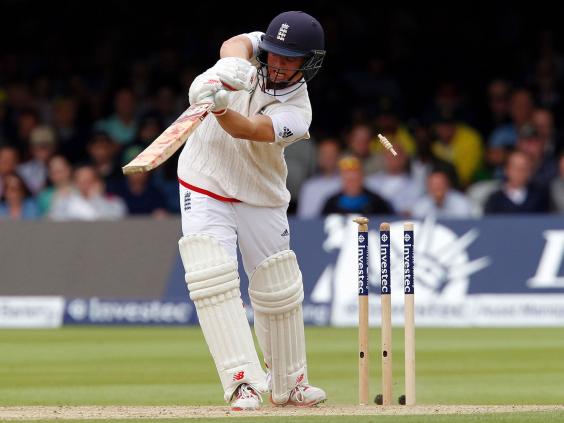 But England's number three was then stuck deep in the crease, as he has been so often this summer, and was bowled off-stump driving without using his feet when first-change Johnson found immediate and telling swing.
That was the first of three wickets in successive overs, Hazlewood bowling Ian Bell with more of the same, and Johnson doubling up when Joe Root went after a short ball but could only edge behind for debutant wicketkeeper Peter Nevill's second catch already.
Smith had lost his status as the world's number one batsman when he mustered only two 33s in last week's defeat at Cardiff, but will surely be heading back to the top after passing 200 for the first time at any level - and becoming only the third Australian to do so here.
Ashes Second Test in pictures
Ashes Second Test in pictures
1/39 Day Four

Michael Clarke leads the celebrations as Australia win the Second Test

PA

2/39 Day Four

Mitchell Johson celebrates taking the wicket of Moeen Ali

PA

3/39 Day Four

Moeen Ali trudges off after going for a duck

PA

4/39 Day Four

Ben Stokes reacts after being run out by Mitchell Johnson for a duck

PA

5/39 Day Three

Adam Lyth reacts after dropping David Warner on 60

Getty Images

6/39 Day Three

Captain Alastair Cook (left) in discussion with James Anderson and Stuart Broad as Australia pile on the runs on a shirtfront track at Lord's

Getty Images

7/39 Day Three

Alastair Cook is bowled by Mitchell Marsh

Getty Images

8/39 Day Three

Alastair Cook is bowled by Mitchell Marsh

Getty Images

9/39 Day Three

Jos Buttler walks after Peter Nevill's catch

Reuters

10/39 Day Three

Mitchell Marsh bowls Ben Stokes after he drags onto his wickets

Getty Images

11/39 Day Three

Ben Stokes plays on to his stumps

Getty Images

12/39 Day Three

Ben Stokes celebrates reaching his 50

Getty Images

13/39 Day Two

Mitchell Johnson of Australia celebrates after taking the wicket of Joe Root

GETTY IMAGES

14/39 Day Two

Ian Bell walks back to the pavilion after losing his wicket for 1 run

GETTY IMAGES

15/39 Day Two

Bails fly as Englands Gary Ballance is bowled out by Australias Mitchell Johnson for 23 runs

GETTY IMAGES

16/39 Day Two

David Warner and Peter Nevill celebrate the wicket of Adam Lyth

Getty Images

17/39 Day Two

Mitchell Star celebrates the wicket of Adam Lyth with the second ball of the innings

Getty Images

18/39 Day Two

Alastair Cook takes to the field for the start of England's first innings

Getty Images

19/39 Day Two

Mitchell Johnson was the last man out before the declaration for 566-8

Getty Images

20/39 Day Two

Peter Nevill hit an impressive 44 on his Ashes debut

Getty Images

21/39 Day Two

Steve Smith hit a magnificent 215

Getty Images

22/39 Day Two

Steve Smith celebrates his double-century in the second Ashes Test

Getty Images

23/39 Day Two

Steve Smith saw out the morning session to reach his 150

Getty Images

24/39 Day Two

Michael Clarke walks off after making just 7 runs

Getty Images

25/39 Day Two

Michael Clarke never looked comfortable at the crease

Getty Images

26/39 Day Two

Chris Rogers walks off as Stuart Broad celebrates taking his wicket

Getty Images

27/39 Day Two

Stuart Broad celebrates the early wicket of Chris Rogers for a brilliant 173

Getty Images

28/39 Day Two

Chris Rogers attempts to duck out of the way before being hit on the head by the first ball of the day

Getty Images

29/39 Day One

Chris Rogers reached his century shortly after Smith

Getty Images

30/39 Day One

Steve Smith salutes his Australian team-mates and the crowd after reaching his century

Getty Images

31/39 Day One

Steve Smith passes his century to frustrate England

Getty Images

32/39 Day One

Ben Stokes reacts to a dropped catch by Ian Bell

Getty Images

33/39 Day One

Ian Bell looks on after dropping a chance to dismiss Steve Smith

Getty Images

34/39 Day One

Steve Smith formed a strong partnership with Chris Rogers

Getty Images

35/39 Day One

Alastair Cook reacts after Joe Root misses a chance in the slips

Getty Images

36/39 Day One

Moeen Ali and Alastair Cook celebrate the wicket of David Warner

Getty Images

37/39 Day One

David Warner walks off after being dismissed by Moeen Ali

Getty Images

38/39 Day One

The start of play at Lord's on day one of the second Test

Getty Images

39/39 Day One

A shot of Lord's Cricket Ground ahead of the Second Ashes Test

Getty Images
The moment came in mid-afternoon with a clip past midwicket off Moeen Ali for his 24th four from the 336th ball he had faced.
England's rewards for improved bowling were relatively meagre before lunch.
They amounted to Rogers' departure, after more than six-and-a-half hours and 300 balls, and then Clarke's too following a much shorter and more vexed stay.
Rogers drove at the pitch of a Stuart Broad inswinger and inside-edged on to his stumps via pad too.
Clarke appeared to have nowhere to go when England went short at him - and having struggled to seven off 32 balls, the Australia captain mistimed a pull straight to square-leg off Mark Wood.
But it was in early afternoon that England, thanks to Broad who took four for 83, had a sudden and temporary spike of progress.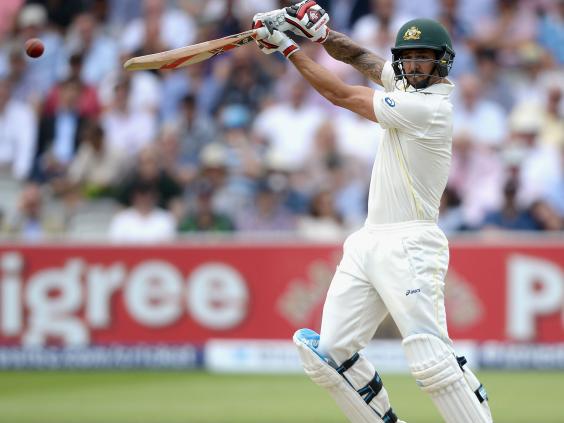 One very good delivery appeared to be slanting up the slope on the angle, but then nipped down it to take a thin edge and have Adam Voges caught behind.
Mitch Marsh drove his first ball from Broad past mid-off for four but was soon undone when he went back to one that did not make the expected height, and induced the chop-on.
If England thought the damage limitation was under way, Nevill had other ideas in a stand of 91 with Smith which ended only when the senior partner was finally dismissed - lbw chancing a reverse sweep at part-time off-spinner Root.
After a DRS process which marginally endorsed the decision, Smith departed to a universal standing ovation from Lord's full house - the level of non-partisan acclaim reserved for a truly memorable performance.
Root added the wicket of Nevill, driving low to mid-off, and Australia waited until Johnson holed out off Broad at the start of the third session before inviting England's reply.
PA
Reuse content