The match was duly lost. Sweeping rain, rather than obdurate batting, delayed the result until mid-afternoon. But it mattered not and nor did it change anything.
England might have been defeated in the fifth Investec Test by an innings and 46 runs, outplayed from the start, as they were similarly pummelled in the second by 405 runs. These were heavy reversals yet the startling truth remains that the Ashes have been regained.
Floating that idea two months ago was seen as a form of madness. Rightly, if belatedly, making use of home advantage, England exposed Australia's frailties against the seaming ball and found they had enough runs in their own tank to create a decisive shift.
When the ancient terracotta urn, or a distant modern cousin, was hoisted aloft by Alastair Cook, England's captain, at 4.10pm on Sunday the match that had immediately preceded it faded into the memory. This was not an Oval scene like those when the great prize has been won at the ground but the spine still tingled when the team strolled around the ground afterwards.
It was perhaps perverse in what was a bowlers' series – none of the matches went to the fifth day and two ended on the third – that the man of the series was Joe Root. But he made beautifully crafted hundreds in two of the victories and 63 in the other and should not be begrudged.
Had Root been caught on nought in Cardiff by Brad Haddin as he should have been, then it all might have gone differently for him and England. That is the beauty of cricket, Root went on to make 134 and England had a win from nowhere.
The other leading contender for Root's award was Stuart Broad who was superb almost from the start, when he found his rhythm in the second innings of the series. In Nottingham when the whole nation feared what might happen in the absence of Jimmy Anderson, Broad took 8 for 15 in a sensational morning's work which he will never repeat but which effectively despatched the opposition.
It was not, of course, all spiffing and while Cook sees great things ahead for this side he was also candid enough to admit that it is not the finished article. There is now a lull in their Test calendar until early November but that assignment is one of the toughest of the lot, against Pakistan in the UAE. There will not be much pace or green tinge.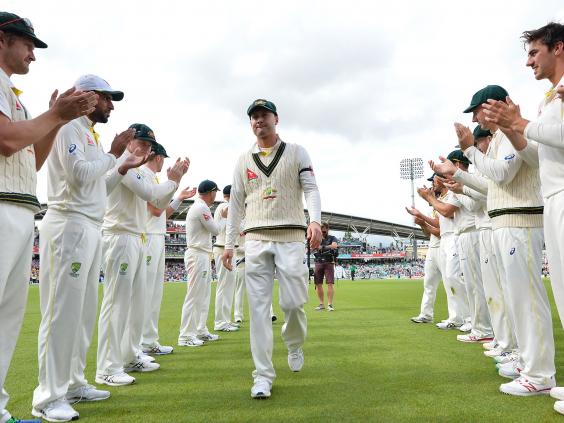 Before then, England must decide what to do about one of their opening batsmen, their spin bowling attack and whether their middle order needs reshaping. As the team paraded it was possible to think that Adam Lyth will not be seen in an England shirt again in the foreseeable future.
A Test century against New Zealand flattered to deceive and in this Ashes series he made 115 runs in nine innings. He was out too often in the same way, flirting outside of off stump and he might have been overwhelmed by it all.
There is a move afoot – the punditry business again – to move up Moeen Ali to open with Cook in the UAE. Apart from the fact that he has never opened before in a first-class match such a duty might deflect Moeen from his present primary task in this team and which will most definitely be needed in the desert of spin bowling.
Alex Hales of Nottinghamshire is in many ways a delightful prospect for this new, adventurous England and he has that elusive quality of a big game temperament. But he is a front foot boomer and if he were to play his natural game – as he should be – the good days would outnumber the bad.
Just so long as the selectors know that. In replacing Lyth they also have to be pretty sure that whoever comes along will do better (but then he could hardly do worse). It has not been a shining advertisement for performing outstandingly in the County Championship or for England's selection policy.
When Andrew Strauss first retired as Cook's opening partner, they turned to Nick Compton and their average stand was 57.  At the time it seemed that Compton was dropped too hastily and history has not changed that.
Some of the other batting offers cause for concern. Ian Bell has lost his way and a Test match average which was touching 47 after his stupendous series against Australia two years ago is down to 43. Bell is superb batsman but it cannot go on like this.
In the UAE, England will need two spinners. New Zealand used there when they won in Sharjah late last year but that will definitely be beyond England. Adil Rashid will be chosen for the first time and it is to be hoped he has the nerve to settle quickly. He and Moeen have never bowled tandem, yet they will have to reach an immediate understanding.
For now, none of this matters much. The Ashes are back, where they belong perhaps, but where they so rarely are. England did not hang around long in waiting for the ceremonies.
Before the rain came they lost Jos Buttler, driving loosely, to Mitchell Marsh and Mark Wood, lbw to Peter Siddle. After a delay of nearly three hours the two remaining wickets were swiftly taken both by Siddle whose absence in the rest of the series merely aggravated Australia's poor selections. The celebrations began. Perhaps this time they can last.
Reuse content