When your foot is on the Aussies' throat, push that little bit harder
In that second innings on Friday, England had done so much hard work to get ahead in the game, then we lost four wickets in quick time to give the Aussies a little sniff again.
Yes, England finished the day in charge but if you're being hyper-critical then you want Ian Bell and Joe Root to go on, get big runs and take the game completely out of the Aussies' reach.
If you're in a dressing room and you need to bat for a day and three-quarters and the best you can hope for is a draw, it completely saps you. It also messes with your head – do you attack, do you defend?
Although England won, we mustn't in future give them a sniff when we have the upper hand because they can be so ruthless. England have to be like that too. It was what we were so good at Down Under in 2010-11 when we won that series. When we had our foot on their throat, we didn't take it off, we pressed harder.
Ashes 2015 First Test in pictures
Ashes 2015 First Test in pictures
1/45 Day One

Alastair Cook wins the toss and elects to bat first

Getty Images

2/45 Day One

Josh Hazlewood celebrates the wicket of Adam Lyth

Getty Images

3/45 Day One

Brad Haddin and Michael Clarke celebrate after dismissing Alastair Cook

Getty Images

4/45 Day One

Joe Root runs as Mitchell Starc looks on from the ground

Getty Images

5/45 Day One

Joe Root celebrates reaching his half-century in the first innings

Getty Images

6/45 Day One

Gary Ballance passes his 50 for England in the first innings

Getty Images

7/45 Day One

Joe Root passes his 50 for England on day one of the first Test

Getty Images

8/45 Day One

Nathan Lyon unsuccessfully appeals for the wicket of Joe Root

Getty Images

9/45 Day One

Steve Smith drops Gary Ballance before he reaches his century

Getty Images

10/45 Day One

Joe Root celebrates reaching his century

11/45 Day One

Gary Ballance reacts after being caught lbw by Josh Hazlewood

12/45 Day One

Joe Root raises his bat as he is dismissed for 134

13/45 Day One

Mitchell Starc goads Ben Stokes after taking the wicket of the Englishman

GETTY IMAGES

14/45 Day One

Jos Buttler was out for 27

GETTY IMAGES

15/45 Day Two

Wales rugby player Jonathan Davis started the day's action

Getty Images

16/45 Day Two

Stuart Broad struggled to cope with the high ball once again

Getty Images

17/45 Day Two

Moeen Ali hit 77 on his Ashes debut

Getty Images

18/45 Day Two

Mitchell Starc finished with five wickets as England were dismissed for 430

Getty Images

19/45 Day Two

Mitchell Johnson failed to take a single wicket in the first innings

Getty Images

20/45 Day Two

Warner failed to reproduce the fireworks that has tormented England in the past

Getty Images

21/45 Day Two

David Warner survived one lbw shout when James Anderson's ball pitched outside leg stump

Getty Images

22/45 Day Two

Alastair Cook dives to his right to take the wicket of David Warner

Getty Images

23/45 Day Two

England celebrate after James Anderson takes the wicket of David Warner

Getty Images

24/45 Day Two

Joe Root signals for help after Alastair Cook is hit by the ball

Getty Images

25/45 Day Two

Alastair Cook writhes in agony as Joe Root sees the funny side

Getty images

26/45 Day Two

Joe Root looks on as Alastair Cook receives treatment

Getty Images

27/45 Day Two

Cook gives the universal gesture that he's ok while tending to the injured area

Getty Images

28/45 Day Two

Steve Smith trudges off the field after being dismissed for 33 by Moeen Ali

Getty Images

29/45 Day Two

Moeen Ali (L) celebrates taking the wicket of Australia's Steven Smith

GETTY IMAGES

30/45 Day Three

Jimmy Anderson celebrates as the England bowlers restricted Australia to 308

Getty Images

31/45 Day Three

Australia celebrate the wicket of Gary Ballance, who was out for a duck

Getty Images

32/45 Day Three

Nathan Lyon was Australia's best bowler, taking four wickets

Getty Images

33/45 Day Three

After a poor first innings Ian Bell responded with a half-century to steady the ship

Getty Images

34/45 Day Three

Ian Bell falls on 60

Getty Images

35/45 Day Three

Joe Root batted his way to a decent 60

Getty Images

36/45 Day Three

Joe Root sweeps a shot away in his second innings

Getty Images

37/45 Day Three

No 10 Mark Wood made an impressive cameo at the end of the day, making 32 runs off just 18 balls

Getty Images

38/45 Day Three

Mitchell Johnson reacts to a missed chance in the second innings

Getty Images

39/45 Day Three

Mitchell Starc fields a ball from the boundary

Getty Images

40/45 Day Three

Mark Wood reverse-sweeps a shot towards Michael Clarke

Getty Images

41/45 Day Four

Alastair Cook leads England out on day four

Getty Images

42/45 Day Four

Stuart Broad runs off in celebration after having Chris Rogers caught for 10

Getty Images

43/45 Day Four

David Warner passes his 50 in the second innings

Getty Images

44/45 Day Four

David Warner was dismissed by Moeen Ali in the second innings for 52

Getty Images

45/45 Day Four

Alastair Cook leaps in joy as Moeen Ali traps David Warner lbw

Getty Images
Pitch doctoring? That's a joke
All this talk of the Cardiff pitch being engineered to help our bowlers is just ridiculous. Cardiff is slow and low and always has been – it's like turning up at the Gabba or Perth and moaning that it's quick and bouncy and then accusing Australia of doctoring pitches.
Test tracks in this country are generally set up to last five days but the whole of idea of us preparing pitches to nullify the Aussie quicks is a joke. Yes, the pitches here will suit our bowlers more than theirs but, hey, that's why they call it home advantage and that's why it's easier for us to win an Ashes series here than in Australia and vice versa.
We go to India and play on ridiculous wickets and no one says anything. The fact is that you would hope the England bowlers do well on these wickets because this is what they've grown up bowling on. So let's all stop banging on about the pitches. It's getting boring already.

A Ryan Harris-shaped hole
When I heard the announcement of Ryan Harris's retirement last week, it really stuck out for me. Mitchell Johnson took all the wickets and got all the plaudits in the last Ashes series but there was one bloke who stood out for me in that Australian bowling line-up – Harris.
He had good pace, he was accurate and Michael Clarke knew what he was going to get. In this Test, the two Mitchells have gone at four an over, which is putting a massive amount of pressure of Josh Hazlewood and Nathan Lyon. Their roles have to change, they can't attack because they have to do the donkey work, they have to plonk it on a line and length. Harris's absence has stuck out massively in this Test match.
Mitch slow to catch on
On the last Ashes tour, Mitchell  Johnson was quicker than anything I had ever faced, quicker that Dale Steyn, Morne Morkel, Shoaib Akhtar. He was another level of pace.
In training sessions Andy Flower or Graham Gooch would stand there with the dog stick in the middle of the pitch and throw it as fast as they could. I remember telling Andy that it wasn't fast enough and he turned round and told me that he just couldn't get it any quicker.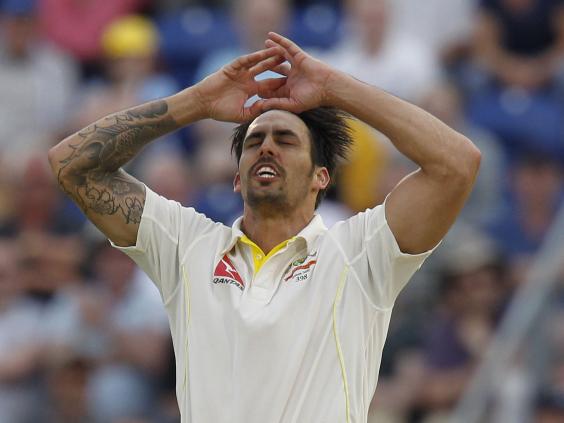 Now, if Mitch is bowling at 88 or 90mph, which is still seriously quick, then his margin for error is much smaller. In Australia even his bad balls were so hard to hit because they were so quick, but there's a colossal difference between what he's bowling here and back then.
The England batsmen have gone after him and they've succeeded because he's such an attacking bowler that he gives you those scoring opportunities.
Moeen could be a sensation at eight
Moeen Ali looked superb with the bat in that first innings but it was his bowling that really stood out for me. There was a lot of talk about having him at No 8 but if you do have someone like that down the order it gives you an incredible batting line-up.
The fear wasn't that he couldn't score runs but, potentially, not take the wickets that he was effectively in the team for. At Cardiff he has proved he can do both. He got wickets against India last summer and on Thursday he claimed the scalps of Michael Clarke and Steve Smith, two seriously good players of spin.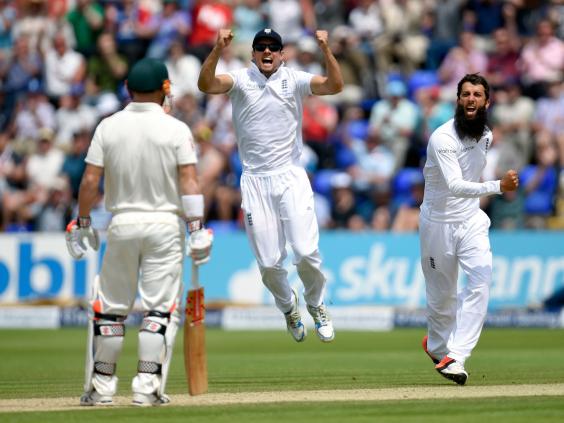 He took the crucial wicket of David Warner, which really sparked the Aussie collapse. He's not just getting the rats and mice out at the back-end of the innings, he's consistently dismissing quality players of spin. That's hugely important.
Spinners and wicketkeepers are the same, as you get older you learn your trade. Moeen Ali will only get better and this series could be huge in that development. Playing in a winning side can only help.
Matt Prior won three Ashes series with England during a career which spanned 79 Tests between 2007-14
Reuse content