Another day in the Ashes, another riveting spectacle. The breathtaking nature of the contest is showing no indications of abating as England and Australia continue to try to pummel each other into submission.
For sheer unadulterated drama it is the top show in town and England are laying substantial claim again to being the star attraction. There was simply never a dull moment on the second day of the third Investec Test and by its close the home side were threatening to take an improbable 2-1 lead in the series.
Protecting a first innings lead of 145, they reduced Australia's second innings to 168 for 7, propelled by the returning hero, Steve Finn. Less than a year ago he had sunk so low that he was deemed to be unselectable, for several compelling overs today in two spells he was unplayable, which is a different thing altogether. Two years after his last Test, against the same opponents when his captain, Alastair Cook, dare not trust him to bowl, he had 5 for 45. By any standards this has been a staggering comeback.
Ashes 2015 Third Test in pictures
Ashes 2015 Third Test in pictures
1/35 Day Three

Joe Root and Ian Bell celebrate after adding the winning runs for England on the third day

GETTY IMAGES

2/35 Day Two

Jimmy Anderson grimaces in pain. He is to be assessed by the England medics over an intercostal muscle injury

GETTY IMAGES

3/35 Day Two

Steve Finn celebrates his fifth wicket of the innings - Mitchell Johnson's

4/35 Day Two

David Warner reached 77

5/35 Day Two

Steve Finn (far left) is congratulated after taking the wicket of Mitchell Marsh

6/35 Day Two

Adam Voges heads back to the pavilion after being dismissed for

7/35 Day Two

Michael Clarke (right) watches from his crease as England's Adam Lyth (left) catches him out for 3

8/35 Day Two

David Warner hit the joint-fastest half-century in Ashes history off 35 balls

Getty Images

9/35 Day Two

Steve Smith balloons a shot into the sky with Jos Buttler taking the catch to dismiss him for 8

Getty Images

10/35 Day Two

Stuart Broad celebrates after trapping Chris Rogers lbw

Getty Images

11/35 Day Two

Australia celebrate wrapping up England's first innings with the wicket of James Anderson

Getty Images

12/35 Day Two

Moeen Ali eventually went for 59

Getty Images

13/35 Day Two

Stuart Broad ht a valiant 31 before going to Josh Hazlewood

Getty Images

14/35 Day Two

Moeen Ali reached his 50 off 66 balls after taking the attack to Australia's bowlers

Getty Images

15/35 Day Two

Australia players rush to congratulate Mitchell Starc on dismissing Joe Root

Getty Images

16/35 Day Two

Mitchell Starc celebrates taking the wicket of Joe Root

Getty Images

17/35 Day Two

Ben Stokes dejectedly walks off after scoring a duck

Getty Images

18/35 Day Two

Mitchell Johnson celebrates taking the wicket of Ben Stokes

Reuters

19/35 Day Two

Mitchell Johnson celebrates taking the wicket of Jonny Bairstow

Getty Images

20/35 Day Two

Australia celebrate the early wicket of Jonny Bairstow on day two

Reuters

21/35 Day Two

Joe Root resumed day two on 30 not-out

Getty Images

22/35 Day One

David Warner takes the catch of Ian Bell

Getty Images

23/35 Day One

Ian Bell of England plays a shot before being caught by David Warner of Australia off the bowling of Nathan Lyon for 53

GETTY IMAGES

24/35 Day One

Alastair Cook after his dismissal in the Third Test

GETTY IMAGES

25/35 Day One

James Anderson takes the plaudits after taking five wickets on day one having dismissed Mitchell Johnson

Getty Images

26/35 Day One

James Anderson leaps for joy after dismissing Mitchell Marsh for a duck

Getty Images

27/35 Day One

Adam Voges walks off after James Anderson takes his wicket

Getty Images

28/35 Day One

James Anderson celebrates the wicket of Adam Voges

Getty Images

29/35 Day One

Michael Clarke's desperate search for form continued when Steven Finn clean bowled him

Getty Images

30/35 Day One

Steve Finn celebrates the wicket of Steve Smith in his first over after his recall to the England side

Getty Images

31/35 Day One

Alastair Cook leads the celebrations as the third umpire confirms Warner's wicket

Getty Images

32/35 Day One

James Anderson appeals for the wicket of David Warner

Getty Images

33/35 Day One

David Warner dives into the crease after Stuart Broad's attempted run-out

Getty Images

34/35 Day One

Alastair Cook on the morning the Third Test day one

Getty Images

35/35 Day One

England run out for the opening morning at Edgbaston

Getty Images
But in the evening session, on the verge of confirming their advantage, England lost the leader of their bowling attack, Jimmy Anderson, to a side strain. Anderson walked off in the middle of an over and whilst the prognosis is uncertain it must be highly likely that he will miss the next match at Trent Bridge, starting next Thursday, if not the rest of the series.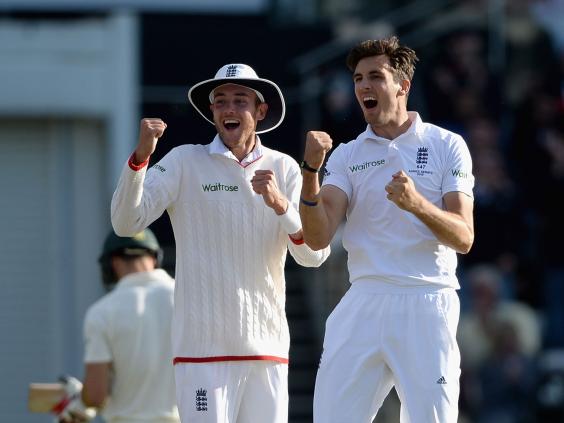 The effects of his absence could be crucial on pitches such as this at Edgbaston where he was operating at a stunning level of control. First they have to embark for Nottingham with this match in the bag.
After an astonishing opening, courtesy of Mitchell Johnson who delivered two venomous wicket-taking bouncers, England retook the initiative in the match with an eighth wicket partnership of 87 between Moeen Ali and Stuart Broad. Blazing away in the early afternoon sunshine, their liaison may come to be viewed as the most significant of the summer.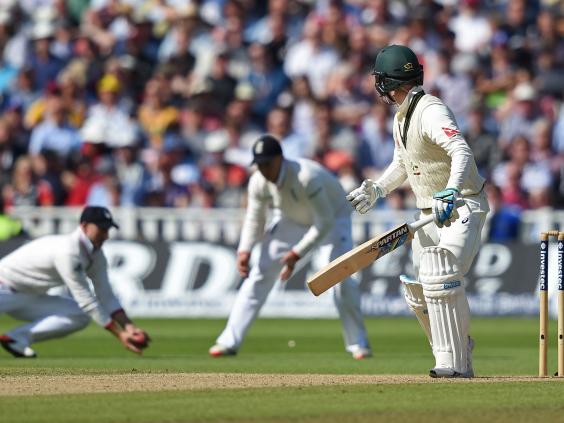 For long enough, it seemed as though there would be the first two-day finish to a Test in England for 15 years but in the nick of time the tourists managed to assemble a solid rearguard action. It may not be enough but it was something. In a low scoring match of this nature any and all runs are vital, possibly changing the outcome.
Peter Nevill, the wicketkeeper who was contentiously retained for this match ahead of the veteran Brad Haddin, ensured that the match would go into its third day with a dogged, watchful stay of nearly two and a half hours. Had it not been for the assault of David Warner, whose aggressive innings was at odds with all going on around him, Australia would already be out of this.

England would prefer not to chase any more than around 50 on this pitch. Anything around 100, they would still be favourites, of course, but doubts would easily invade their soul should early wickets fall. If the pursuit is 150 then anything could happen and probably will.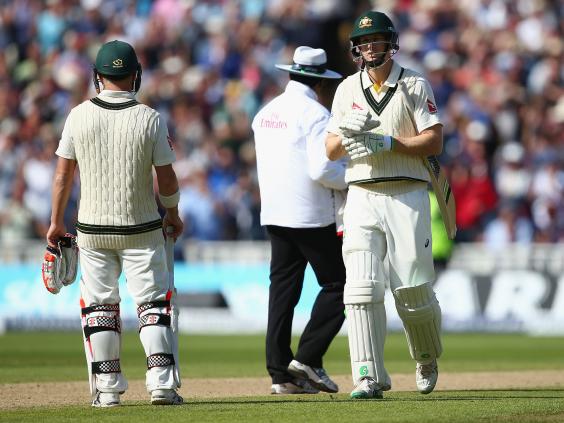 The day began thrillingly. England were three behind and surged into the lead when Jonny Bairstow cover drove the third ball of the day from Jos Hazlewood for four. There was no impending sense of menace as Joe Root clipped four off Johnson's first ball and then took a single.
The third ball, to Bairstow, reared up from short of a length at the batsman's throat. In the circumstances he did well to glove it through to the keeper. There was no opportunity to remove himself from the line, he had to play it, he could not control it.
Two balls later, Johnson duplicated the delivery to the left-handed Ben Stokes. The outcome was indentical, Stokes fending the ball to wicketkeeper Peter Nevill.
There was the distinct possibility that Australia would run through England now but Johnson suddenly put the short ball in to storage and when he took it out again it had lost its potency. Still, England were as capable of playing moderate strokes as Australia had been on the first day.
I'm so happy for @finnysteve on how he's performed on his comeback. A nicer bloke you will not meet #alwaysinthewickets

Graeme Swann (@Swannyg66) July 30, 2015
Joe Root, magisterial for most of his confident half century, essayed a cut cum prod at a ball well outside off stump from a struggling Mitchell Starc. Australia gleefully pouched the slip catch. Jos Buttler had scratched around for more than an hour and just survived a review when he was rather tamely lbw.
Moeen survived precariously at first and could have been out every other ball. But he rode his luck and after lunch he made it count, unfurling a series of elegant drives against a now errant Johnson.
The lead seemed significant and it was soon to look even more substantial. Broad accounted for Chris Rogers with the new ball, having him lbw stuck on the crease but Australia then rattled along for a few overs. David Warner was irrepressible, ignoring the occasional play and miss to execute some crunching drives.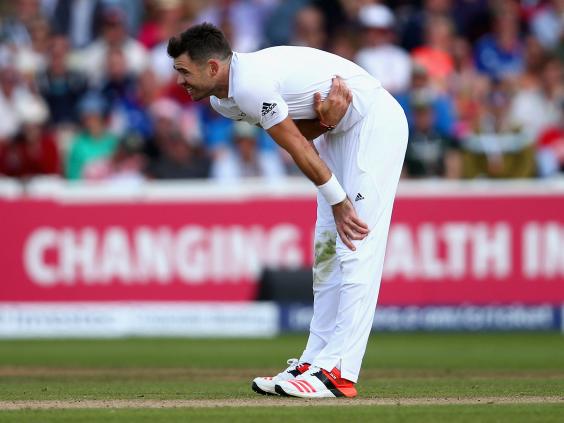 England needed a wicket. They took a clutch. Steve Smith was out to Finn for the second time in the match, mis-pulling a long hop off a top edge. This seemed to inspire Finn who in the late afternoon sunshine found movement and bounce which befuddled Australia.
Michael Clarke may soon find himself playing his career if his wretched sequence continues. He edged Finn low to fourth slip where Adam Lyth swooped to take a low catch. Next ball Adam Voges followed one outside off and was caught at second slip. Mitchell Marsh, too, was a victim of the renascent Finn, driving around full length ball that moved late.
Warner watched this carnage and continued about his business. Two matches were taking place out there. It took a  moment of magic from Anderson to remove him as the batsman aimed to leg and was caught at mid-off. Two overs later Anderson felt a twinge, bowled one more ball, stretched, took his sweater and walked off.
Resistance ensued from a vigilant Nevill and Johnson until Finn returned to dismiss the latter, who also found a leading edge. Australia survived perilously with Nevill dropped by a diving Buttler. England would be bitterly disappointed not to win from here.
Reuse content