It was not only the England players who had some fun at Steve Smith's expense when he last reached these shores with Australia. "He thinks he's one of those good-looking roosters in our team," his captain, Michael Clarke, reflected of him in a diary item early in the 2013 tour, something Smith self-evidently is not. The then 24-year-old's mannerisms became well known at that time, too. "He has an itch with his left hand," Clarke remarked, after watching Smith – the man they call "Smudge" – twitch his way around tour games in Worcester and Taunton.
The amusement had given way to something far broader and richer by Friday afternoon as Smith extended those anaemically pale forearms of his to the pavilion in salute, and removed his helmet to reveal his less-than-film-star looks. His double century was a triumph for nonconformity and imperfection in sport; the accumulated rewards of a man who had been shuffling his way across from leg stump to off 336 times over the course of more than eight hours, his fidgeting and fiddling adding to what was nothing less than an almighty physical effort.
Even in the place England then occupied, you found it hard not to punch the air, too, as Smith rode out the last of the perils – cross-batting Moeen Ali to the rope and fencing a cut shot into fresh air – to deposit the effortless whip off his pads with which he claimed his 200. It was an everyman's knock; evidence for you and me that it is possible to struggle in sport, be told you are something you are not, be dropped for three years, and still reach the top. It has taken a special kind of self-belief, considering the way England have chewed Smith up in the past six years.
This is the ground where he took his Baggy Green and debuted in 2010 – anonymously, with 13 runs and three wickets in a Test against Pakistan – in the days when they wanted to make him a leg-spinner. An ignominious ensuing winter Ashes soon took him into exile.
This is also the ground where he had looked inauspicious again when he returned two years ago and scratched three runs in two innings. He averaged 25 as he entered the last Test of that 2013 Ashes series. Then at The Oval he became the youngest Australian since Ricky Ponting to make an Ashes century – striding down the track and deposited Jonathan Trott over the fence to reach the landmark. But no one saw a legend in the making. Just a nervy  No 6 who looked like he was batting a few places too high up the order.
Australia certainly has a legend to celebrate now. This innings has revealed the quality Smith has of internalising mistakes and eradicating them. He had contributed to a general, foolish disdain for Moeen in Cardiff but here was something else. As day followed night, the England off-spinner's bad balls came and Smith was around to  dispatch them.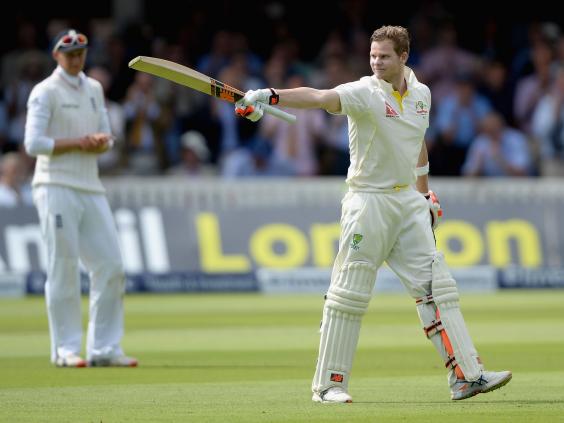 It was not an innings entirely devoid of imperfections. Shots were overreached for, when the full ball on fourth stump left him with too much ground to cover from his station back behind leg. One such ball, seam scrambled, from Stuart Broad in the Thursday afternoon sunshine offered Joe Root a catch. No matter.
The technicians say that Smith's shuffle across the crease is mitigated by his motionlessness at the ball's point of release, yet to score 215 runs with lateral movement like his defies every preconceived notion about modern cricket. Smith's leg stump is exposed. His pads are offered up in encouragement to bowlers – and all in a world where such flaws are committed to video analysis, memory and strategy as something to exploit. Jimmy Anderson tried a game of bluff on Thursday – drawing him across the crease with balls to the fourth stump, then throwing one in at the base of leg.
But stump and pads were untouchable, Smith's batsmanship is still on a plane higher than anything else we are currently witnessing in cricket and capable of picking up almost most of the shots he seeks. The cover drives had a special kind of sublimity, as he eased and whipped balls drifted in. To the end, the shot selection was nerveless.
It was by the slimmest margin that Root removed Smith, leg before wicket, as evening drew on: one millimetre of leather in the line of the stumps. There was an irony about the infinitesimal strike of the pads.
Ashes Second Test in pictures
Ashes Second Test in pictures
1/39 Day Four

Michael Clarke leads the celebrations as Australia win the Second Test

PA

2/39 Day Four

Mitchell Johson celebrates taking the wicket of Moeen Ali

PA

3/39 Day Four

Moeen Ali trudges off after going for a duck

PA

4/39 Day Four

Ben Stokes reacts after being run out by Mitchell Johnson for a duck

PA

5/39 Day Three

Adam Lyth reacts after dropping David Warner on 60

Getty Images

6/39 Day Three

Captain Alastair Cook (left) in discussion with James Anderson and Stuart Broad as Australia pile on the runs on a shirtfront track at Lord's

Getty Images

7/39 Day Three

Alastair Cook is bowled by Mitchell Marsh

Getty Images

8/39 Day Three

Alastair Cook is bowled by Mitchell Marsh

Getty Images

9/39 Day Three

Jos Buttler walks after Peter Nevill's catch

Reuters

10/39 Day Three

Mitchell Marsh bowls Ben Stokes after he drags onto his wickets

Getty Images

11/39 Day Three

Ben Stokes plays on to his stumps

Getty Images

12/39 Day Three

Ben Stokes celebrates reaching his 50

Getty Images

13/39 Day Two

Mitchell Johnson of Australia celebrates after taking the wicket of Joe Root

GETTY IMAGES

14/39 Day Two

Ian Bell walks back to the pavilion after losing his wicket for 1 run

GETTY IMAGES

15/39 Day Two

Bails fly as Englands Gary Ballance is bowled out by Australias Mitchell Johnson for 23 runs

GETTY IMAGES

16/39 Day Two

David Warner and Peter Nevill celebrate the wicket of Adam Lyth

Getty Images

17/39 Day Two

Mitchell Star celebrates the wicket of Adam Lyth with the second ball of the innings

Getty Images

18/39 Day Two

Alastair Cook takes to the field for the start of England's first innings

Getty Images

19/39 Day Two

Mitchell Johnson was the last man out before the declaration for 566-8

Getty Images

20/39 Day Two

Peter Nevill hit an impressive 44 on his Ashes debut

Getty Images

21/39 Day Two

Steve Smith hit a magnificent 215

Getty Images

22/39 Day Two

Steve Smith celebrates his double-century in the second Ashes Test

Getty Images

23/39 Day Two

Steve Smith saw out the morning session to reach his 150

Getty Images

24/39 Day Two

Michael Clarke walks off after making just 7 runs

Getty Images

25/39 Day Two

Michael Clarke never looked comfortable at the crease

Getty Images

26/39 Day Two

Chris Rogers walks off as Stuart Broad celebrates taking his wicket

Getty Images

27/39 Day Two

Stuart Broad celebrates the early wicket of Chris Rogers for a brilliant 173

Getty Images

28/39 Day Two

Chris Rogers attempts to duck out of the way before being hit on the head by the first ball of the day

Getty Images

29/39 Day One

Chris Rogers reached his century shortly after Smith

Getty Images

30/39 Day One

Steve Smith salutes his Australian team-mates and the crowd after reaching his century

Getty Images

31/39 Day One

Steve Smith passes his century to frustrate England

Getty Images

32/39 Day One

Ben Stokes reacts to a dropped catch by Ian Bell

Getty Images

33/39 Day One

Ian Bell looks on after dropping a chance to dismiss Steve Smith

Getty Images

34/39 Day One

Steve Smith formed a strong partnership with Chris Rogers

Getty Images

35/39 Day One

Alastair Cook reacts after Joe Root misses a chance in the slips

Getty Images

36/39 Day One

Moeen Ali and Alastair Cook celebrate the wicket of David Warner

Getty Images

37/39 Day One

David Warner walks off after being dismissed by Moeen Ali

Getty Images

38/39 Day One

The start of play at Lord's on day one of the second Test

Getty Images

39/39 Day One

A shot of Lord's Cricket Ground ahead of the Second Ashes Test

Getty Images
It is the same territory that Smith and Root find themselves on now, both with career averages in the mid-50s, and the England man marginally the better ahead of this Test. But since January 2013, when his comeback began, Smith has even made Root looked ordinary. The Australian's average since that point has been 61.60, excluding this knock;  the Englishman's 52.62. Smith's edge has included the ability to compile innings overseas, too: 219 in three innings in South Africa, averaging 42 in eight in Asia. England had been his problem: an average of 34 in eight Tests before this match. A problem eradicated now.
The manner of England's unravelling last night – Gary Ballance castled by a ball he could not find a way out of his crease to reach; Ian Bell playing around a good Josh Hazlewood length, Root wafting – gave added irony to the questions England had publicly asked about Smith's technique. Broad may not care to be reminded about his words about Smith: "I think it's an advantage for us with him coming in at No 3 with the Dukes ball in England."
After winding his way back through the Long Room and reaching the dressing room, Smith reversed to allow Mitchell Johnson to walk out first, stepping back on to an official standing behind him. There was awkwardness from start to finish and the Australians probably laughed at that. They wouldn't want it any other way.
Reuse content