The time was just on quarter past four. Steven Finn was running in from the Pavilion End, limbs pumping and the boisterous Birmingham crowd cheering every stride as he delivered his hat-trick ball.
Mitchell Marsh shouldered arms and it flew off the pitch and into the hands of wicketkeeper Jos Buttler. A huge cheer erupted but it was nothing compared with the noise moments earlier as Finn cemented England's advantage with the wickets of Michael Clarke and Adam Voges in successive deliveries.
Finn had already accounted for Australia's golden boy Steve Smith, collecting that significant scalp for the second time in this match. Clarke, too, was a first-innings victim of the Middlesex bowler. By the time Finn was limbering up for that hat-trick ball to Marsh, Australia were 76 for 4, still 69 runs in arrears, and staring down the barrel of the first two-day defeat in an Ashes Test since 1921. The venue then was across the Midlands at Trent Bridge.
When England arrive in Nottingham next week they look certain to have a 2-1 series lead. But they appear likely to be without James Anderson, who pulled up midway through his ninth over with what England termed a "tight side".
Ashes 2015 Third Test in pictures
Ashes 2015 Third Test in pictures
1/35 Day Three

Joe Root and Ian Bell celebrate after adding the winning runs for England on the third day

GETTY IMAGES

2/35 Day Two

Jimmy Anderson grimaces in pain. He is to be assessed by the England medics over an intercostal muscle injury

GETTY IMAGES

3/35 Day Two

Steve Finn celebrates his fifth wicket of the innings - Mitchell Johnson's

4/35 Day Two

David Warner reached 77

5/35 Day Two

Steve Finn (far left) is congratulated after taking the wicket of Mitchell Marsh

6/35 Day Two

Adam Voges heads back to the pavilion after being dismissed for

7/35 Day Two

Michael Clarke (right) watches from his crease as England's Adam Lyth (left) catches him out for 3

8/35 Day Two

David Warner hit the joint-fastest half-century in Ashes history off 35 balls

Getty Images

9/35 Day Two

Steve Smith balloons a shot into the sky with Jos Buttler taking the catch to dismiss him for 8

Getty Images

10/35 Day Two

Stuart Broad celebrates after trapping Chris Rogers lbw

Getty Images

11/35 Day Two

Australia celebrate wrapping up England's first innings with the wicket of James Anderson

Getty Images

12/35 Day Two

Moeen Ali eventually went for 59

Getty Images

13/35 Day Two

Stuart Broad ht a valiant 31 before going to Josh Hazlewood

Getty Images

14/35 Day Two

Moeen Ali reached his 50 off 66 balls after taking the attack to Australia's bowlers

Getty Images

15/35 Day Two

Australia players rush to congratulate Mitchell Starc on dismissing Joe Root

Getty Images

16/35 Day Two

Mitchell Starc celebrates taking the wicket of Joe Root

Getty Images

17/35 Day Two

Ben Stokes dejectedly walks off after scoring a duck

Getty Images

18/35 Day Two

Mitchell Johnson celebrates taking the wicket of Ben Stokes

Reuters

19/35 Day Two

Mitchell Johnson celebrates taking the wicket of Jonny Bairstow

Getty Images

20/35 Day Two

Australia celebrate the early wicket of Jonny Bairstow on day two

Reuters

21/35 Day Two

Joe Root resumed day two on 30 not-out

Getty Images

22/35 Day One

David Warner takes the catch of Ian Bell

Getty Images

23/35 Day One

Ian Bell of England plays a shot before being caught by David Warner of Australia off the bowling of Nathan Lyon for 53

GETTY IMAGES

24/35 Day One

Alastair Cook after his dismissal in the Third Test

GETTY IMAGES

25/35 Day One

James Anderson takes the plaudits after taking five wickets on day one having dismissed Mitchell Johnson

Getty Images

26/35 Day One

James Anderson leaps for joy after dismissing Mitchell Marsh for a duck

Getty Images

27/35 Day One

Adam Voges walks off after James Anderson takes his wicket

Getty Images

28/35 Day One

James Anderson celebrates the wicket of Adam Voges

Getty Images

29/35 Day One

Michael Clarke's desperate search for form continued when Steven Finn clean bowled him

Getty Images

30/35 Day One

Steve Finn celebrates the wicket of Steve Smith in his first over after his recall to the England side

Getty Images

31/35 Day One

Alastair Cook leads the celebrations as the third umpire confirms Warner's wicket

Getty Images

32/35 Day One

James Anderson appeals for the wicket of David Warner

Getty Images

33/35 Day One

David Warner dives into the crease after Stuart Broad's attempted run-out

Getty Images

34/35 Day One

Alastair Cook on the morning the Third Test day one

Getty Images

35/35 Day One

England run out for the opening morning at Edgbaston

Getty Images
He was assessed by team medics this evening, but with side strains usually taking at least six weeks to heal, Anderson's prospects for the series do not look good.
On his 33rd birthday, it was the one thing Anderson and England would not have wished for. His injury and likely absence means Finn, just one match into his Test comeback after a two-year absence at this level, looks as though he will have to lead England's attack at Trent Bridge alongside Stuart Broad.
Nottingham, of course, was the scene of Finn's last Test before this, in July 2013. His wayward performance with the ball almost cost his side an Ashes Test they eventually won by only 14 runs.
It was the start of a downward spiral for the Watford-born bowler that would, six months later, lead to him being branded "unselectable" by Ashley Giles, then England's limited-overs coach, after he had sent him home from a nightmare tour of Australia. By the end of his stay in Australia in 2013-14, Finn had totally lost his action. As with the yips for golfers or the "dart-itis" that brought an end to the career of Eric Bristow, Finn's professional life was in the balance. However, he went back to Middlesex and, alongside the guidance of Angus Fraser, the former England seamer and current selector, Finn rebuilt himself from scratch.
There had been signs last summer of a revival in his fortunes. He then returned to the international fold for the limited-overs tours of Sri Lanka and then Australia and New Zealand, which culminated in the World Cup campaign.
Before that tournament, though, Finn had shown how far he had come in a  Tri-Series game against India in Brisbane, where he took his maiden one-day international five-wicket haul.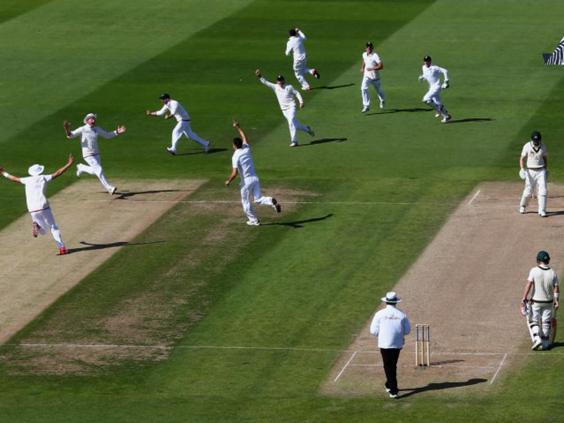 Back then Finn had said: "A lot has happened in the last 12 months, it's pretty much a year to the day where I went home from that tour of Australia. But that corner has been turned – I felt like I turned it a little while ago – and all of that stuff's in the past and I'm really just looking forward."
He has looked forward with increasing optimism since returning to Middlesex this summer. Seasoned observers at the county have been raving about his form, a return of 27 wickets at 27.85 not a true reflection of his actual potency. That was clear for all to see here at Edgbaston as the extra bounce he generated from a lively pitch had a succession of Australian batsmen struggling to cope.
After the drama of the hat-trick ball, Finn came back to get Marsh eventually, bowling him with a rapid delivery that uprooted his middle stump. It is the kind of dismissal that makes fast bowlers purr and fans scream. The lively Eric Hollies Stand, who have been goading Mitchell Johnson all match, had a new hero. That spell had seen Finn take three wickets for 12 runs in 17 balls.
The biggest roar from the Hollies stand, though, came when Finn dismissed Johnson late in the day to seal his first five-wicket haul at this level since the Auckland Test of March 2013. "There have been dark times along the way but it makes those good times more satisfying," Finn said. "Every cricketer goes through highs and lows, and to come through is pleasing."
One man who knows a thing or two about fast bowling is Glenn McGrath, the Australian still the game's leading seamer with 563 wickets. His verdict on Finn? "Simply unplayable."
There were 25,000 people here and five Australia batsmen who would agree.
Reuse content