As England's leading cricketers arrived in Spain on a vital bonding exercise, Stuart Broad carried with him a vision of the near future. It will emerge into reality – or not – in a few weeks' time but it is unquestionably alluring.
The chief purpose of the hastily organised Iberian mission is for the players to meet for the first time with their new coach, Trevor Bayliss, an Australian with admirable credentials, who has been asked to mastermind the downfall of his countrymen in the Ashes series. Until a few weeks ago, Bayliss would have been in the Australian corner but this is the nature of coaching.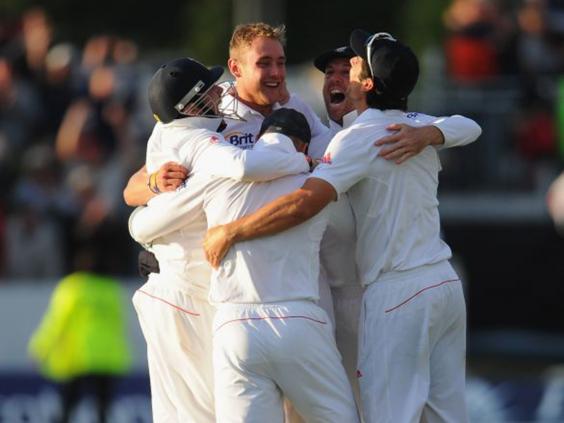 "I love the fact he's Australian and could potentially take the Ashes away from Australia," said Broad, looking out over Lord's on Friday and turning the image over in his mind as the words mischievously tumbled out. "I quite like that sort of banter involved in the series. It's the first time we've had an Australian coach and I'd love to see a picture of an Australian with the three lions on his chest with an Ashes urn in his hand. That would be beautiful."
It would indeed and it would be worth the protests from Down Under that England needed an Australian to help them reclaim the greatest prize. To do so, England must play to the limits of their ability and passion. By the end, in late August, more than what Broad called banter may have been exchanged.
With the series beginning in Cardiff next week, there are already reasonably grounded concerns that the series will be replete with bad feeling, that the spirit exhibited by both teams throughout the recent tour by New Zealand will swiftly  recede into distant memory. Australia, in other words, will sledge like billyo and England, themselves no slouches in this regard in recent  incarnations, will feel emboldened to match them.
Perhaps Bayliss can provide a meaningful insight into the Australian psyche and the best way to combat it. Perhaps England, as Broad suggested, can rise above it all. He was put through the ringer by the Australian media and public on the last ill-fated tour when England were dismantled and defeated 5-0 but, conversely, left virtually verbally  untouched out in the middle.
"The Aussie players don't say anything to me on the field," he said. "I enjoy the battle and the competitive side so it gets me going more than not, the battle out in the middle.
"I'd expect the Aussies to come hard at our players. The success Australia have had over us in the last series and in the World Cup was based around aggression. They got negative reaction as regards the style but they won the World Cup so I don't think they will change their approach or come here and be like a New Zealand team – they will stick to their guns.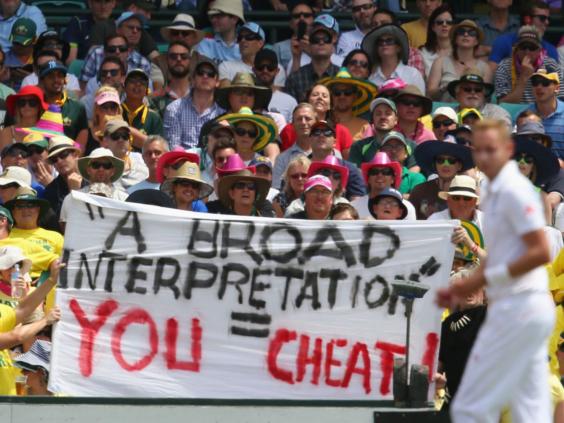 "We have to be aware that they will be aggressive towards us. We have to look them in the eye and be up for a battle but I don't think we have to rise to their aggression."
It will be intriguing (to say the least) to see if England respond to Australia's natural hard-nosed method with a song and a smile. There is a reason for the manner in which Australia approach their work since big cricket is meant to be a serious business and not for the soft at heart. England, however, might have learned an important lesson, a point Broad reinforced. He recalled an incident in Brisbane on the last tour which seemed to define the whole series.
"Michael Clarke saying 'get ready for a broken arm' to Jimmy Anderson, that's been Australian cricket for years," Broad said. "It's not going to change now but we have to play to our advantages and style. You have seen in the past couple of months guys playing with smiles on their faces and playing aggressive, free- flowing positive cricket – that is how we will beat Australia. We won't beat them by out-sledging them.
"I think the team have got a real feeling of how the public like us to play our cricket recently. I think the public have enjoyed how we have. I didn't think fans, players, media in England are big gnarly people, they like to see cricket played in a strong battle head-on but with a smile on your face."
There you had it. Simply put, England will have to bat better and bowl better – wasn't it ever thus? – but the latter may be the more significant. Broad has a splendid record in the Ashes. He has taken part in three winning series, in 2009, 2010-11 and 2013, though he was curtailed in the middle of those when he broke down with a side strain in Adelaide and missed the last three Tests. Even in 2013-14 he took 21 wickets at 27.52 runs each, almost standing alone  while colleagues all around him were cut down.
Since then, beset by injury, he has not always been at his most potent but he also made the point that since the start of 2013 he and his long-term opening partner, Anderson, have similar records. It is simply that they have not functioned well at the same time.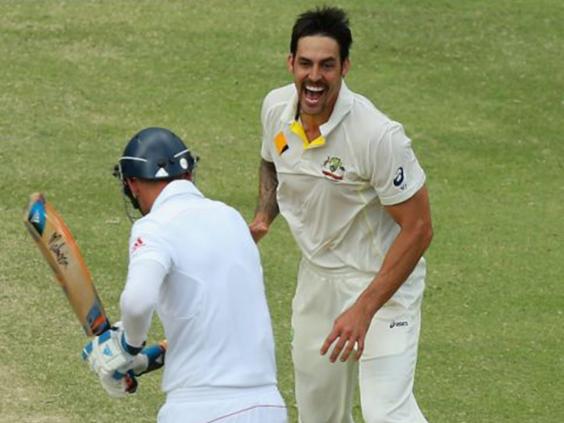 The figures firmly support the contention. In those two and a half years, both men have taken 115 wickets in 27 matches at a similar average. If they could jointly operate at the top of their game for the next two months or so it would not only be handy for England but might be sufficient to repel the clear and present danger posed by the two Mitchells, Johnson and Starc, Ryan Harris and Josh Hazlewood.
England will bring a quintet of bowlers to an Ashes series for the first time since 2005 with Broad and Anderson being supported, initially at least, by the genuine pace of Mark Wood, the all-rounder Ben Stokes and the off-spinner, Moeen Ali. Broad's body, for once, seems to be in as happy a place as his mind. He is earnestly working on plans to stop the gallop of Steve Smith, Australia's batsman of the moment.
"The key to bowling as an attack is dove-tailing a little bit," he said. "You don't want to all be taking wickets at the same time. You need to have a quiet game when someone else is taking wickets. It's about bowling in partnerships. You need to realise when someone is on a roll, that you can sit in and do a holding role. As four seamers we've not played a lot together. Woody's just come in and Stokesy has not bowled a lot in Tests  but you have to talk all the time. To get the amount of wickets we need in a series, everyone's going to have to contribute."
Broad will have to contribute with the bat, too. He has not been the same since being hit flush in the face by the India fast bowler Varun Aaron last summer. At one point he was suffering nightmares but gradually has come through it. Once, do not forget, he made 167 in a Test match. He considers himself an all-rounder again, "a bowling all-rounder" but an all-rounder still.
He is patently excited by what lies ahead. He can feel the changed mood around, and he can hardly wait.
"We're lucky in England getting good crowds all the time but there is a different vibe when you turn up for an Ashes Test," he said. "They are more passionate about it, they are a little bit more desperate to not let the Australians have anything." At this point he looked over at the Lord's pavilion.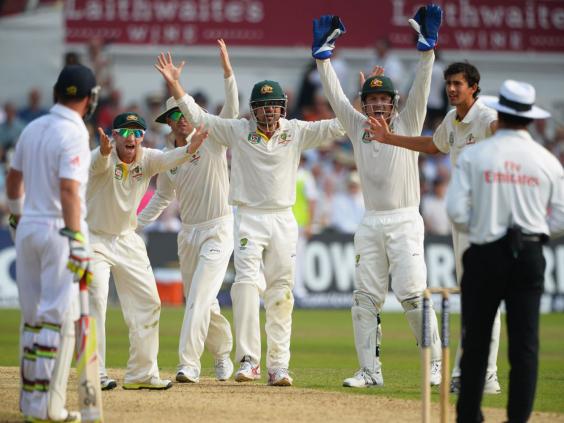 "Walking through the Long Room it can be quite an emotional thing, I remember Joe Root running out in 2013 close to tears because of how special it was going through that Long Room.
"I remember my first Test here, I was not out overnight, I was with Andrew Strauss who was not out and it was like opening the batting for England almost. It was 'thank god I'm not on strike first' – it was a really emotional experience."
Hardys of Australia, proud sponsors of England cricket. Show your support this summer with #HardysENG or #HardysAUS to win prizes
Earning the urn: Pressure points
The Ashes undoubtedly stokes the fire in Stuart Broad. He was at his most potent at Chester-le Street in 2013, claiming match-figures of 11 for 121 when England triumphed by 74 runs to retain the urn.
In the First Test of that series, however, he controversially stood his ground when incorrectly given not out after edging behind. His refusal to walk led to much condemnation from Australian crowds when England toured there – and lost the Ashes 5-0 – in 2013-14. In the 2009 series he was the only man to record two five-wicket innings hauls.
Reuse content