Give them the tools and they will do the job. As part of the boldest yet most obvious of ploys to resuscitate their Ashes campaign, England's seam bowlers forced their way gleefully into the action.
On a surface which granted generous movement, through the air and off the seam, they dismissed Australia for 136 on the opening day of the third Investec Test. Led by the cunning veteran Jimmy Anderson, who took 6 for 47, his best Ashes return, it was a wonderful response after the lamentable defeat at Lord's.
The calculated gamble of producing an English type of pitch for English bowlers is not yet certain to be rewarded, though England, with seven wickets in hand, were only three runs behind by the close of the day. Perhaps the only disappointment was the late dismissal of Ian Bell, who scored a cultured half-century before making a careless error.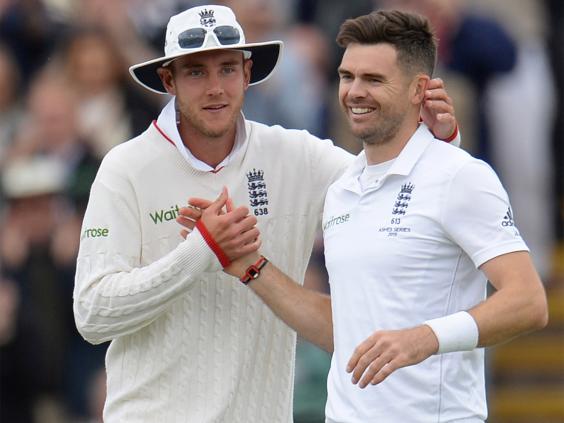 A lead of anything above 100 is likely to prove decisive. Australia will have to bat out of their socks in their second innings and will probably do so. Whatever happens now in a match which will reach nowhere near the fifth day, the preparation of such a strip, accentuated by cloud cover for much of the day, was definitely worth the risk.
England had to find some way of bringing their fast bowlers into the contest after encountering a slow, benign pitch in Cardiff and one that was still less encouraging at Lord's. If it would help Australia's attack too then so be it. They had to take the view that their batsmen would be more fitted to cope in these circumstances with the ball nibbling agitatedly around.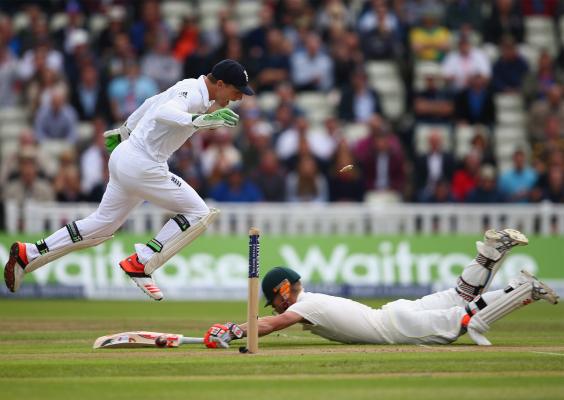 The received wisdom was that there would be something in it for the bowlers early on but that the pitch should flatten out as the day wore on. It was this, presumably, that persuaded Australia to bat on winning the toss, although it must have occurred to their captain, Michael Clarke, that he could capitalise on the disarray in which England had finished only a few days previously in succumbing by 405 runs.
Anderson was stupendous and to witness him doing this and that, this way and that way, remains an unending pleasure. He is still mightily more effective at home, where his 265 Test wickets have come at 27 runs each, compared with abroad, where 147 wickets have cost 34 runs apiece. When he saw what was on offer, Anderson, after going wicketless in 33 overs in the second Test, must have realised that his employers rather like him after all.
Ashes 2015 Third Test in pictures
Ashes 2015 Third Test in pictures
1/35 Day Three

Joe Root and Ian Bell celebrate after adding the winning runs for England on the third day

GETTY IMAGES

2/35 Day Two

Jimmy Anderson grimaces in pain. He is to be assessed by the England medics over an intercostal muscle injury

GETTY IMAGES

3/35 Day Two

Steve Finn celebrates his fifth wicket of the innings - Mitchell Johnson's

4/35 Day Two

David Warner reached 77

5/35 Day Two

Steve Finn (far left) is congratulated after taking the wicket of Mitchell Marsh

6/35 Day Two

Adam Voges heads back to the pavilion after being dismissed for

7/35 Day Two

Michael Clarke (right) watches from his crease as England's Adam Lyth (left) catches him out for 3

8/35 Day Two

David Warner hit the joint-fastest half-century in Ashes history off 35 balls

Getty Images

9/35 Day Two

Steve Smith balloons a shot into the sky with Jos Buttler taking the catch to dismiss him for 8

Getty Images

10/35 Day Two

Stuart Broad celebrates after trapping Chris Rogers lbw

Getty Images

11/35 Day Two

Australia celebrate wrapping up England's first innings with the wicket of James Anderson

Getty Images

12/35 Day Two

Moeen Ali eventually went for 59

Getty Images

13/35 Day Two

Stuart Broad ht a valiant 31 before going to Josh Hazlewood

Getty Images

14/35 Day Two

Moeen Ali reached his 50 off 66 balls after taking the attack to Australia's bowlers

Getty Images

15/35 Day Two

Australia players rush to congratulate Mitchell Starc on dismissing Joe Root

Getty Images

16/35 Day Two

Mitchell Starc celebrates taking the wicket of Joe Root

Getty Images

17/35 Day Two

Ben Stokes dejectedly walks off after scoring a duck

Getty Images

18/35 Day Two

Mitchell Johnson celebrates taking the wicket of Ben Stokes

Reuters

19/35 Day Two

Mitchell Johnson celebrates taking the wicket of Jonny Bairstow

Getty Images

20/35 Day Two

Australia celebrate the early wicket of Jonny Bairstow on day two

Reuters

21/35 Day Two

Joe Root resumed day two on 30 not-out

Getty Images

22/35 Day One

David Warner takes the catch of Ian Bell

Getty Images

23/35 Day One

Ian Bell of England plays a shot before being caught by David Warner of Australia off the bowling of Nathan Lyon for 53

GETTY IMAGES

24/35 Day One

Alastair Cook after his dismissal in the Third Test

GETTY IMAGES

25/35 Day One

James Anderson takes the plaudits after taking five wickets on day one having dismissed Mitchell Johnson

Getty Images

26/35 Day One

James Anderson leaps for joy after dismissing Mitchell Marsh for a duck

Getty Images

27/35 Day One

Adam Voges walks off after James Anderson takes his wicket

Getty Images

28/35 Day One

James Anderson celebrates the wicket of Adam Voges

Getty Images

29/35 Day One

Michael Clarke's desperate search for form continued when Steven Finn clean bowled him

Getty Images

30/35 Day One

Steve Finn celebrates the wicket of Steve Smith in his first over after his recall to the England side

Getty Images

31/35 Day One

Alastair Cook leads the celebrations as the third umpire confirms Warner's wicket

Getty Images

32/35 Day One

James Anderson appeals for the wicket of David Warner

Getty Images

33/35 Day One

David Warner dives into the crease after Stuart Broad's attempted run-out

Getty Images

34/35 Day One

Alastair Cook on the morning the Third Test day one

Getty Images

35/35 Day One

England run out for the opening morning at Edgbaston

Getty Images
From the off it was plain something was in the air. The first ball of the match, delivered by Anderson, jagged alarmingly away from Chris Rogers' bat. The second almost brought a wicket as Rogers called a frantic single only for Stuart Broad, at mid-on, to hit the stumps at the striker's end, where David Warner's timely dive saved him from being run out.
Anderson struck with his eighth delivery when the ball had already passed the bat sufficiently to make it clear that the 337 for 1 Australia mustered on the opening day at Lord's was not an option here. Warner was lbw stuck on his crease to a ball that moved late into him. His review of the verdict was destined to fail on all counts.
By the eighth over Steve Finn was introduced into the attack. It had been two years and 23 Tests since Finn last appeared for England in the long form of the game, during which period he has lost and remodelled his action. There were bound to be doubts. It took six balls to allay them.
Finn produced a ball to Steve Smith, the world's No 1-ranked batsman, which bounced and left him. Smith edged it to first slip, where Alastair Cook took a deft, low catch. Thus had gone Australia's two most menacing batsmen, undone largely because of their unfamiliarity with what were characteristic conditions in this country.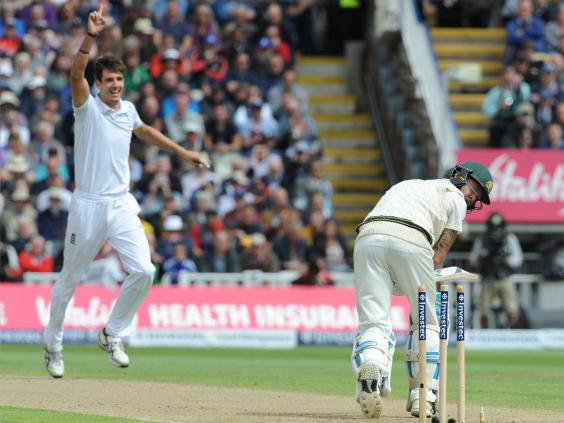 Within minutes, Finn had also removed Clarke, at present struggling to find what it was that used to make him such a acquisitive batsman. He was bowled by a fast yorker which he did not come close to repelling. If Finn's celebrations for this second wicket were more restrained, the exultant sensation he must have felt can be but imagined.
There was a minor revival following the first rain interruption but after lunch Australia were dismantled. Discomfited by the moving ball they were too ready to help in their own downfall. Rogers, one of only two of their batsmen who had long experience of playing in England, played almost a lone hand.
For a few overs, Anderson was irresistible. He had Adam Voges fencing at one outside off and one which Voges, of Nottinghamshire and Middlesex, should have been smart enough to leave. Mitchell Marsh conveyed enough in his brief stay to look as though he was playing on a different planet rather than simply in an another country and his errant drive at Anderson was also caught by Jos Buttler.
Peter Nevill, preferred to Brad Haddin, was bowled shouldering arms to one which Anderson chose not to seam away and Mitchell Johnson pushed to gully. Anderson had 4 for 7 in 19 balls.
Stuart Broad, England's best bowler in this series to date, deserved wickets and earned two of them. He removed the vigilant Rogers from round the wicket and then Mitchell Starc, who was trying vainly to leave. It was fitting that Anderson should terminate proceedings by bowling Nathan Lyon.
England went about their reply with vigour. Adam Lyth was gone far too early chasing a ball he should have left well alone. It was a highly culpable dismissal and one that asks questions about Lyth's legitimacy at this level: a pity, as he plays pleasantly enough.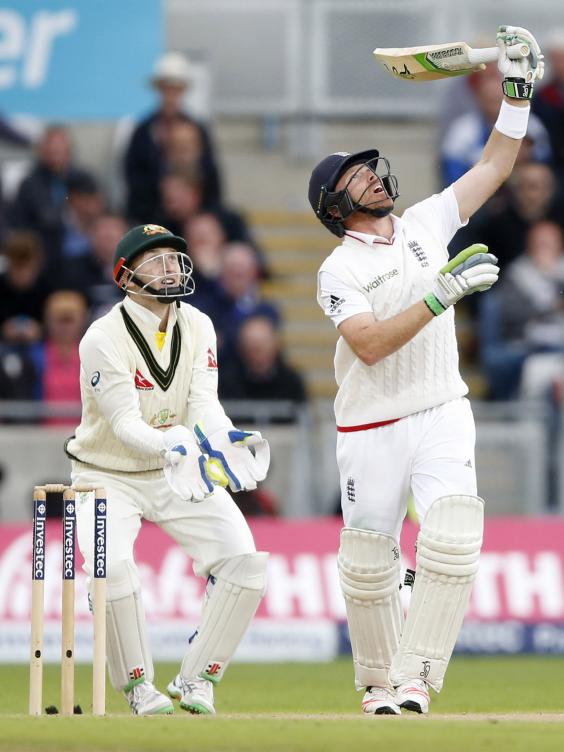 Cook and England's new No 3, Bell, asserted themselves quickly. They had put on 57 rapidly when Cook was out in bizarre circumstances, pulling a ball from Lyon hard to short leg where Voges must have astonished himself by taking the catch. Bell, playing gloriously, tried to hit Lyon for six and was caught at midwicket.
If conditions ease as expected, England may be back in this.
Edgbaston highlights: Moments of the first day
Shot of the day
The cover drive with which Ian Bell brought up his half-century, the 10th time he reached the boundary, was sumptuous. Unfortunately, it was also his last scoring shot in an innings ended again by his own hand.
Ball of the day
With conditions moving in his favour at last, Jimmy Anderson was irrepressible from the off and the ball that pinned David Warner to his crease, jagging late, was trademark stuff.
Moment of the day
After two years out of England's Test team, during which his action fell apart and needed rebuilding, Steve Finn returned and took a wicket in his first over, inducing the world's leading batsman, Steve Smith, to edge to slip.
Quick single
When he scored his first run, Mitchell Johnson became only the third Australia player in Tests to have scored 2,000 runs and taken 200 wickets. He followed Richie Benaud and Shane Warne.
Reuse content