England are ready to make significant changes in their batting order to save the Ashes campaign. The places of both Ian Bell and Gary Ballance are under threat, with the selectors aware that urgent change may be needed to stop the series sliding inexorably towards Australia.
Trevor Bayliss, England's new coach who took over a few days before the series began, is prepared to make sweeping adjustments to the team after the defeat by 405 runs in the second Investec Test at Lord's. He is only one of the four selectors who will meet on Tuesday with the director of cricket, Andrew Strauss, but his voice is bound to carry weight.
He said of probable changes: "It could be. It's one of those things I'm sure all of the players know – it wouldn't be a surprise to any player in the team – that when you play badly positions are going to be looked at and discussed. And I'm sure it certainly will be.
Ashes Second Test in pictures
Ashes Second Test in pictures
1/39 Day Four

Michael Clarke leads the celebrations as Australia win the Second Test

PA

2/39 Day Four

Mitchell Johson celebrates taking the wicket of Moeen Ali

PA

3/39 Day Four

Moeen Ali trudges off after going for a duck

PA

4/39 Day Four

Ben Stokes reacts after being run out by Mitchell Johnson for a duck

PA

5/39 Day Three

Adam Lyth reacts after dropping David Warner on 60

Getty Images

6/39 Day Three

Captain Alastair Cook (left) in discussion with James Anderson and Stuart Broad as Australia pile on the runs on a shirtfront track at Lord's

Getty Images

7/39 Day Three

Alastair Cook is bowled by Mitchell Marsh

Getty Images

8/39 Day Three

Alastair Cook is bowled by Mitchell Marsh

Getty Images

9/39 Day Three

Jos Buttler walks after Peter Nevill's catch

Reuters

10/39 Day Three

Mitchell Marsh bowls Ben Stokes after he drags onto his wickets

Getty Images

11/39 Day Three

Ben Stokes plays on to his stumps

Getty Images

12/39 Day Three

Ben Stokes celebrates reaching his 50

Getty Images

13/39 Day Two

Mitchell Johnson of Australia celebrates after taking the wicket of Joe Root

GETTY IMAGES

14/39 Day Two

Ian Bell walks back to the pavilion after losing his wicket for 1 run

GETTY IMAGES

15/39 Day Two

Bails fly as Englands Gary Ballance is bowled out by Australias Mitchell Johnson for 23 runs

GETTY IMAGES

16/39 Day Two

David Warner and Peter Nevill celebrate the wicket of Adam Lyth

Getty Images

17/39 Day Two

Mitchell Star celebrates the wicket of Adam Lyth with the second ball of the innings

Getty Images

18/39 Day Two

Alastair Cook takes to the field for the start of England's first innings

Getty Images

19/39 Day Two

Mitchell Johnson was the last man out before the declaration for 566-8

Getty Images

20/39 Day Two

Peter Nevill hit an impressive 44 on his Ashes debut

Getty Images

21/39 Day Two

Steve Smith hit a magnificent 215

Getty Images

22/39 Day Two

Steve Smith celebrates his double-century in the second Ashes Test

Getty Images

23/39 Day Two

Steve Smith saw out the morning session to reach his 150

Getty Images

24/39 Day Two

Michael Clarke walks off after making just 7 runs

Getty Images

25/39 Day Two

Michael Clarke never looked comfortable at the crease

Getty Images

26/39 Day Two

Chris Rogers walks off as Stuart Broad celebrates taking his wicket

Getty Images

27/39 Day Two

Stuart Broad celebrates the early wicket of Chris Rogers for a brilliant 173

Getty Images

28/39 Day Two

Chris Rogers attempts to duck out of the way before being hit on the head by the first ball of the day

Getty Images

29/39 Day One

Chris Rogers reached his century shortly after Smith

Getty Images

30/39 Day One

Steve Smith salutes his Australian team-mates and the crowd after reaching his century

Getty Images

31/39 Day One

Steve Smith passes his century to frustrate England

Getty Images

32/39 Day One

Ben Stokes reacts to a dropped catch by Ian Bell

Getty Images

33/39 Day One

Ian Bell looks on after dropping a chance to dismiss Steve Smith

Getty Images

34/39 Day One

Steve Smith formed a strong partnership with Chris Rogers

Getty Images

35/39 Day One

Alastair Cook reacts after Joe Root misses a chance in the slips

Getty Images

36/39 Day One

Moeen Ali and Alastair Cook celebrate the wicket of David Warner

Getty Images

37/39 Day One

David Warner walks off after being dismissed by Moeen Ali

Getty Images

38/39 Day One

The start of play at Lord's on day one of the second Test

Getty Images

39/39 Day One

A shot of Lord's Cricket Ground ahead of the Second Ashes Test

Getty Images
"All I'll say is two Tests ago they were selected for these first couple of Tests because they were considered the best players in the country. That doesn't necessarily change after only four innings. It's a concern that we are 3 or 4 for 40 and they know that. They understand that as well. Sometimes they're almost trying too hard."
England's upper-order collapses have persisted throughout this year and they have almost invariably been three or four wickets down before the total has reached 100. Although Ballance and Bell both scored hundreds on England's tour of the West Indies in the spring, their contributions since have been paltry.
Bayliss may be confounded by the lack of options. Not only are there few valid candidates in a poor summer for many county batsmen, but his knowledge of them is restricted because he is an Australian who has never worked here before. He is aware of Jonny Bairstow, however, and with his fifth hundred for Yorkshire in their current mach, Bairstow has made an unanswerable case for selection.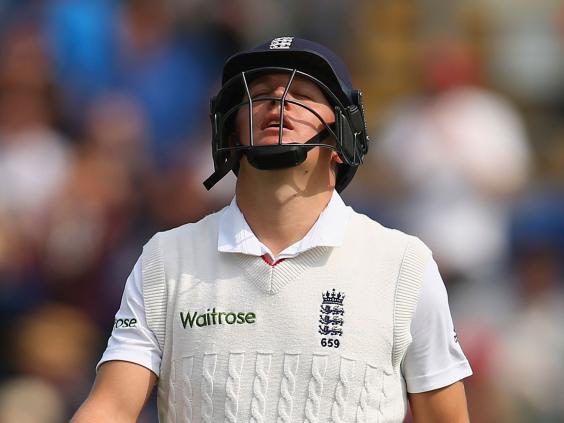 The pitches prepared for the series so far, especially the benign surface at Lord's have alarmed Bayliss and he appeared to be imploring groundsmen that this should not happen again. His justified argument is that the flatter the pitch the more it plays into the tourists' hands.
"I'm quite happy for the groundsmen to produce the wicket," Bayliss said. "I'd like to see a typical English seaming wicket against the Australians. To take 20 wickets I think that would suit our bowlers. That might make it more difficult for us to bat on it, but if we're able to take 20 wickets even if they take 20 wickets then we're still in with a chance of winning.
"I think the flatter the wicket is and the slower the wicket is, it actually plays in to the Australians' hands. We know what style of batters they have in their team and the flatter the wicket with their big tall fast bowlers, who can get good bounce out of the wicket and variations because they hit the deck hard, they're still able to get something out of it."
Woe betide any groundsman from now on who errs on the side of blandness. England have at last realised that they have to take a risk by preparing sporting pitches with which Australia are unfamiliar. It is a risk worth taking.