Going back to your day job after winning the lottery would be beyond most ordinary people.
Ordinary, though, is not an adjective that could ever be used to describe Ben Stokes.
That's why the Rising Pune Super Giants paid £1.7m for the Durham all-rounder's services during last week's Indian Premier League auction.
It was a huge sum even for a man whose earnings from his England central contract amount to £700,000 a year and it represented the highest fee ever paid for an overseas IPL player.
In cricketing terms Stokes has won the lottery and even though he is embarrassed to talk about it, he is keen to point out that despite the money – and security for his family – he is as keen as ever to go back to his day job of helping to win cricket matches for England.
 "To put it into words is still quite hard," Stokes said of his IPL windfall ahead of the start of England's three-match one-day series against the West Indies in Antigua on Friday. "Exciting is probably the best word to use. I find it quite hard to talk about. I don't know how to talk about stuff like that. It's one of those things that makes me a little bit awkward.
"I don't know, have I secured my family's future? It's a good thing to think about.
"I wouldn't say I'm going to rest on my laurels and slip off now. If anything, it gives me more drive to work even harder. You see success can get you things like this. And wanting to be successful for many more years to come will probably give me more motivation to work harder.
"I'm 25. I've hopefully 10 years left in me in international cricket if the body holds up. So there's still a lot more I want to achieve personally and in terms of this England team."
As well as the extra money, Stokes, who was appointed new Test captain Joe Root's deputy last month, now has to deal with added responsibility.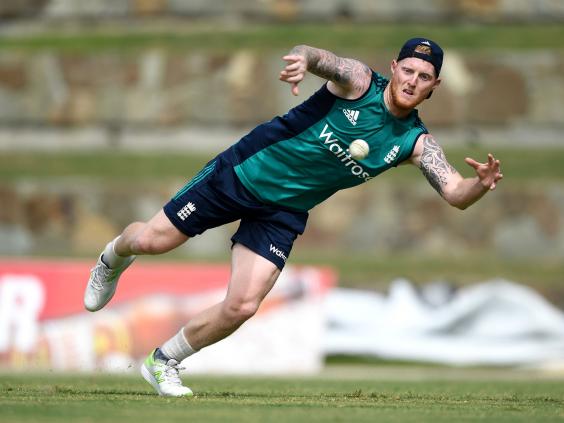 Stokes has come a long way since England's last limited-overs tour of the Caribbean in 2014, when he broke a hand punching a locker after being dismissed during a T20 international in Barbados.
Stokes, who has since had sessions with a psychologist to rein in those bouts of rage, said: "Being in a leadership role, I'm maybe going to have to take a step back. One big example would be the locker incident. If I ever repeat something like that again – I don't think I ever would – I'd be very disappointed in myself. I feel now I've got a better way of dealing with failure.
"You find ways to deal with stuff like that your own way. I pack my kit after I get out now. I wouldn't say it chills you out, but it just puts your mind on something else – it's something I choose to do that's worked."
 With his temper in check and eye firmly fixed on success with England despite those IPL riches, Stokes is looking to help his country win a first-ever major global 50-over competition during this summer's Champions Trophy.
Given England's white-ball renaissance in the two years since their first-round elimination from the 2015 World Cup in Australia and New Zealand it is a tournament Stokes believes can be won.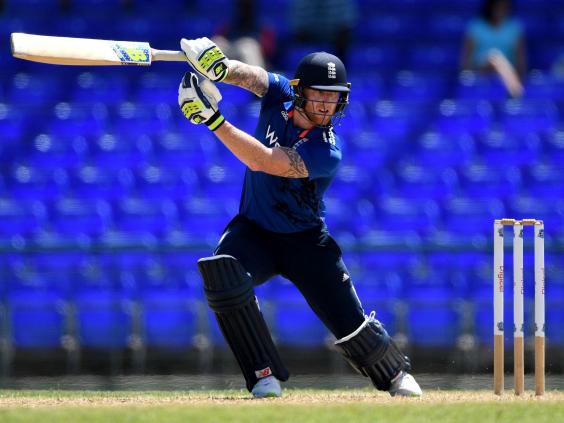 "It is yes," he said. "We've got a good chance and we know how talented this team is. So I think we should be one of the favourites but we don't want to get big heads. We'll keep our feet firmly planted on the ground."
There are eight matches before England begin their Champions Trophy campaign against Bangladesh at The Oval on June 1.
The first three come against a West Indies side weakened by the non-selection of a host of big-name players because of political wrangling.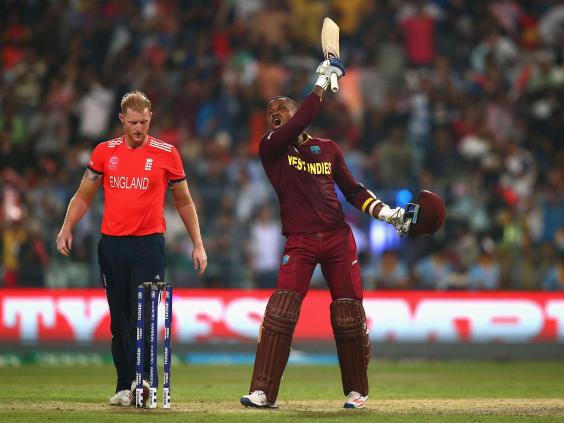 There will, though, still be the presence in the opposition ranks of Carlos Brathwaite – the man who struck Stokes for four successive sixes in Kolkata last April to rob England of the World T20 title in the final over of the tournament.
Brathwaite was range-hitting in the middle of the Sir Vivian Richards Stadium as Stokes spoke to the media on Wednesday.
The pair met the night before, too, for the first time since that World T20 final. Stokes said: "He's still as big as he was back then. I saw him at a function last night. I wouldn't say I shook his hand – there's about five different ways of doing it out here. But we caught up."
Reuse content