It is difficult to start a new era when the old one just won't go away. A large poster with you-know-who as its centrepiece greets supporters at Oval Tube station. And soon he again became the main topic of conversation while the players who didn't want him were confined to the pavilion as a thunder storm raged its way across the ground. Yet when the skies cleared, England's post-Pietersen future began to look just a little brighter.
Before the storm England had plodded through the opening part of their innings. After it, a whirlwind finale – 93 coming off the last seven overs of their 39-over innings – demanded Sri Lanka score 226 from 32 overs once Duckworth/Lewis had its final say after a further interruption.
They never threatened the target and England won by 81 runs. Victory will be gladly taken by Alastair Cook and the new coach, Peter Moores. But it is the cast list of those who starred that will give extra pleasure to Moores as he starts to mould his side in his second stint in charge.
It was Chris Jordan, with 38 from 13 balls and three wickets, Jos Buttler, Gary Ballance, Joe Root and Harry Gurney who did much to secure the win; the makings of a new generation for the new era.
The batting clicked, the fielding was sharp – with Cook taking the sharpest catch of the lot – and the bowling intelligent. These were conditions made for England but nevertheless this is a Sri Lanka side who between them have amassed 1,000 more one-day internationals than their hosts. This was a good win.
It was an old-fashioned innings by England, a pedestrian start, stolid middle and then frantic acceleration at the end just when it was all looking a bit bog-standard. It was lapped up by England's pleasantly surprised supporters and it surprised Lasith Malinga too as Buttler and a bullish Jordan inflicted his worst figures against England.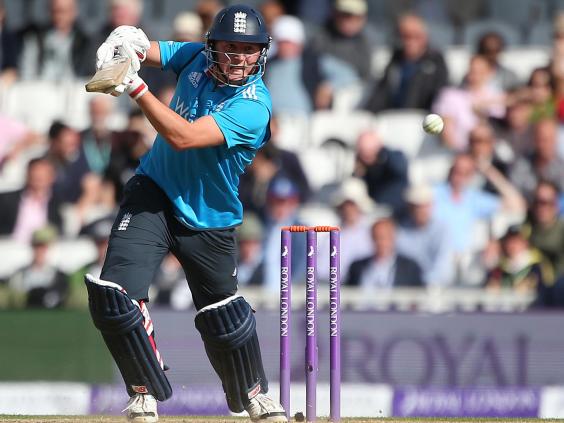 Malinga's eight overs went for 71 with Jordan and Buttler hitting 54 of them off 22 balls. It was all most unlike what had gone before.
Cook was dropped on one and showed little of his domestic form. His stuttering displays for England now run to nine one-day innings without a half-century and next week marks a year since his last hundred in Test or limited-over cricket. The England captain leant outside his off-stump to launch himself at a wide delivery from Nuwan Kulasekara and edged behind. Bell batted like a cricketing prince and got himself out like a cricketing pauper, paddling Angelo Mathews' slower ball to backward square leg. On the resumption two and a half hours later, Eoin Morgan lasted just three balls before he was baffled by Sachithra Senanayake's front-of-the-hand delivery.
Ballance too brought rich domestic form and he used it to good effect to cement his standing as England's coming man before becoming the second of three wickets for Senanayake, an off-spinner who has the obligatory air of mystery required by a Sri Lankan slow man.
For much of the innings it seemed as if he would suffocate the middle-order and so allow Malinga to polish off the rest. But instead, first Root, with a sparky cameo, and then the more robust Jordan and Buttler applied an unexpected level of polish to England's total.
Jimmy Anderson did his bit with a prompt early strike, removing Lahiru Thirimanne with his fifth ball, and then the promising left-armer Gurney, all arms and elbows, forced Kumar Sangakkara to play on for his first England wicket.
Sri Lanka were 19 for 2. It was a long way back from there, even for the likes of Tillakaratne Dilshan and Mahela Jayawardene. Jordan's fine day continued with the wicket of Dilshan, well caught at third man by Ballance, with his first ball after the last rain break.
Jordan bowled quickly and aggressively, rather as he had batted. Jayawardene clipped the off-spin of James Tredwell to mid-wicket to move England significantly closer to the finish line and when Jordan claimed two wickets in an over there were even the makings of a new poster boy for English cricket.
Reuse content